Just an out away: Cotton falls just shy of perfection for Sounds
Athletics' No. 16 prospect allows first hit in bottom of the ninth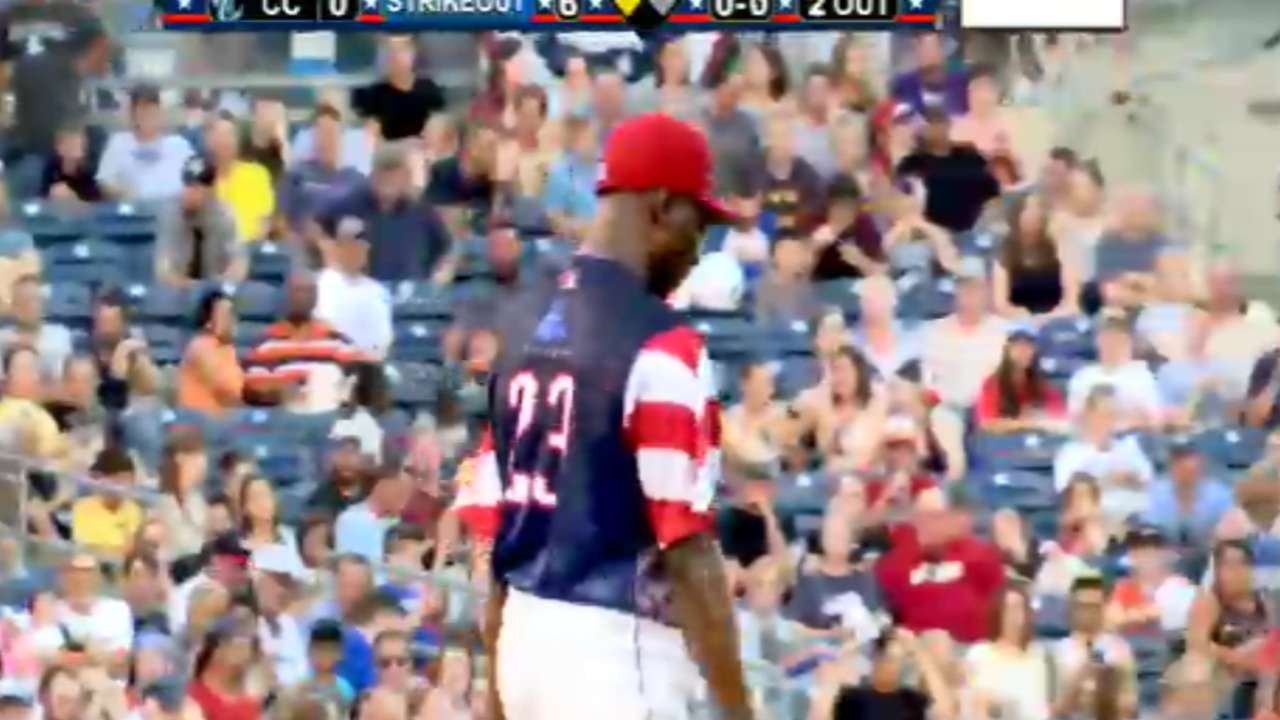 Jharel Cotton retired the first 26 batters he faced, but a two-out triple ultimately stood between him and history.
Oakland's No. 16 prospect set a career-high with 12 strikeouts and led Triple-A Nashville to a 3-0 win over Round Rock, but it was the near perfect game that had everyone on the edge of their seats in the bottom of the ninth.
• Complete coverage of Athletics prospects at MLBPipeline.com/athletics
Cotton struck out Kyle Kubitza for the second out in the ninth, but the left fielder disagreed with the call, argued and ultimately got ejected. Following the ejection, Kubitza took a lengthy stroll to the clubhouse -- located beyond the outfield wall -- and the delay may have been just enough to disrupt Cotton's rhythm.
After throwing several warm-up pitches during the delay, Cotton fell behind, 2-1, to Express No. 9 hitter Doug Bernier, who then lined a triple to right field, and the perfect game was over.
Cotton, who threw a season-high 108 pitches (78 for strikes), seemingly unfazed by the hit, struck out the next batter he faced to complete the one-hit shutout.
The 24-year-old nearly saw his perfect game ruined a few innings earlier, but Jaycob Brugman (Oakland's No. 22 prospect) saved the day with a diving catch in right center field to end the seventh inning.
The Athletics acquired Cotton, along with Grant Holmes (No. 3 prospect) and Frankie Montas (No. 11), as part of the trade that sent Josh Reddick and Rich Hill to the Dodgers at the trade deadline and the lefty was making just his second start with the organization.
While Cotton stole the show, he wasn't the only top prospect to spin a dominant performance on the mound. Yohander Mendez (Rangers' No. 2, No. 64 overall) started the game for Round Rock and gave up just one hit in his five innings.
There have been only three perfect games in the 114-year history of the Pacific Coast League, two of them by Sounds pitchers. Manny Parra threw Nashville's most recent perfect game, on June 25, 2007, and John Wasdin threw one on April 7, 2003.
William Boor is a reporter for MLB.com. Follow him on Twitter at @wboor. This story was not subject to the approval of Major League Baseball or its clubs.