Revere has Scherzer's back, leaps to the wall for grab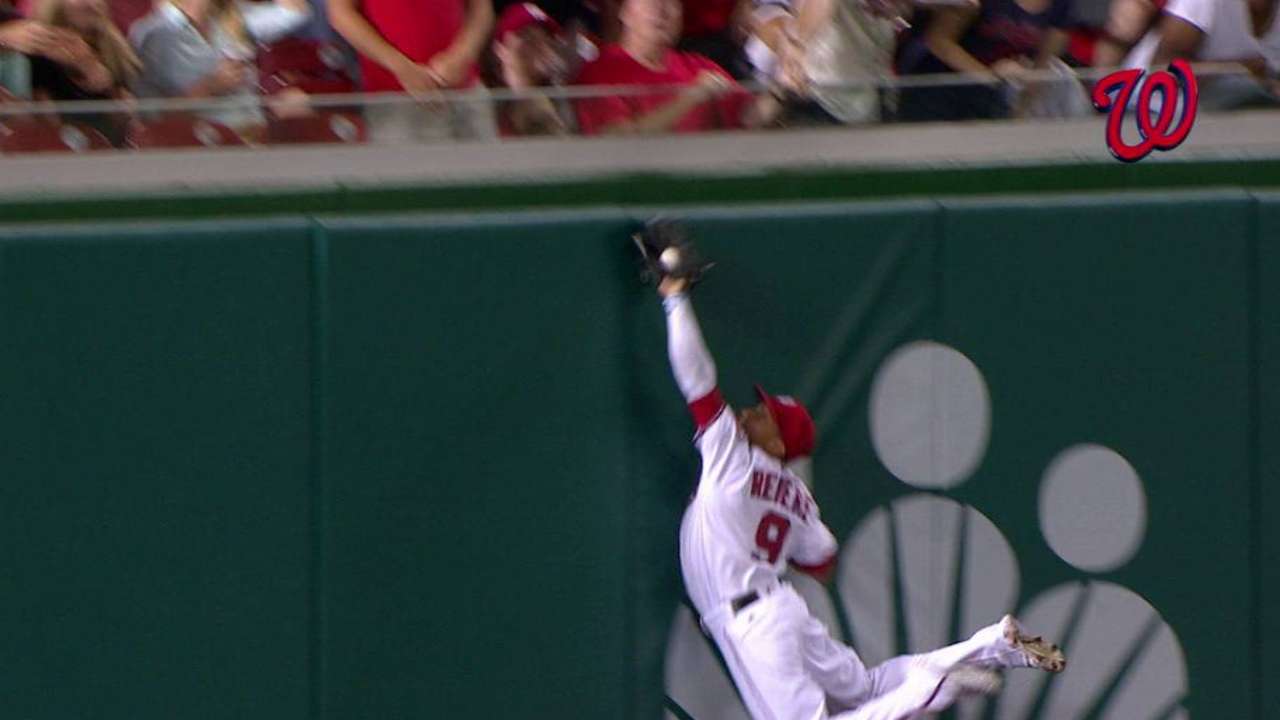 WASHINGTON -- Two days after his over-the-shoulder catch helped the Nationals beat the Giants, Ben Revere played hero with his glove again Tuesday, jumping against the left-center wall to keep Max Scherzer's no-hitter alive in the sixth inning. Scherzer lost the bid one inning later and lost the game, 3-1, to the Indians.
Tribe catcher Roberto Perez, leading off the sixth, launched a fly ball to deep center field. Revere raced toward the warning track and leaped at the last moment, snagging the ball as he collided with the wall.
Revere said he knew the importance of his catch as soon as he came down with the ball.
"The crowd is standing up cheering. They know the situation is going on," Revere said. "I don't want to be the reason [Scherzer] lost it. The main thing is having my pitcher's back right there."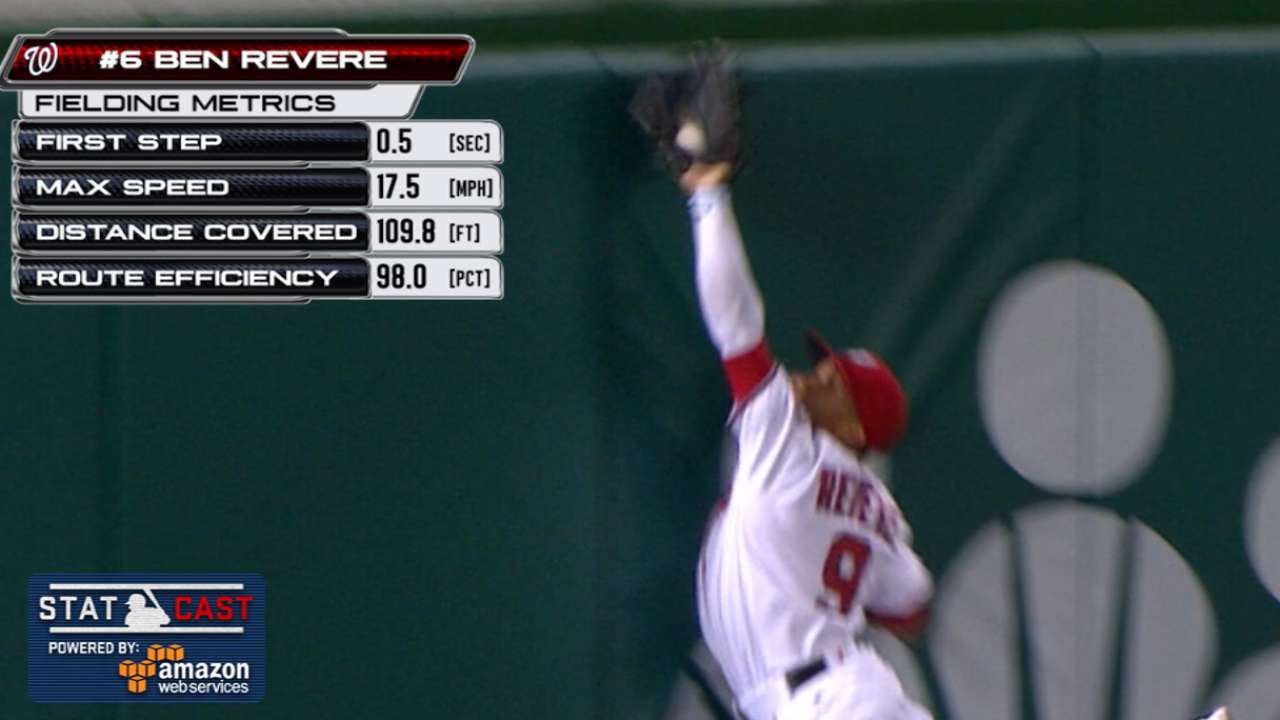 According to Statcast™, Revere covered 109.8 feet, reaching a top speed of 17.5 mph with a route efficiency of 98 percent.
"I thought that ball was gone," Scherzer said. "I still saw Ben had a bead on it. I knew he was short, so I didn't think he could rob it. But he made a spectacular play to be able to jump up and catch that ball. To be in that situation and to be able to go get that ball, that's just huge. That kept everything going in our favor."
Revere has made several impressive plays in the past week, including his Willie Mays-style grab in the seventh inning of a tie game Sunday.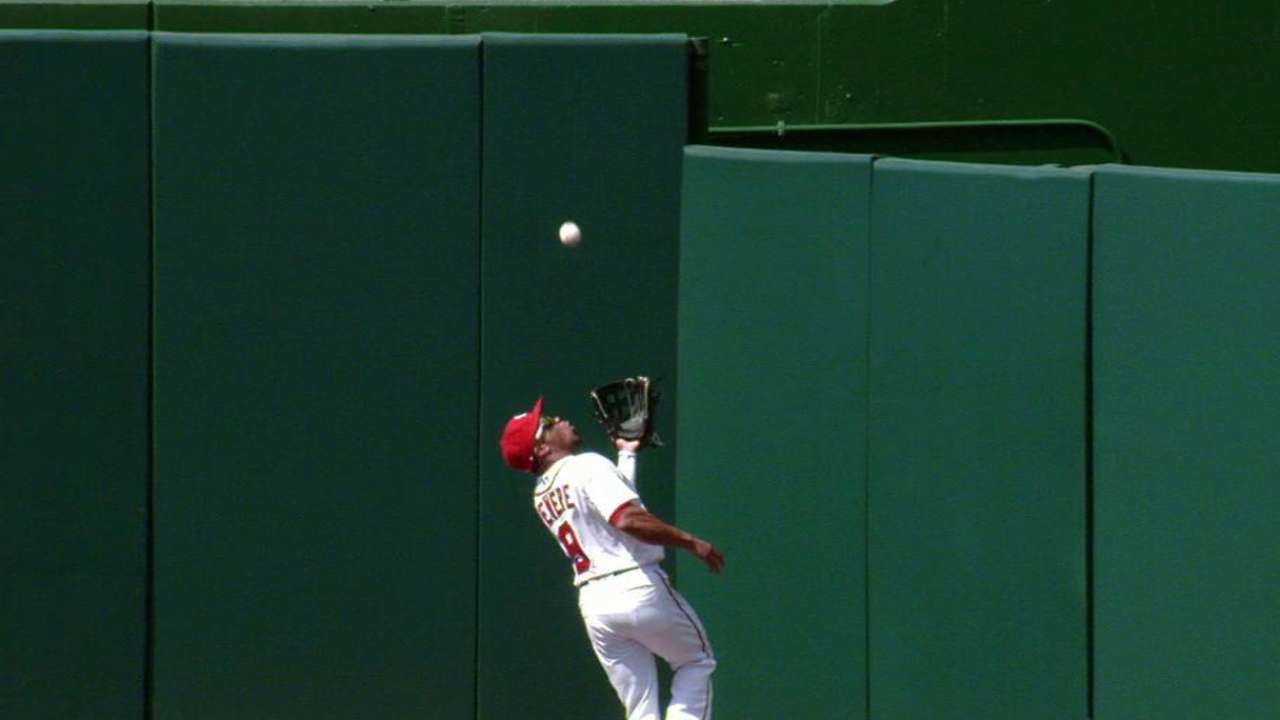 Despite Revere's heroics Tuesday, Scherzer allowed a single to Francisco Lindor with one out in the seventh to end the no-hit bid.
Alex Putterman is a reporter for MLB.com based in Washington. This story was not subject to the approval of Major League Baseball or its clubs.