MLB.com Columnist
Mike Petriello
Hill brings elite performance into delayed Dodgers debut
Veteran lefty's 2.06 ERA since 2015 return is second only to Kershaw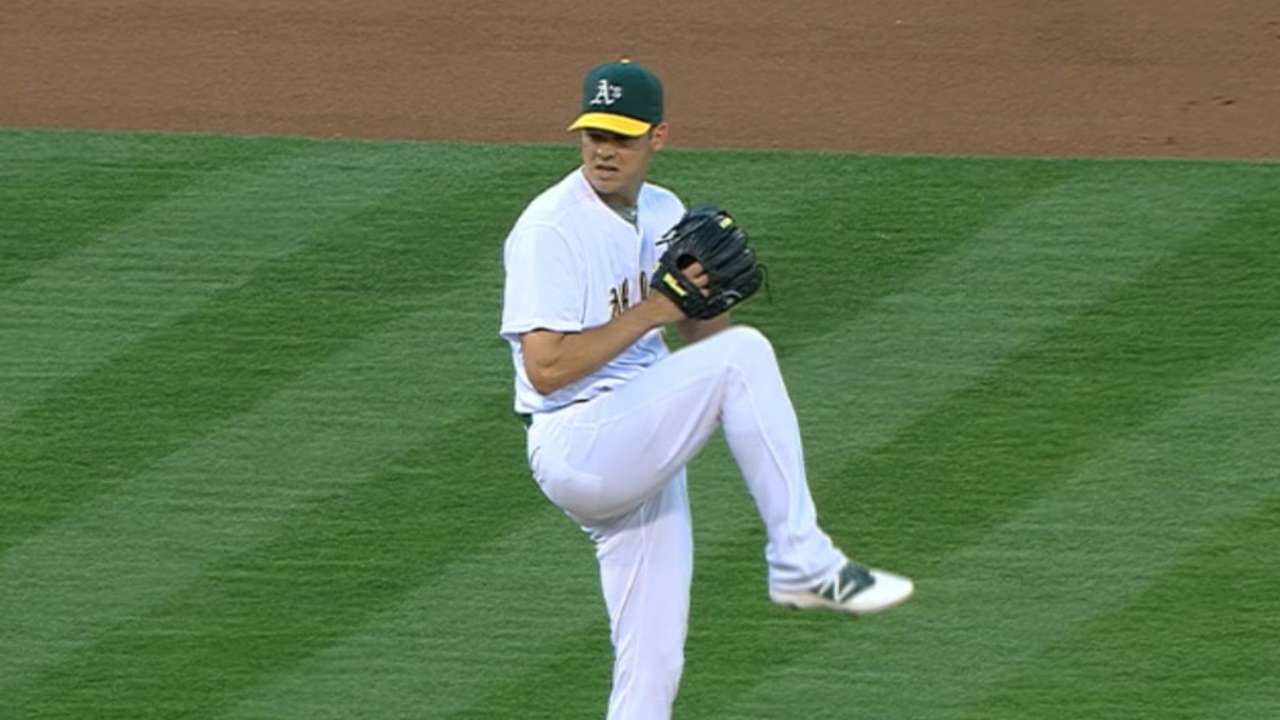 If all goes according to plan, Rich Hill is expected to finally make his Dodgers debut on Wednesday against the Giants, and Los Angeles fans might be excused for wondering just what the hype is all about. After all, the 36-year-old Hill is yet another injury-prone pitcher on a roster full of them, and what is apparently the worst blister in baseball history has prevented him from appearing for the Dodgers despite the fact that it's been nearly a month since the team surrendered three well-regarded pitching prospects in Grant Holmes, Jharel Cotton and Frankie Montas in order to acquire Hill and Josh Reddick.
Considering Hill's well-documented injury history, and that last August his career was in such a state that he was merely signing a Minor League deal with Boston's Triple-A Pawtucket affiliate after pitching for the independent league Long Island Ducks, what is it about him that makes him worth all this trouble? Let's try to answer that question.
First things first: During the rare occasions where Hill is able to take the mound, he's become shockingly elite at preventing offensive production. Let's show that in the simplest way possible, by looking at lowest ERA of the pitchers who have thrown at least 100 innings since Sept. 1, 2015, just before Hill made his return to the Majors with the Red Sox.
Lowest ERA since Sept. 1, 2015 (minimum 100 innings)
1. Clayton Kershaw, 1.76
2. Hill, 2.06
3. Jake Arrieta, 2.21
4. Kyle Hendricks, 2.32
5. Madison Bumgarner, 2.35
So there's that. Noah Syndergaard and Jon Lester are among the next few names on that list, and while it's obvious that 100 innings isn't the hugest sample size in the world, it's just as obvious that we're looking at some extremely impressive names here, and you can't fake that kind of performance. In 105 innings since Hill returned to the big leagues with Boston last year, he's collected 126 strikeouts and prevented runs from scoring along with the best in the game.
On to the next obvious question: How? It's not velocity, because Hill's fastball averages just over 91 mph, which isn't terribly different from what he's always had. It basically comes down to this formula:
1. Take your best pitch, in this case, the curveball
2. Throw it more, because it's good
3. In the process, make your fastball look better.
Simple, right? Here's how that works. Hill's curveball has long been his most effective pitch, in part because it has an extremely high spin rate:
2016 top curveball spin, minimum 200 thrown
1. Jeremy Hellickson, 2,978 rpm
2. Gio Gonzalez, 2,844 rpm
3. Aaron Sanchez, 2,842 rpm
4. Hill, 2824 rpm
5. Sonny Gray, 2,813 rpm
MLB average, 2,469 rpm
High spin means different things for different pitches. For a curveball, which is delivered with topspin, a high-spin curve follows the spin direction and can dive into the dirt more than a low-spin curve. In Hill's case, his darts to the side as it drops, making him one of only three pitchers (along with Sanchez and Adam Wainwright) to get more than eight inches of movement both horizontally and vertically.
Now, the last time Hill was a regular starter, back in 2007-09, he pitched more or less "traditionally," using his fastball to set up his curve. But after joining the Red Sox, he took the advice of former Major Leaguer Brian Bannister, who is now with Boston helping apply analytics to on-field performance. Bannister noted the high curve spin rate, pointed out that Kershaw has been successful while throwing his fastball less and less, and helped Hill vary speed and direction on the curve to make it look like multiple pitches while throwing it more often.
As a result, Hill is throwing the curve nearly 50 percent of the time this year, by far the most in baseball, well ahead of David Hernandez, Jose Fernandez and Aaron Nola, who do so about one-third of the time, and allowing just a .172 average against. But using a good pitch more often has also had a secondary effect, which is that it makes his fastball play up, considerably. Like the curve, the fastball has a high spin rate, ranking well among those who have thrown as many as he has:
2016 top fastball spin
1. Justin Verlander, 2,561 rpm
2. Max Scherzer, 2,555 rpm
3. Blake Snell, 2,515 rpm
4. Dylan Bundy, 2,483 rpm
5. Drew Pomeranz, 2,477 rpm
6. Hill, 2,460 rpm
MLB average, 2,263 rpm
Four-seam fastballs are thrown with backspin, so the effect is the opposite of a curve. High-spin fastballs can defy the effects of gravity for slightly longer than a hitter expects, which allows for a correlation with swinging strikes and popups. (Low spin can be good, too, because it induces grounders; it's spin that's not impressive either way that leads to straight pitches.) We've talked about how high-spin fastballs have helped Verlander, Snell and Pomeranz in the past, and perhaps it's Pomeranz who Hill most resembles: a lefty without huge velo who puts high-spin curves low and high-spin fastballs high, changing the hitter's eye level.
If you look simply at swinging strike percentage on fastballs, Hill is by far the best in the Majors this year. When the batter swings, they whiff on 36 percent of Hill's four-seamers, and there's a big gap between that number and the 29 percent of No. 2 Seung Hwan Oh and the 28 percent of No. 3 Michael Feliz. Overall, the fastball is allowing just a .204 average, with only three extra-base hits.
The question, of course, is always going to be health. Even though Hill's arm has been healthy this year, the blister and a previous groin injury have cost him considerable time. But the Dodgers aren't looking for 200-inning seasons over a number of years. They're looking for availability between now and -- if things go well -- the end of October. If they can get that, they're likely to have added an unlikely ace to their rotation. If they can get that and a healthy Kershaw, then suddenly the Dodgers have a duo at the top of the rotation that's hard to match. That's a lot of "ifs," though. There always are.
Mike Petriello is an analyst for MLB.com and the host of the Statcast podcast. He has previously written for ESPN Insider and FanGraphs. This story was not subject to the approval of Major League Baseball or its clubs.