Utley looks back on good times with Phillies
Dodgers 2B faces former club for first time since trade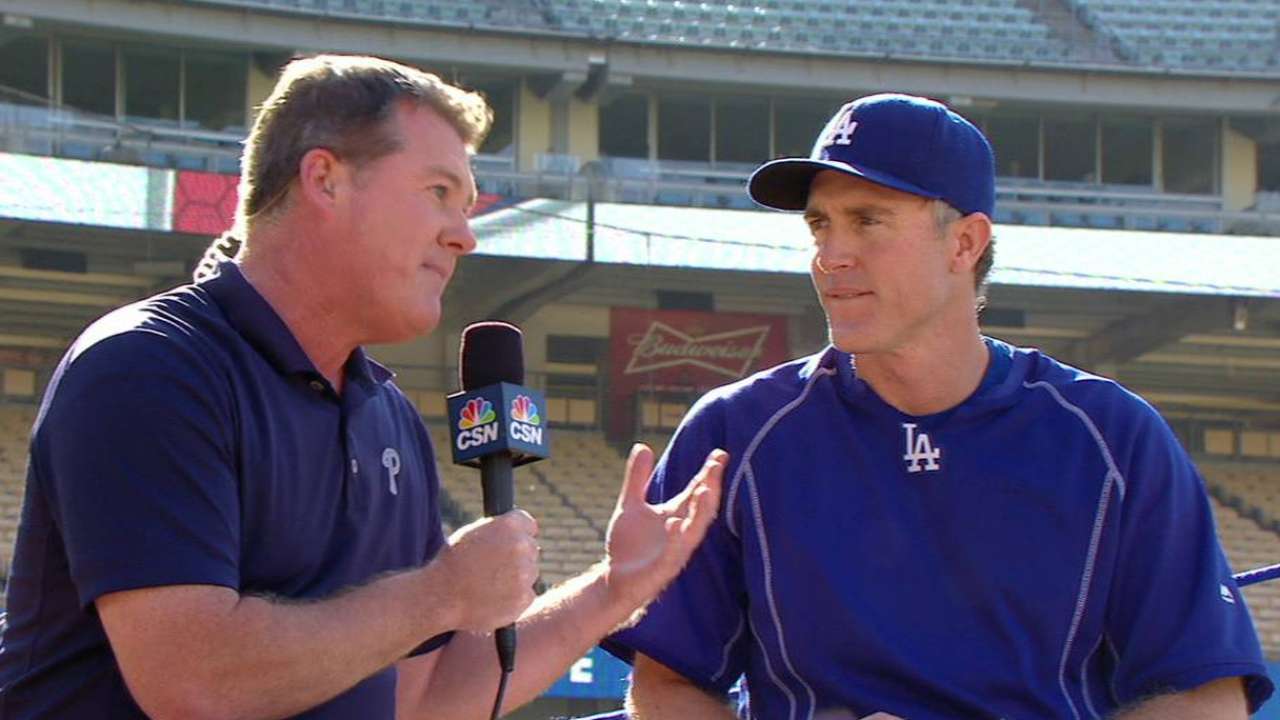 LOS ANGELES -- It is a little ironic that one of the most tightlipped players in Phillies history made one of the most memorable speeches in Philadelphia history.
Phillies fans remember the speech well.
Specifically, they remember three words Utley uttered at the 2008 World Series championship celebration at Citizens Bank Park. He announced to the crowd that the Phillies were "world champions," only he inserted an expletive in the middle to accentuate the exuberance of a fanbase that had not enjoyed a championship from one of its professional sports teams in 25 years.
Utley still hears the famous line from that famous speech -- a Phillies fan sported a T-shirt with those three words this weekend at Petco Park -- even after the Phillies traded him to the Dodgers last August.
"I hear it here at this stadium," Utley said before Monday night's series opener between the Phillies and Dodgers at Dodger Stadium. "There are Phillies fans all over the country. I see at last one or two Phillies jerseys every game to be honest and occasionally they say that statement. That was a good time back in 2008 for sure."
Utley faced the Phillies Monday for the first time since they traded him, hitting a solo home run in helping hand his former team a 9-4 loss. The Dodgers visit Philadelphia next week.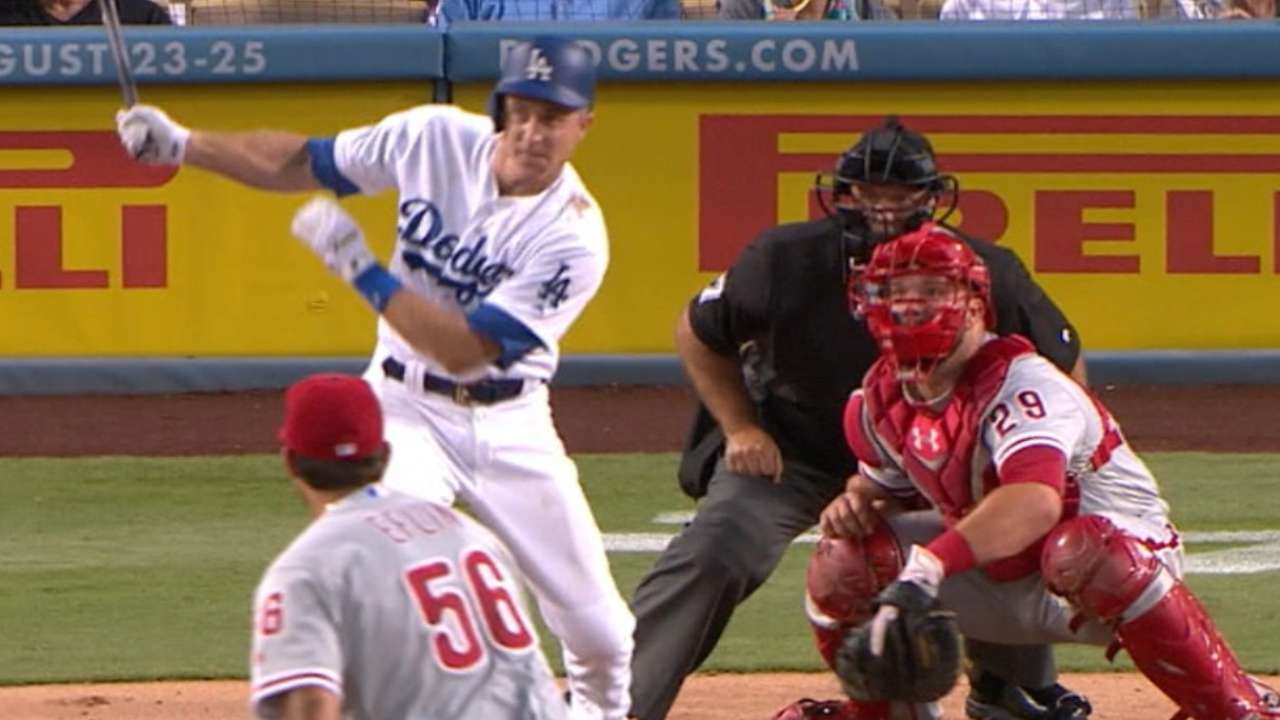 "Probably on the flight I'll think about it a little more," he said about his return to Philadelphia. "I'm excited to go back, say hi to the fans, play in a great stadium. It should be a lot of fun."
Phillies broadcaster Larry Andersen kidded Utley and asked if he was worried about being booed.
"I hope not," Utley said.
He need not worry. The Man will be treated like a prince. His return should include a highlight video and plenty of tips of the cap and standing ovations.
(By the way, the Phillies have to play Led Zeppelin's "Kashmir" during Utley's first at-bat Aug. 16, don't they?)
"It might be a bit emotional," Utley said.
Utley never got a proper sendoff last August. The Phillies and Dodgers completed the trade Aug. 19, but the Dodgers could not contact one of the players involved in the trade, so both teams waited to make the official announcement. So Utley never got the opportunity to tip his cap to the fans during the game as the Phillies planned.
"If I had to write it up all over again, it would have gone down a little differently, but you can't change what happened," he said.
Utley played for the Phillies from 2003-'15, leaving as the greatest second baseman in franchise history. He entered Monday hitting .250 with 18 doubles, two triples, seven home runs, 32 RBIs and .700 OPS in 94 games.
He said he hopes to play next season.
There are only seven active players remaining from the '08 team: Utley, Ryan Howard, Carlos Ruiz, Cole Hamels, Jayson Werth, Ryan Madson and Joe Blanton. Jimmy Rollins played for the White Sox earlier this season before being released.
But Utley is not wistful for the past. He does not think about the end being near for the '08 team.
"I'm trying to focus on me personally and what I need to do on a daily basis to help the Dodgers win," he said. "I think when it's all said and done there will be a lot more memories to look back on but right now it's status quo, get ready for a game."
The Phillies got criticized for hanging onto the core of that '08 team too long, something the organization finally acknowledged late in the '14 season.
Utley sees it a little differently.
"I'm a little biased because obviously I was one of those players," he said. "From an organizational standpoint there's some difficult decisions that you have to make over the course of the years. I'm happy that we kind of hung on and tried to give it another shot. We obviously didn't win, but I enjoyed my time battling to try to win."
Fans won't be reminiscing about the past few years next week in Philadelphia. They will be looking back an incredible run from 2007-'11, which included one World Series championship, two National League pennants, five consecutive National League East titles and one heck of a speech that summed everything up perfectly.
Todd Zolecki has covered the Phillies since 2003, and for MLB.com since 2009. Read his Phillies blog The Zo Zone, follow him on Twitter and listen to his podcast. This story was not subject to the approval of Major League Baseball or its clubs.