Ravin gets callup; Blanton on bereavement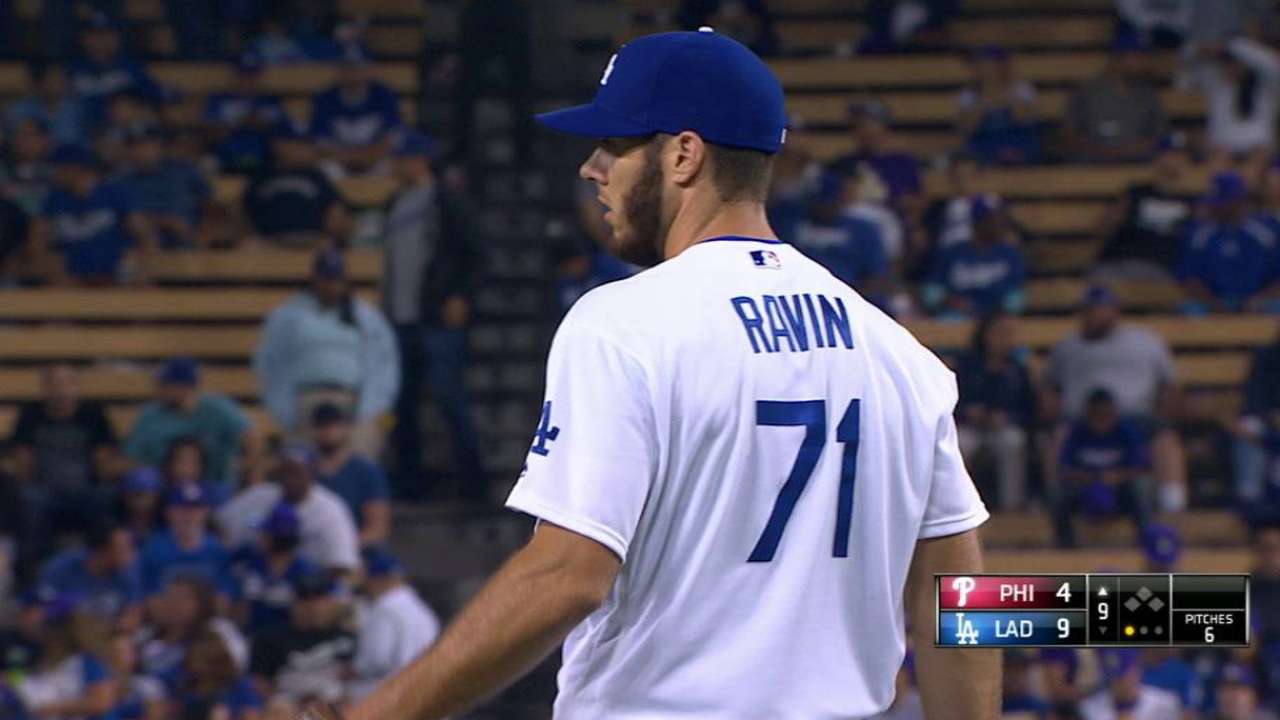 LOS ANGELES -- Josh Ravin is the 28th pitcher the Dodgers have had on the active roster this year, and easily the least expected.
Just since the end of last season, Ravin has been in the news because he had sports hernia surgery, his brother was shot five times (and lived), Josh got strep throat in Spring Training and lost 20 pounds, then he broke his non-throwing arm in a head-on car accident in Arizona. He was then suspended 80 games for testing positive for performance-enhancing drugs that he said he took to regain the weight he lost when he was sick.
So, how has your year been?
He finished his suspension July 17 and got the call Monday morning to come to Los Angeles to fill in for reliever Joe Blanton, who went on the bereavement list after a death in the family and is expected to return Friday.
Ravin finished up Monday night's game, striking out the first two batters he faced in a scoreless ninth inning of the Dodgers' 9-4 win over Philadelphia.
Coming into this season, Ravin was best known, if at all, as the answer to this trivia question: Who relieved Will Ferrell after the actor pitched to one batter in a 2015 Spring Training game promoting his movie, "Take the Field."
Since coming off suspension, Ravin pitched nine innings and allowed one run for Triple-A Oklahoma City and the Rookie Arizona Dodgers.
"I've got a lot of anger and I'm taking it out on every hitter that steps in the box," said Ravin, 28.
Ravin said he's frustrated that as a player trying to return from injury, he received the same discipline as an active player would have for using the same substance.
"That's where my anger comes from," he said. "I tried to use something to get me back quicker. I wouldn't call it cheating, but it is what it is."
Ravin spent eight years in the Reds organization trying to harness a triple-digit fastball before joining the Dodgers to split time between Double-A and Triple-A in '14, when he was plagued by oblique and groin issues.
Last year, he appeared in nine big league games for the Dodgers and thought he had a shot at making the club in Spring Training before the illness and then the accident, which required surgery to insert a 10-inch plate, 11 screws, two pins and 20 stitches to put the arm back together.
"The air with his suspension has been cleared," said Dodgers manager Dave Roberts. "We are happy to have him here. He can give us one or two innings. He's thrown four innings and been dominant, been sitting at 97 [mph]. He should get Major League hitters out."
Ken Gurnick has covered the Dodgers since 1989, and for MLB.com since 2001. This story was not subject to the approval of Major League Baseball or its clubs.