The short homers of Schimpf, Dickerson
Phillies continue domination of the Padres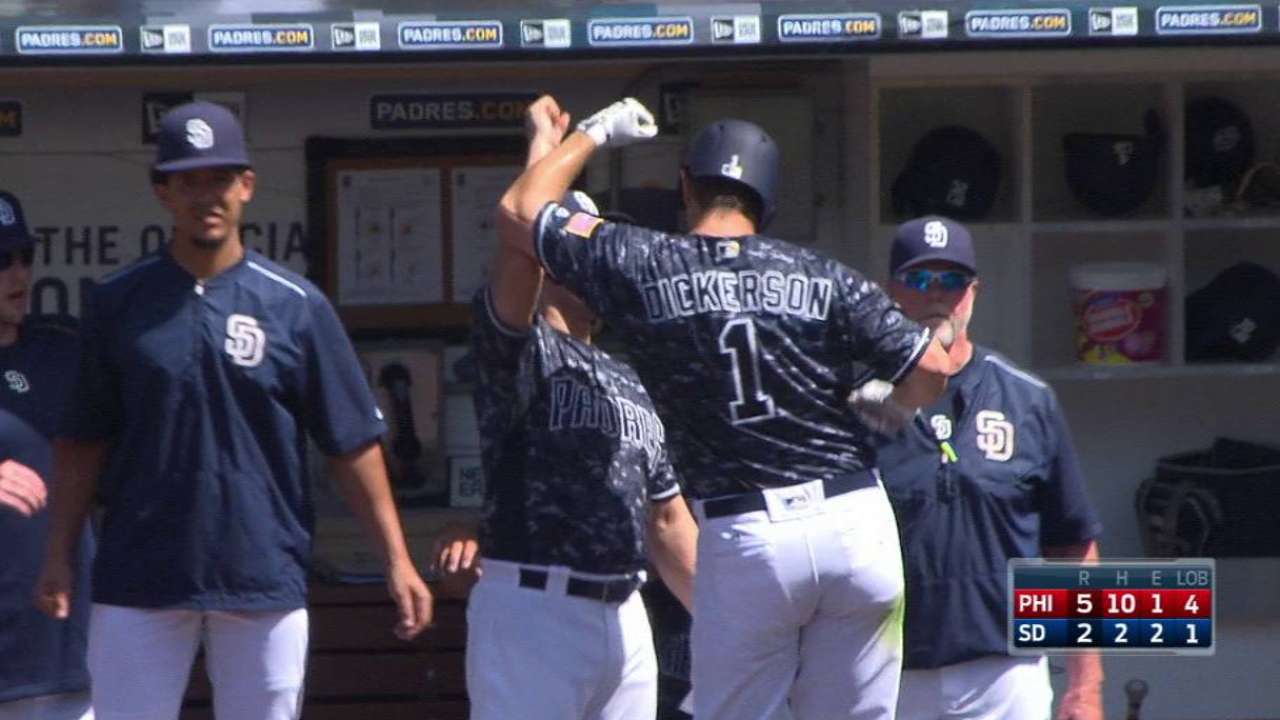 Bill Center, longtime sportswriter for U-T San Diego, is an employee of the Padres.
Alex Dickerson and Ryan Schimpf combined for a first Sunday afternoon at Petco Park.
Each dropped a homer into the short porch in the right-field corner. That marked the first time since Petco Park opened in 2004 that two homers had been hit into those seats in the same game -- and thanks to Jeff Praught for keeping track of that stat.
Schimpf's 326-foot homer was the fourth-shortest in the history of Petco Park. The shortest homer ever at Petco Park was 323 feet by Xavier Nady of Arizona in 2011. Juan Uribe hit a 324-foot homer into the porch in 2014 and Phil Nevin had a 325-foot homer in 2004.
Dickerson's homer traveled 333 feet.
Both homers were significant for other reasons.
Dickerson's homer extended his hitting streak to five straight games. He is 6-for-17 during the streak with two doubles, the homer, five RBIs and three runs scored. He is hitting .333 (25-for-75) over 25 games since July 5 with six doubles, a triple and five home runs for 15 RBIs.
Schimpf's homer was his 10th in 43 games since being promoted from Triple-A El Paso. But it was his first homer since July 24. Schimpf, 28, was named the National League Rookie of the Month for July when he led all Major Leaguers and set a single-month Padres rookie record with nine homers. Twenty-one of Schimpf's 28 Major League hits have gone for extra bases (nine doubles, two triples, 10 homers).
NOTES FROM THE SCOREBOOK
• Center fielder Travis Jankowski was 1-for-4 Sunday to extend his career-best hitting streak to seven straight games. He is 13-for-27 (.481) during the streak with two doubles, seven steals, four walks and 12 runs scored.
• The Phillies win Sunday gave them a 5-2 edge in this year's season series and continued their domination of the Padres since both cities opened their new ballparks in 2004. The Phillies are 60-26 against the Padres since Petco Park and Citizens Bank Park opened in the same year. The Phillies are 32-11 against the Padres at Petco Park. The .744 winning percentage is the highest by any team against the Padres at Petco Park. Over the same span, the Phillies are 28-15 against the Padres in Philadelphia.
• The triple play turned by the Phillies Sunday was the first ever at Petco Park.