Wolters' bat catching up to his glove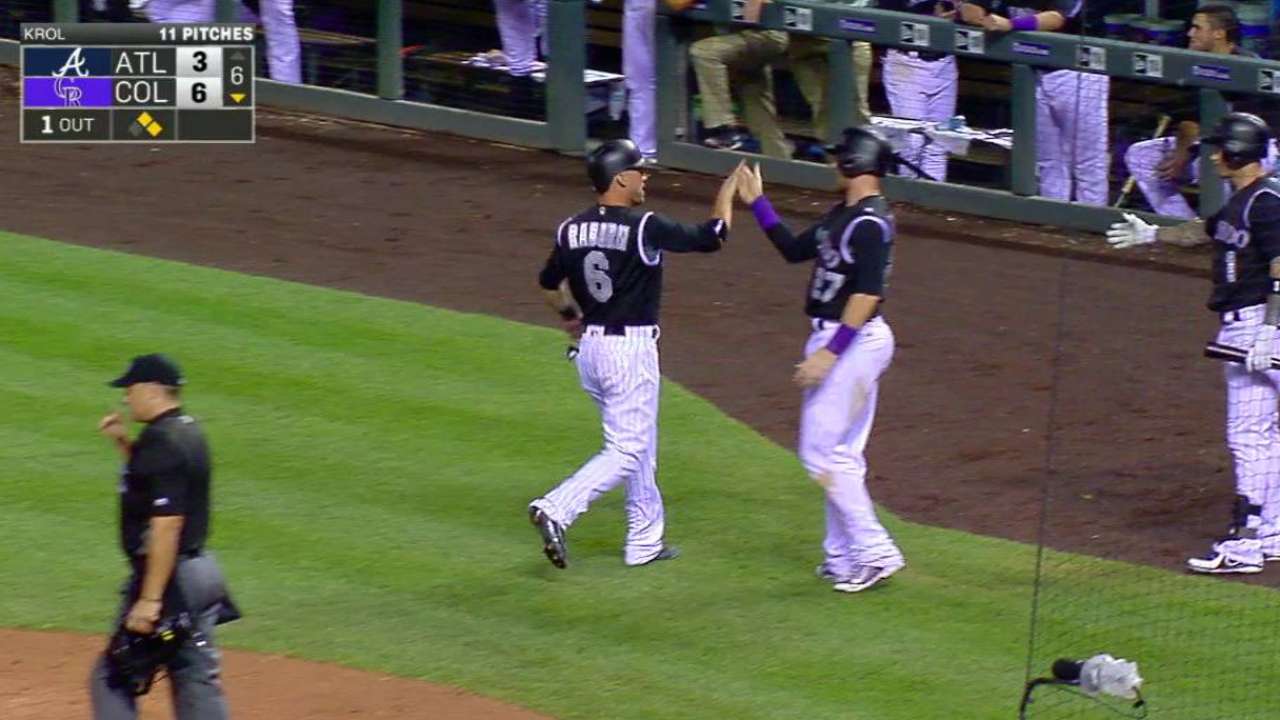 DENVER -- Analysts spent the early weeks of the season championing the pitch-framing metrics of Rockies rookie catcher Tony Wolters with the caveat, spoken or unspoken, that his ability behind the plate makes him valuable even if he doesn't hit a lick.
But it sure is nice that he's hitting.
Wolters, 24, who was not in the lineup against the Rangers on Monday night, has hit .232 overall with one home run and 22 RBIs in 50 games, including 42 starts. But in eight games since the All-Star break, he is batting .333 with a .462 on-base percentage in 27 plate appearances.
"A lot about hitting is confidence," Wolters said. "I'm more upright, trying to stay stacked, to give myself room inside and keeping my head on the pitcher."
Wolters takes the expression "keep your eye on the ball" literally.
"I've been making it a priority, really seeing the ball off the bat instead of my head coming up and losing the barrel," he said. "It's little things -- Little League stuff. It really makes a difference, because all I'm trying to do is keep my bat in the zone as long as possible."
Wolters marshaled the same amount of effort he applies to catching for sessions in the batting cage.
"He's worked really hard, offensively," manager Walt Weiss said. "He and [hitting coach] Blake [Doyle] have put in a lot of time and seen a lot of good things with Tony's swing. The swing path is a little bit different than it was earlier in the year, and there's more rhythm."
Wolters had not advanced beyond Double-A in the Indians organization before the Rockies claimed him off waivers at the start of Spring Training. He has since learned game preparation from experienced players.
"This whole team has good routines," Wolters said. "I'll look around and pick up some things here and there, about going to the gym or what they do in the cage."
Gray's day: Right-hander Jon Gray struggled with his command on Sunday and didn't have his usual quality of secondary pitches, which led to the Marlins scoring four runs off him in the first inning, and eight total, in 3 2/3 innings. The Rockies rallied before falling, 10-7, and might have won if Gray had limited the damage to the first inning.
"I think it's a good lesson for all our pitchers, and it's something we preach here, especially at home," Weiss said. "If you give up a big number early and stop the bleeding and keep the game intact, we'll win a lot of those games late."
Diaz progressing: Right-hander Jairo Diaz, who is recovering from March Tommy John surgery and out for the season, threw from 90 feet for the first time on Monday. He made 45 throws at less than half strength; the next step in his rehab will be making 60 throws from that distance.
Miller rehabbing: Right-hander Justin Miller made his sixth rehab appearance with Triple-A Albuquerque on Sunday. He allowed two runs in two-thirds of an inning, which broke a streak of three straight scoreless outings.
Thomas Harding has covered the Rockies since 2000, and for MLB.com since 2002. Follow him on Twitter @harding_at_mlb, listen to podcasts and like his Facebook page. Ben Weinrib, a reporter for MLB.com based in Denver, contributed.
This story was not subject to the approval of Major League Baseball or its clubs.