Cardinals living on 'Wild' side with crazy 9th
Yadi takes one for the team as HBP caps 5-run rally to beat Reds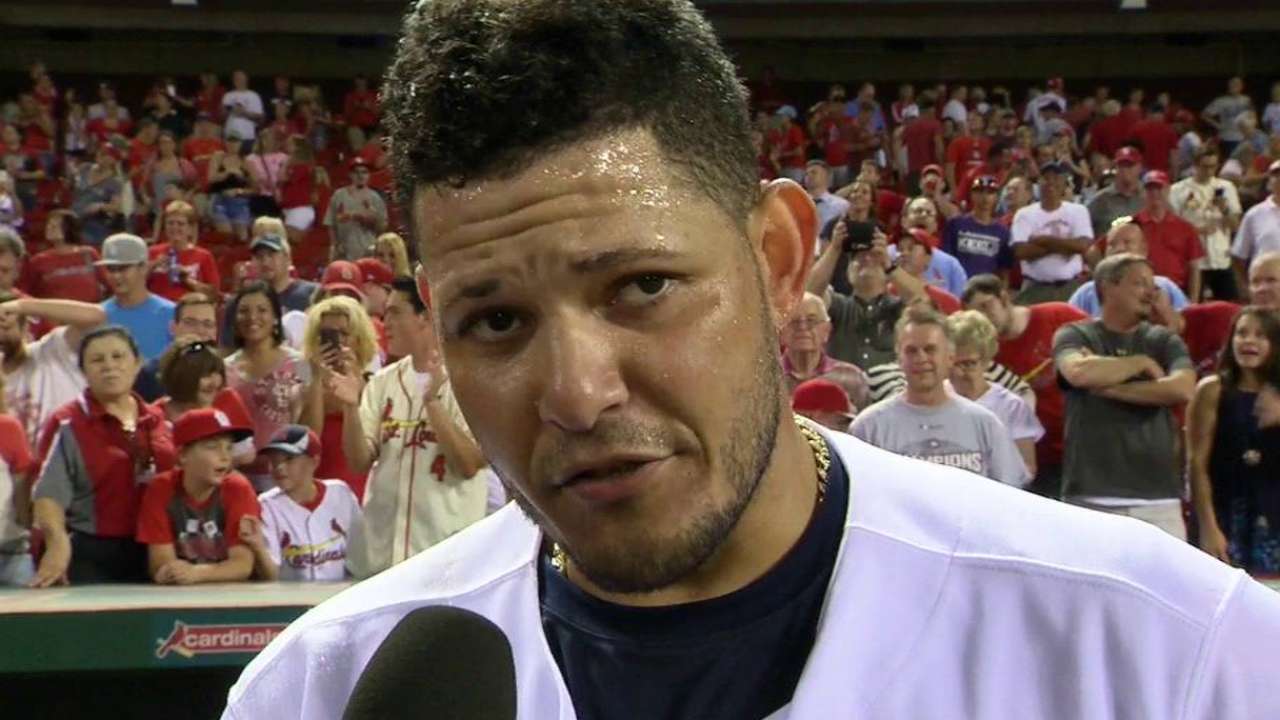 ST. LOUIS -- A pitch to the ribs likely never felt so sweet for Yadier Molina, who celebrated with a fist pump and a slide into first base. By the time he popped up, the Cardinals catcher was already being swarmed.
A night in which the club looked "dead" and "flat," according to manager Mike Matheny, finished in the most improbable of ways. The Cardinals scored five two-out runs in the ninth for a 5-4 walk-off win over the Reds that propelled them into a tie for a National League Wild Card spot after being on the verge of dropping a third straight game to a last-place team.
"It's always good to be reminded of the kind of team we can be," Matheny said after his team's sixth walk-off victory. "It's just good to have those reminders, that if you keep playing the game and are not settling or buying into what it appears to be, good things can happen for a good team."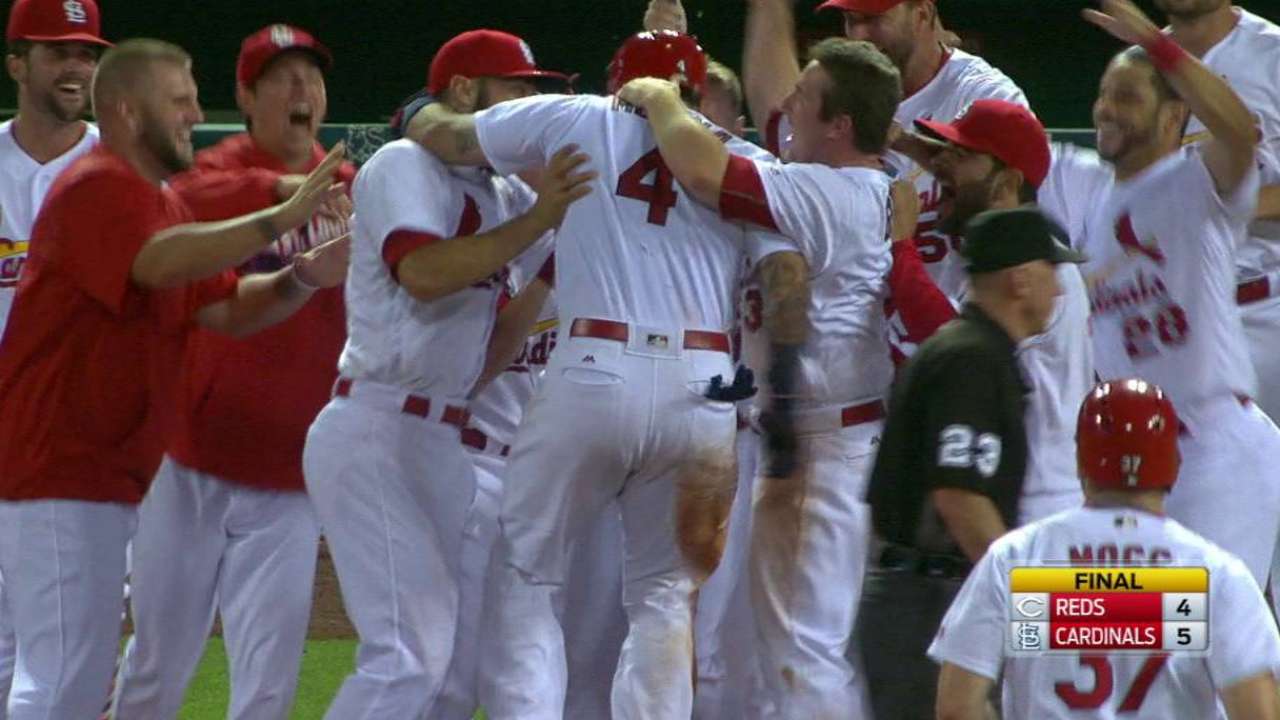 The good was hard to find over the first eight innings, during which the Cardinals fell into another early deficit and went 0-for-11 with runners in scoring position. Michael Wacha became the fifth starter in seven days to not record an out in the sixth.
But command issues by Reds closer Tony Cingrani opened the door for a team that had been 2-45 when trailing after eight innings. After retiring two of the first three batters he faced, Cingrani walked Tommy Pham and hit Kolten Wong to load the bases. Matt Carpenter, who had one hit in his previous 14 at-bats, kept the line moving with a two-run single to right.
Stephen Piscotty, whose defensive misplay earlier in the night had helped the Reds to a four-run lead, laced an RBI single to left to make it 4-3. The crowd could sense that something special was brewing.
"We allowed them to get excited, their fans to get excited and we weren't able to execute the pitches we needed to finish the inning," Reds manager Bryan Price said. "They grinded out some good at-bats."
Matt Holliday drew a four-pitch walk to reload the bases, after which the game was turned over to Ross Ohlendorf. Brandon Moss, 1-for-4 in his career against Ohlendorf, a former teammate of his, went up with a specific approach.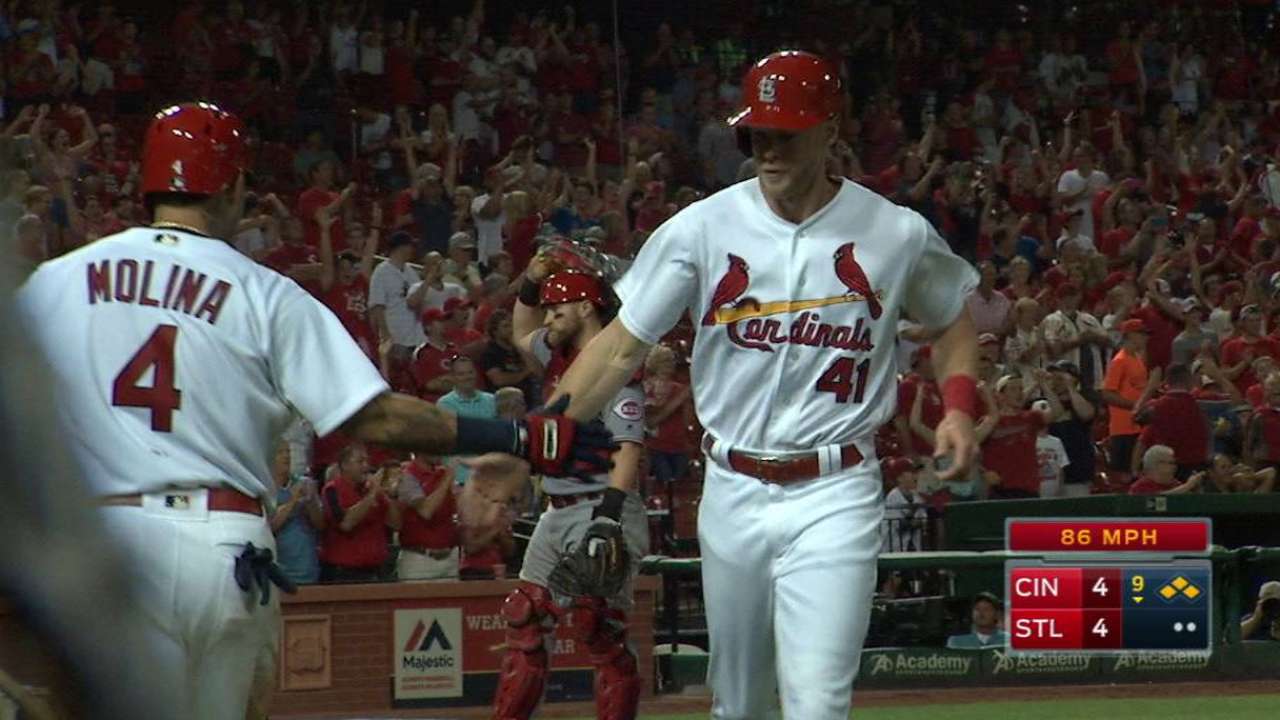 "I wasn't going to give the at-bat away on the first pitch," Moss said. "He's a little tough on me because of the way he pitches, and it's hard to pick up the ball. My whole goal was to go up there and not be too aggressive. I was going to make him show that he could throw strikes."
Ohlendorf didn't throw enough, as he lost Moss to a full-count walk and, two pitches later, drilled Molina. It capped the Cardinals' first walk-off victory in which they scored five ninth-inning runs since Aug. 19, 2005.
The Cardinals were a strike away from dropping to 2-7 over their last nine games, but instead picked up what they hope could be a momentum-building win.
"We really needed it," Molina said in an on-field interview with FOX Sports Midwest. "A comeback like that against a great pitcher like Cingrani, it's amazing. We never gave up."
Jenifer Langosch has covered the Cardinals for MLB.com since 2012, and previously covered the Pirates from 2007-11. Read her blog, follow her on Twitter, like her Facebook page and listen to her podcast. This story was not subject to the approval of Major League Baseball or its clubs.