Nunez amazed at Ichiro's accomplishments
MIAMI -- Eduardo Nunez wasn't watching when former teammate Ichiro Suzuki recorded his 3,000th Major League hit Sunday, but Nunez will get a chance to congratulate him while the team is in Miami this week.
"I don't know," Nunez said of how the conversation will go. "I'm gonna say he's an amazing human and he deserves it."
•
Ichiro triples to reach 3,000-hit milestone
•
From Japan to US, Ichiro born to be a star
•
DYK: Ichiro joins 3,000-hit club
•
To Ichiro, 3,000 hits bigger than 1 person
•
Ichiro congratulated by 3,000-hit club members
•
Ringo: Ichiro's road to 3,000 paved in Emerald City
•
Ichiro means everything to Ichi-meter lady
•
Like Ichiro, daily beat demands dedication
•
Celebrate Ichiro's 3,000th hit with 13 great photos
•
Griffey admires Ichiro's feat from afar
•
Old foes praise Ichiro's greatness
•
Ichi-Rose: Combo batter expands hit story
•
Ichiro's player page
•
Rare feats: 3,000 hits club
•
Shop for Ichiro merchandise
Sights & sounds
Ichiro's 3,000th MLB hit
Radio calls Ichiro's 3,000th hit
Ichiro discusses milestone
A look at the 3,000-hit club
Ichiro reaches milestone
Ichiro's historic hit No. 4,257
Ichiro highlights
It won't be the first time Nunez congratulated the international icon for reaching a milestone.
A teammate of Ichiro's with the Yankees in 2012 and '13, Nunez was in the dugout when Ichiro notched his 4,000th career hit between the United States and Japan three years ago at Yankee Stadium.
Wide-smiled, Nunez walked up the steps of the dugout to applaud Ichiro along with the rest of his team.
"He's amazing. He deserves all those kinds of things," Nunez said. "That was an amazing moment and one of the best memories in my life."
Ichiro is known for having one of the greater baseball minds in the game, which is why Nunez said he tried to absorb as much as he could from him while the two played together.
One thing that specifically stood out to Nunez was the way Ichiro stretched and took care of his body. Nunez said he's taken that with him, and it may have helped his numbers, as he's in the middle of the best offensive season of his career.
"How he thinks, prepares and competes. How his mind works," Nunez said. "You take all those with you, for sure."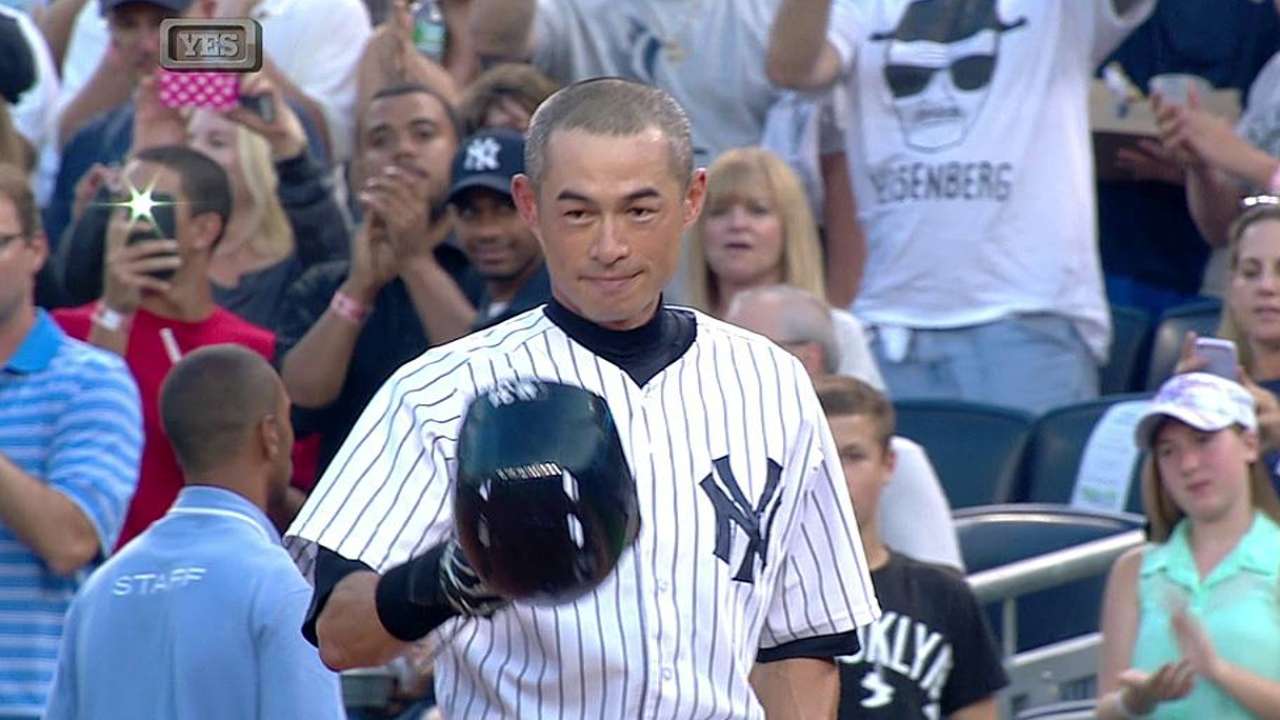 Worth noting
• Giants Minor League outfielder Chuckie Jones, who is currently on the roster of the Class A Advanced San Jose Giants of the California League, received a 100-game suspension without pay Monday following a third positive test for a drug of abuse in violation of the Minor League Drug Prevention and Treatment Program.
Patrick Pinak is a reporter for MLB.com based in Miami. This story was not subject to the approval of Major League Baseball or its clubs.