Arizona wins Sr. RBI title; Chicago triumphs in Jr.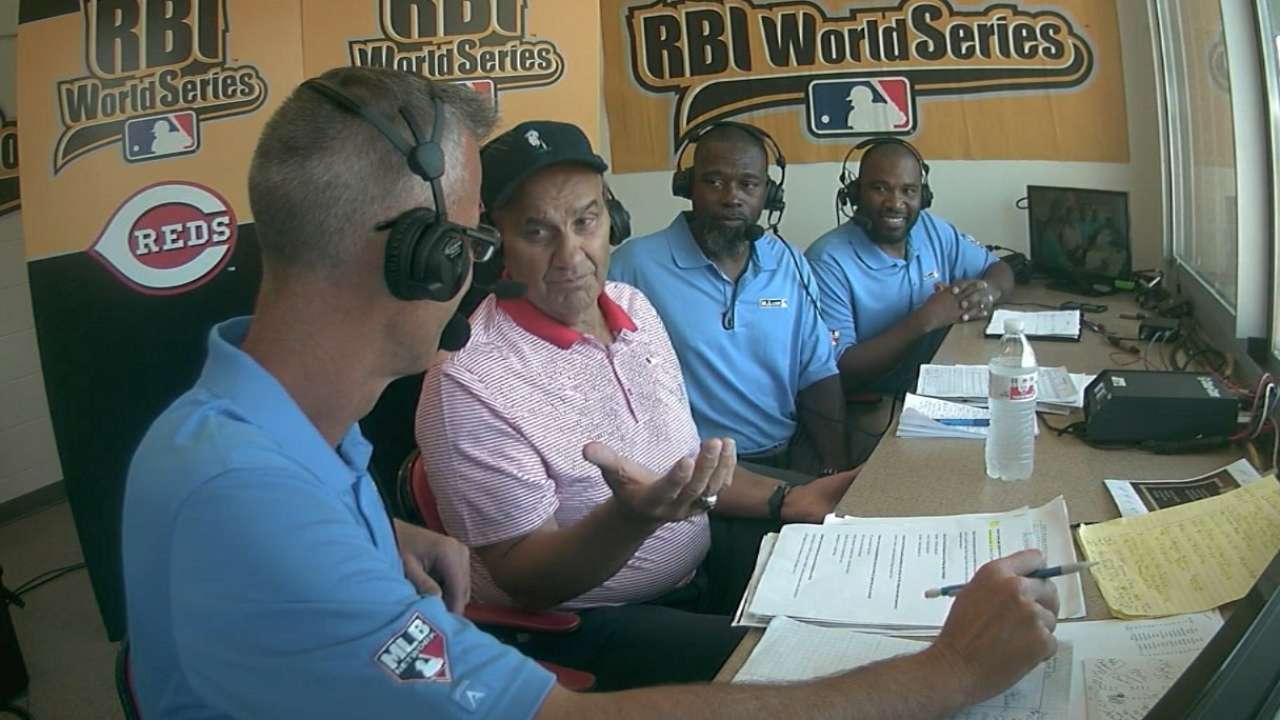 CINCINNATI -- The RBI World Series championship game between the Passaic and Arizona RBI teams was a tightly contested one for much of the game, but a two-hit, one-walk rally in the sixth ended up giving Arizona a 3-2 lead that it did not relinquish.
Arizona won its final four games of the tournament after starting 0-2 in pool play.
"We played well in the regionals, and then we came over here, we didn't do so hot in the first couple pool-play games," Arizona coach Danny Rodriguez said. "We just grinded it out. We told them that pool play didn't matter, we just had to get it done in single elimination. Just tip my hat off to the kids."
• Reviving Baseball in Inner Cities World Series coverage
Passaic jumped to an early one-run lead with a two-run second inning capped off by a single from Chris Herrera that brought both runs home with the help of a throw from the outfield that sailed over the catcher's head.
Arizona tied it in the third and then got shutdown pitching from Genner Cervantes to keep it tied until its offense was able to break the tie in the sixth. Michael Santorelli, who went 1-for-3 with an RBI as the starting left fielder, was brought in to secure the four-out save.
Passaic came in averaging six runs per game in the tournament, but Cervantes was able to hold them to two runs on three hits while striking out five over 5 2/3 innings, earning him the World Series Most Valuable Player Award.
"[I just went] straight at them, don't leave them nothing down the middle," Cervantes said. "Just try to work the corners, try to get them off balance. Mainly just pitched tough to them, don't let them handle anything down the middle."
White Sox Junior RBI takes home first RBI title
After leading for much of the game, the Chicago White Sox RBI team fell behind the Atlanta RBI team in the fifth inning, but it rallied for two runs in the bottom of the fifth and then pitched two scoreless innings to take the 5-4 victory, delivering Chicago its first RBI championship.
"It's just a testament of who we are," Chicago coach Marcus Rodgers said. "We come from a rough place. We come from Chicago. ... There's no positive things being said about our city, but these kids put in work every single day. It's just a testament of the work that we do every single day."
Chicago jumped to an early lead, putting up three runs in the first inning on two hits and two walks, but then the bats fell silent, and the Atlanta team methodically chipped away at its lead, scoring in four of the game's first five innings, including a long second-inning homer from Taj Bradley.
Chicago's fifth-inning rally started with a two-out single from Christian Carr, which put runners on the corners. Lorenz Elion delivered the knockout with a two-run single. Elion, who went 2-for-2 in the game, then came in to pitch the final two innings, shutting down Atlanta's offense and striking out two batters, ultimately earning the game's MVP Award and helping Chicago secure a perfect 6-0 record for the tournament.
"I wasn't expecting [the MVP]. I just know we needed to get that game," Elion said. "I was just saying, 'Get a base hit. We need to to tie this up, or we're going home.' We made history, basically."
Cody Pace is a reporter for MLB.com based in Cincinnati. This story was not subject to the approval of Major League Baseball or its clubs.