Inbox: Core of Royals' roster to remain intact?
Beat reporter Jeffrey Flanagan answers questions from fans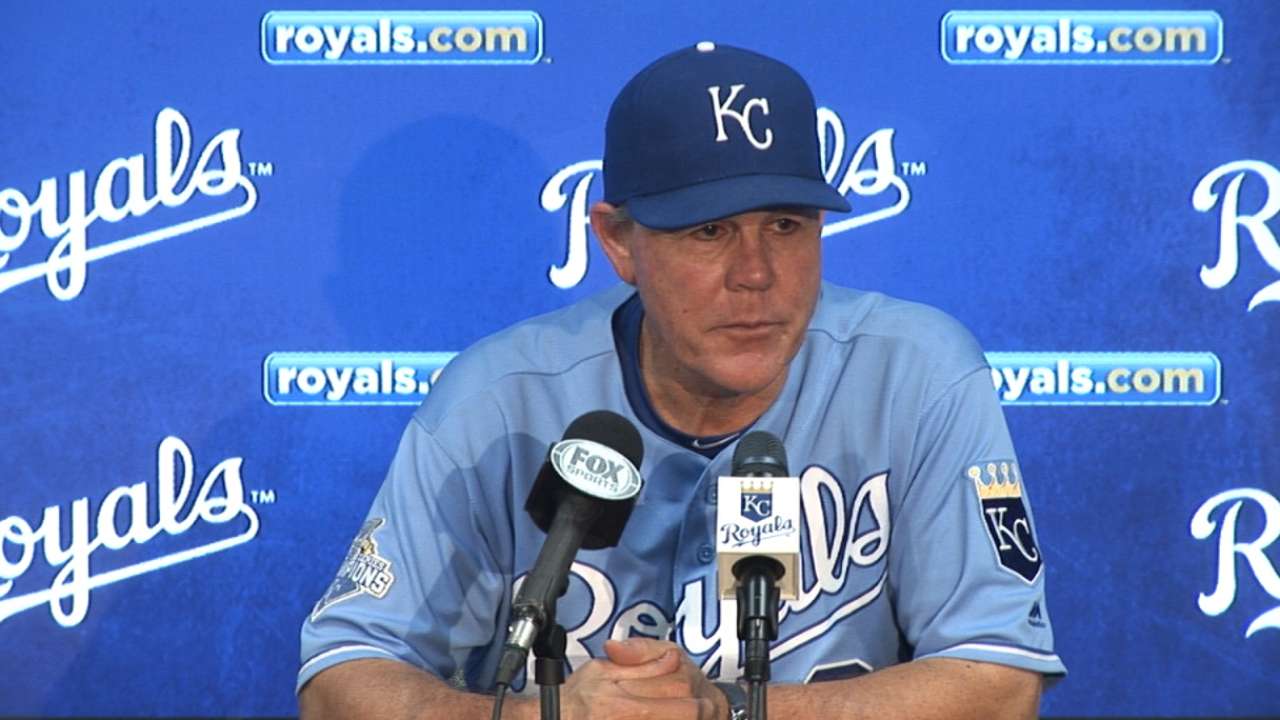 KANSAS CITY -- The Royals just completed a series win over the Blue Jays -- their first in a three-game series or more since June -- and it reminded everyone of the Royals team of 2015.
Pitching, timely hitting, great defense -- all the staples of last year's World Series champions -- was on display.
In fact, while the Royals won four games last week, they probably could have won six. And maybe then the conversation might be more about sneaking back into the Wild Card race.
As it stands, the Royals are eight games out of the second Wild Card spot. It would take a near historic run in the final 51 games to make it interesting, with the Royals probably needing to play close to .700 baseball.
With that, let's get to your questions in the latest Royals Inbox.
@FlannyMLB Will the Royals decline Alcides Escobar's option at the end of the year?

— Kevin (@Kevin_Agee) August 7, 2016
A: Not a chance. The Royals have a $6.5 million club option on Alcides Escobar for 2017 -- that's a bargain by today's standards for a Gold Glove shortstop. Royals fans tend to view Escobar far differently than manager Ned Yost or club officials, who still see the guy who was MVP of last year's American League Championship Series and a clutch performer the past two postseasons. True, Escobar's .279 on-base percentage is very poor, especially for a leadoff man. But the Royals believe 2017 can be another championship season, and while top prospect Raul Mondesi could easily be as good -- if not better -- defensively than Escobar at shortstop, the Royals are better overall with Escobar at short and Mondesi at second next season.
@FlannyMLB Do you think the Royals shop Moose/Cuthbert/Dozier this offseason?

— Joel Rains (@RainsJ7) August 7, 2016
A: This is one of the big offseason issues. Mike Moustakas will reclaim his third-base job, but Cheslor Cuthbert has been so good it's hard to imagine him not on the 25-man roster in 2017. As general manager Dayton Moore joked, "We do play with the DH in the American League." So maybe Cuthbert is the DH in '17. As for Hunter Dozier, he's already transitioning to right field at Triple-A Omaha. I wrote more about this issue here.
@FlannyMLB any chance we try to bring back Holland next year?

— Spencer Roberts (@Spence1529) August 7, 2016
A: I get this question several times a week, it seems. At some point this month, Greg Holland probably will throw a showcase for scouts and I'm sure the Royals will attend. There would be interest in signing him, yes.
@FlannyMLB do the royals resign kendrys and eddie?

— Jon Eaton (@sketchy1poker) August 7, 2016
A: Edinson Volquez and Kendrys Morales both have mutual options for 2017, but the Royals don't have any history of exercising mutual options -- it's mostly an accounting ploy as the buyout from the option year beefs up the total value of a contract. The Royals would be pretty thin in the rotation for '17 without Volquez, so I wouldn't be shocked if they worked out another two-year deal. The Royals like him, and he loves the Royals and Kansas City. Morales is a trickier answer. With Cuthbert a DH option for '17, it's possible they let Morales walk. Then again, he does lead the team in homers with 18, and this is a team without much pop. As is the case with Volquez, it all comes down to finances. The Royals' payroll will go up again in '17 with raises and arbitration cases, and revenue will be down if they don't make another postseason run.
@FlannyMLB what deals do you think Dayton will consider in the offseason?

— amita☁ (@singherrrz28) August 7, 2016
A: Moore has hinted that he will seek pitching this offseason, and lots of it. Maybe four more arms -- two starters and two bullpen guys. As much depth as the Royals thought they had this spring, it has proven to not be enough.
@FlannyMLB What do you think the Royals will do with the 5th starter spot going forward with Minor nearing his return?

— Brett Beecham (@bwbeech) August 7, 2016
A: Yost said the other day that left-hander Mike Minor, rehabbing now with Triple-A Omaha, is very close to joining the big league club. And when he does, I would expect him to get a shot at the No. 5 spot, though right-hander Dillon Gee has been improving lately in that role. But they want to see what they have with Minor, who also is signed for 2017.
Jeffrey Flanagan has covered the Royals since 1991, and for MLB.com since 2015. Follow him on Twitter @FlannyMLB. This story was not subject to the approval of Major League Baseball or its clubs.