MLB.com Columnist
Mike Petriello
Streaking Anderson showing how to succeed at Coors Field
Rookie lefty's 85.3 mph exit velocity is best in baseball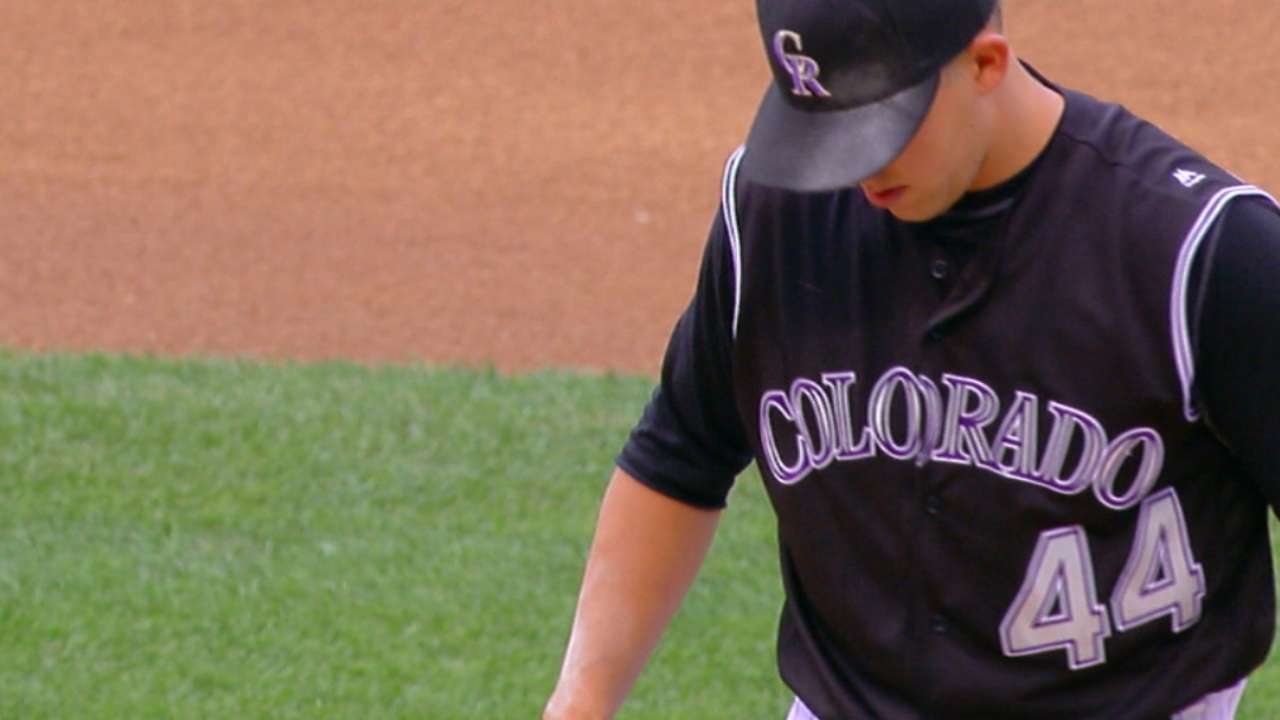 When looking at rookie Colorado lefty Tyler Anderson, one can't help but be reminded of Clayton Kershaw. That's wildly and completely unfair, of course. Kershaw is the greatest pitcher of a generation; Anderson has made all of 10 Major League starts, with his 11th coming on Monday night against Cole Hamels and the Rangers in the MLB.TV Free Game of the Day.
Still, consider it for a minute, as the Rockies bask in a run of shockingly successful starting pitching that's kept them afloat in the Wild Card race. Anderson is a 6-foot-4 lefty who is currently atop the exit velocity leaderboards for starting pitchers, at 85.3 mph against. Kershaw is a 6-foot-4 lefty who last year finished a fraction of a mile per hour behind Jake Arrieta, also at 85.3 mph. And more to the point, they just look similar on the mound.
Compare the slight pause in Kershaw's delivery to Anderson's:
"I didn't even realize I did it until college," Anderson said about the hitch in his delivery after a game in New York at the end of July. "To me, I feel like I'm very smooth, so it's kind of surprising to watch and say, 'That looks funky.' I do watch him and he does that, and Hector Santiago also does a little pause, so for me, I know those are guys that have similar timing, but obviously not similar stuff... [Kershaw] is unbelievable."
Anderson is right, of course. The stuff is different, and he isn't going to be Kershaw. (Probably.) But as Anderson heads into Monday night's start, his 3.25 ERA is the lowest in Rockies history through a pitcher's first 10 starts. How's he managed that? We asked him.
1. He's avoiding the danger zone of hard contact
"You always want to keep them off balance, keep hitters off balance," Anderson noted, "so if you're forcing weak contact, that's a great thing to do."
Though Anderson didn't know he ranked so highly -- in a sport where the average batted ball comes off the bat at 89.2 mph, he has allowed the lowest average of the 169 pitchers with at least 150 balls in play -- he's right. 2015's best starters at limiting exit velo were Kershaw, Arrieta and Dallas Keuchel, otherwise known as "both Cy Young winners and baseball's best pitcher." Also included in the top 10 were Chris Sale and Noah Syndergaard; it's indisputably good to not allow crushed contact.
Still, preventing hard contact is a piece of the puzzle, not all all of it. Right now, the top 10 includes names as prominent as Kershaw, Adam Wainwright and Rich Hill, along with more surprising entries like CC Sabathia and Scott Kazmir. It's difficult to succeed while getting hit hard; on the flip side, soft contact doesn't guarantee success. (It sure helps, though.)
As we've always said, exit velocity is most useful when paired with launch angle. (That is, a 110 mph ball hit straight down is unlikely to be a hit, while a 90 mph ball hit at the right angle might turn into a hit more often than not.) So let's do that, by looking at lowest exit velocity in the launch angle zone between 20 degrees and 50 degrees, which includes a majority of liners and flies -- and 94 percent of home runs. If you can prevent hitters from crushing the ball in the area where it's likely to do the most damage, you're helping yourself a lot.
One-hundred, ninety-eight pitchers have allowed 40 balls in play in that zone. Those with the highest averages against, names like Chris Young, Ivan Nova, Mark Lowe and Kevin Jepsen, have universally allowed a ton of runs. At the other end, the best ...
Lowest exit velocity allowed, 20 to 50 degree launch angle
1. 82.0 mph -- Blaine Boyer
2. 85.3 mph -- Kyle Hendricks
3. 85.6 mph -- Anderson
4. 86.4 mph -- Blake Snell
5. 86.5 mph -- Scott Feldman
This may seem like a weird list, but not when you investigate more closely. Hendricks has quietly inserted himself into the National League Cy Young Award conversation; Snell may be doing the same in the American League Rookie of the Year Award race. Boyer has managed a 3.38 ERA despite an unthinkably low 20 strikeouts in 48 innings, so he must be doing something to compensate; this is it. It's a big part of Anderson's success, too.
2. He avoids free passes
"The big thing at Coors Field is to limit walks," said Anderson. "Those gaps are so big that guys can score all day long from first base on base hits. Limiting free bases is huge there, throwing a lot of strikes is big there."
So far, 199 pitchers have thrown at least 50 innings. Anderson's 4.7 percent walk rate is tied for 11th, putting him in the top 5 percent. That's part of how, despite a much higher batting average allowed at home (.294, compared to .234) on the road, Anderson's home ERA of 3.32 is only slightly higher than his 3.06 on the road. Those additional hits have fewer runners to drive in than the average pitcher would.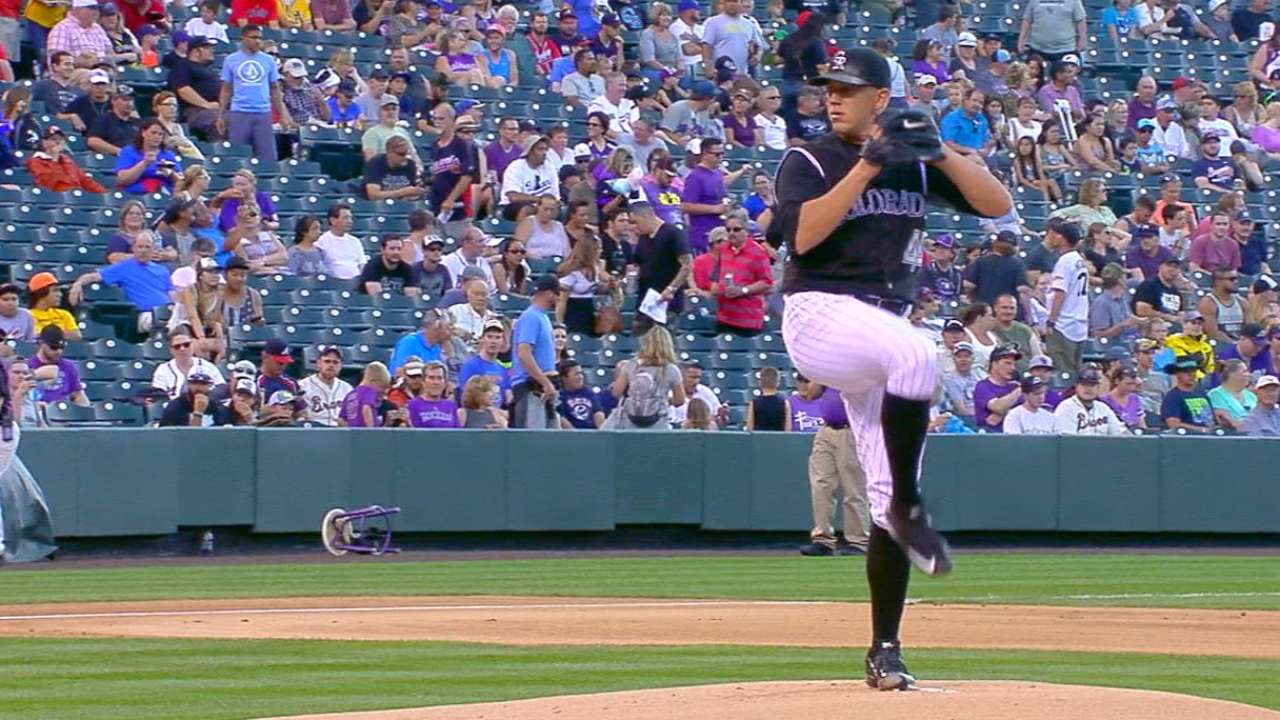 3. He gets grounders
Of those same 199 pitchers, Anderson's grounder rate of 54.9 percent is 15th, putting him in the top 8 percent. Here's where Anderson perhaps most closely resembles a traditional Coors Field pitcher, as he mixes grounders -- you can't hit a grounder over the fence, obviously -- with a fastball-heavy diet. Anderson throws a four-seam fastball, a cutter, a change and a sinker, but only 15 curves all year long.
"It depends on the hitter," when asked about his go-to pitch in big spots. "Some guys, it's fastball, some guys, it's cutter, sometimes it's changeup."
Never, it should be noted, did Anderson say curveball, and that might fit into what we noted Colorado's plan seemed to be last offseason when signing fastball specialists Jake McGee and Jason Motte -- if curves don't work at altitude, find pitchers who are comfortable without that pitch in the first place.
Now: Can Anderson keep it up? He has been stellar, but he's not without risk, particularly because he missed all of 2015 with a stress fracture in his elbow. Anderson has also faced what may be the weakest slate of opposing hitters in baseball, at least according to Baseball Prospectus -- none of the 200 pitchers with 50 innings have had a lower opponent's OPS than Anderson's .687. So it's fair to say he still has much to prove. Considering that Anderson was sitting injured in Arizona a year ago, however, it's just as fair to say he's come a long way.
Mike Petriello is an analyst for MLB.com and the host of the Statcast podcast. He has previously written for ESPN Insider and FanGraphs. This story was not subject to the approval of Major League Baseball or its clubs.