Inbox: When will Moncada make Sox debut?
Beat reporter Ian Browne answers questions from fans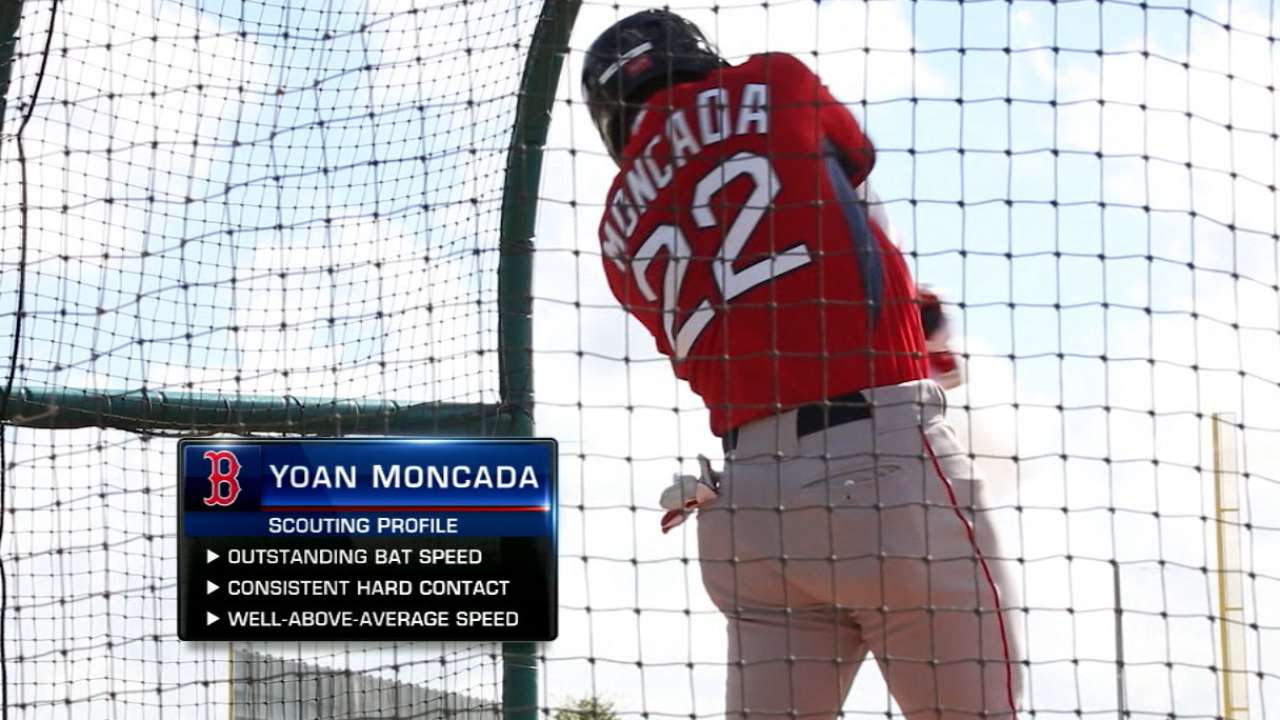 Do you think Yoan Moncada will be called up at all this year, or what is the plan for him moving forward?
-- @evanroberts23
I think you will see Moncada in late August or early September. At the very least, he gives you a terrific pinch-running option when rosters expand. The fact he has been working out at third base could make him more valuable in the coming weeks. Right now, he's dealing with a minor ankle sprain, but he should resume playing for Double-A Portland in about a week.
At what point will Andrew Benintendi get an opportunity to start vs. left-handers? -- @kfuss
Look for that opportunity to come soon, particularly with Chris Young still on the disabled list. Benintendi thrived against lefties at Double-A. They are playing him against righties only right now mainly to take some pressure off of him. The Yankees are throwing all righties in the upcoming series, so this won't be an issue for a few days.
Question of the day: What do you expect from the Fenway faithful if Alex Rodriguez gets at-bats this week?
-- @RedSoxRedShoes
In the spirit of the rivalry, I'm guessing A-Rod will get his customary boos the first couple of days of the series. I wouldn't be surprised if the boos start turning to cheers in the mid-to-late innings in Thursday's series finale. A-Rod has had his share of big hits at Fenway the last few years, so I'm sure he'll enjoy having a chance to take some more aims at the Green Monster before his career ends.
Season over? What needs to be done to right the ship? -- @clarkeinak
Three games out of first place and a half-game out of a Wild Card spot with 52 games left. It would be hard for even a true cynic to think the season is over. The first thing they need to do is play better on the road. Their schedule has more road games than home games the rest of the year. They need to figure out how to get more consistency out of David Price. And the offense needs to be better in close games. Many of their wins have been blowouts, but they've lost a lot of tight games by not producing better with runners in scoring position. For whatever reason, the Red Sox haven't been hitting well of late. Assuming this changes, things will look a lot better.
Wild Card Game at Fenway. Who do you start? -- @miller91
If you are asking that question in a vacuum, I'd say Rick Porcello. He has been tremendous at home all season. But if the Red Sox have to go down to the wire just to make it to that game, they probably won't be able to have much choice who pitches. It will depend on who has enough rest.
Any chance that Brandon Workman pitches for the Red Sox this season? Also, will he be a starter or a reliever in the future? -- @RedSox_Taiwan
I think the Red Sox will stay on a conservative path with Workman and let him finish out in the Minors. There's no reason to rush him back from Tommy John surgery. He projects as a reliever going forward.
If a player is removed from the 40-man roster, does his salary count against the luxury tax? -- @backbayboy
No, it doesn't. This was a big reason the Red Sox took Rusney Castillo off the 40-man roster earlier this season and why Allen Craig was removed last year.
Ian Browne has covered the Red Sox for MLB.com since 2002. Follow him on Twitter @IanMBrowne and Facebook. This story was not subject to the approval of Major League Baseball or its clubs.