Rockies respect Ichiro's contribution to the game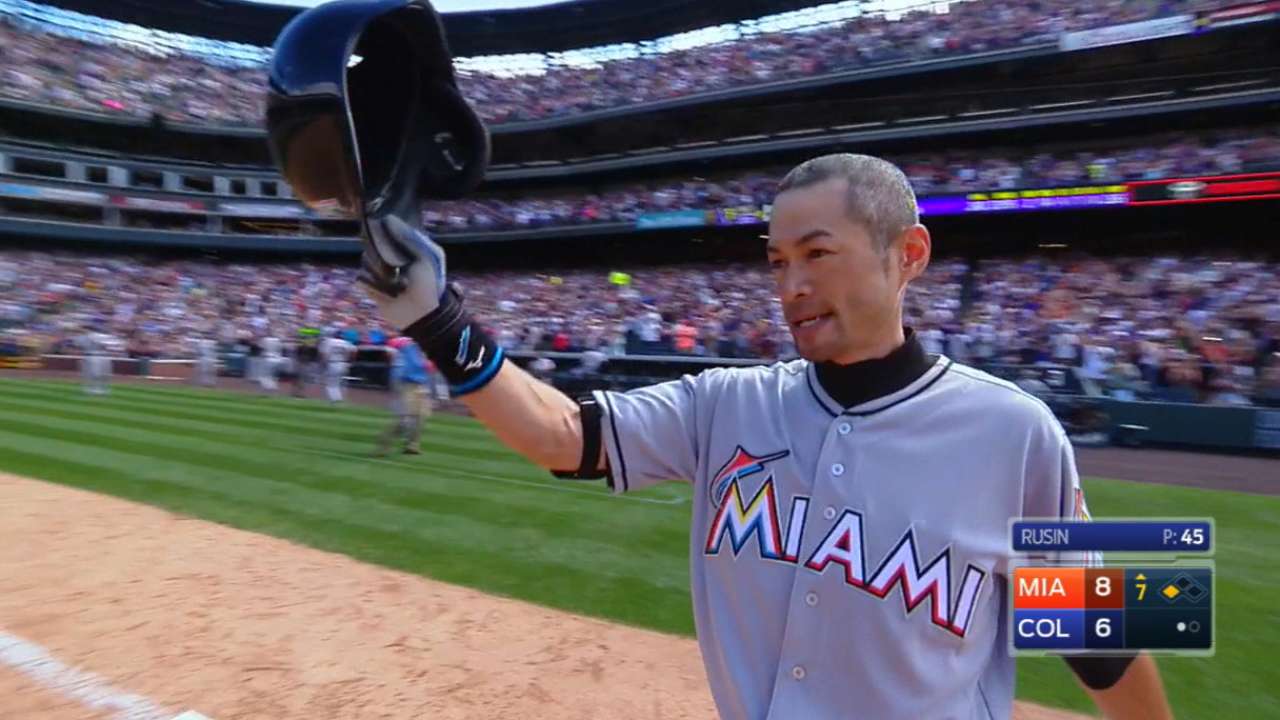 DENVER -- The Rockies were in little mood to celebrate after dropping a series to the Marlins with a 10-7 loss in Sunday's finale, but for a young club filled with players who watched Ichiro Suzuki electrify the Major Leagues with his arrival 16 years ago, it was hard not to recognize the momentous milestone they witnessed.
"You focus on winning the game," manager Walt Weiss said. "The game's hanging in the balance at that point. But hey, you figured it was going to happen this series at some point. It's an amazing accomplishment. It's a lot of hits, in a relatively short period of time."
•
Ichiro triples to reach 3,000-hit milestone
•
From Japan to US, Ichiro born to be a star
•
DYK: Ichiro joins 3,000-hit club
•
To Ichiro, 3,000 hits bigger than 1 person
•
Ichiro congratulated by 3,000-hit club members
•
Ringo: Ichiro's road to 3,000 paved in Emerald City
•
Ichiro means everything to Ichi-meter lady
•
Like Ichiro, daily beat demands dedication
•
Celebrate Ichiro's 3,000th hit with 13 great photos
•
Griffey admires Ichiro's feat from afar
•
Old foes praise Ichiro's greatness
•
Ichi-Rose: Combo batter expands hit story
•
Ichiro's player page
•
Rare feats: 3,000 hits club
•
Shop for Ichiro merchandise
Sights & sounds
Ichiro's 3,000th MLB hit
Radio calls Ichiro's 3,000th hit
Ichiro discusses milestone
A look at the 3,000-hit club
Ichiro reaches milestone
Ichiro's historic hit No. 4,257
Ichiro highlights
The Rockies fell to a game under .500, but the atmosphere in Coors Field all weekend as the baseball world awaited a Mile High milestone from one of the greatest hitters to ever wield a bat helped give two newly contending teams a taste for the kind of meaningful games they're pursuing.
"I remember watching him growing up as a kid," said Chris Rusin, the reliever who gave up Ichiro's 3,000th career hit Sunday. "Sitting on the couch in high school. To be the guy that pitched his 3,000th hit, it's crazy to be a part of it."
Rusin joins past Rockies John Thomson and Aaron Cook as pitchers who gave up No. 3,000 to the last two National Leaguers who reached the milestone, Rickey Henderson and Craig Biggio, respectively.
"It was a cutter. It just caught too much of the plate and he put a big swing on it," Rusin said of the fateful pitch that Ichiro bounced off the right-field wall, just out of reach for a leaping Gerardo Parra for a triple. "Thankfully, it stayed in the park. With a hitter like that, you can't fall behind. He's been around for a long time. He's one of the greatest hitters. You can't leave him with that much plate."
When Ichiro got to third, he was immediately mobbed by his teammates, who poured onto the field as soon as time was called. For a brief moment before that mass hysteria, third baseman Nolan Arenado was the closest Rockies player to share the moment with the icon.
"I wish we were winning," Arenado said of the moment. "I wanted to see him get the 3,000th hit, I just wish we were winning by a lot and it was a bloop or something. It's amazing. I remember when he first got into the game when I was young and watching him. To see who he's become is amazing. He's an unbelievable player. Unbelievable accomplishment. It's well-deserved."
Respect. #Ichiro3000 pic.twitter.com/pGSMtdtsQK

— Colorado Rockies (@Rockies) August 7, 2016
Arenado walked clear over to first base to give Ichiro his moment alone in the spotlight.
"I tried to let him enjoy it," Arenado said. "That's why I went on the other side. He deserves the recognition. I didn't want to be in the back of the picture, with the cameras on him. It's about him."
Starting pitcher Jon Gray didn't have much success against the Marlins, leaving after allowing eight runs in 3 1/3 innings, but he did get Ichiro out twice, making him the only Marlins starter who didn't reach base against Gray.
"It was awesome to grow up watching that guy," Gray said. "He was one of my favorite players. I wish I could have had a better game and had a battle. It sure was a lot of fun."
Carlos Gonzalez was able to watch from the bench, having a day out of the lineup. He couldn't separate himself from wanting to win, but he could appreciate the significance of the historic moment that reminded him of being on the field for Ubaldo Jimenez' no-hitter for the Rockies in April 2010.
"It was pretty cool to see him do it in person," Gonzalez said of Ichiro. "Of course, it's a tough loss, and he's getting a hit against you, and that's the last thing you want to see. At the same time, he earned it. He's been a great player, a great ambassador for the game and he's really fun to watch."
Owen Perkins is a contributor to MLB.com based in Denver. This story was not subject to the approval of Major League Baseball or its clubs.