Ichiro means everything to Ichi-meter lady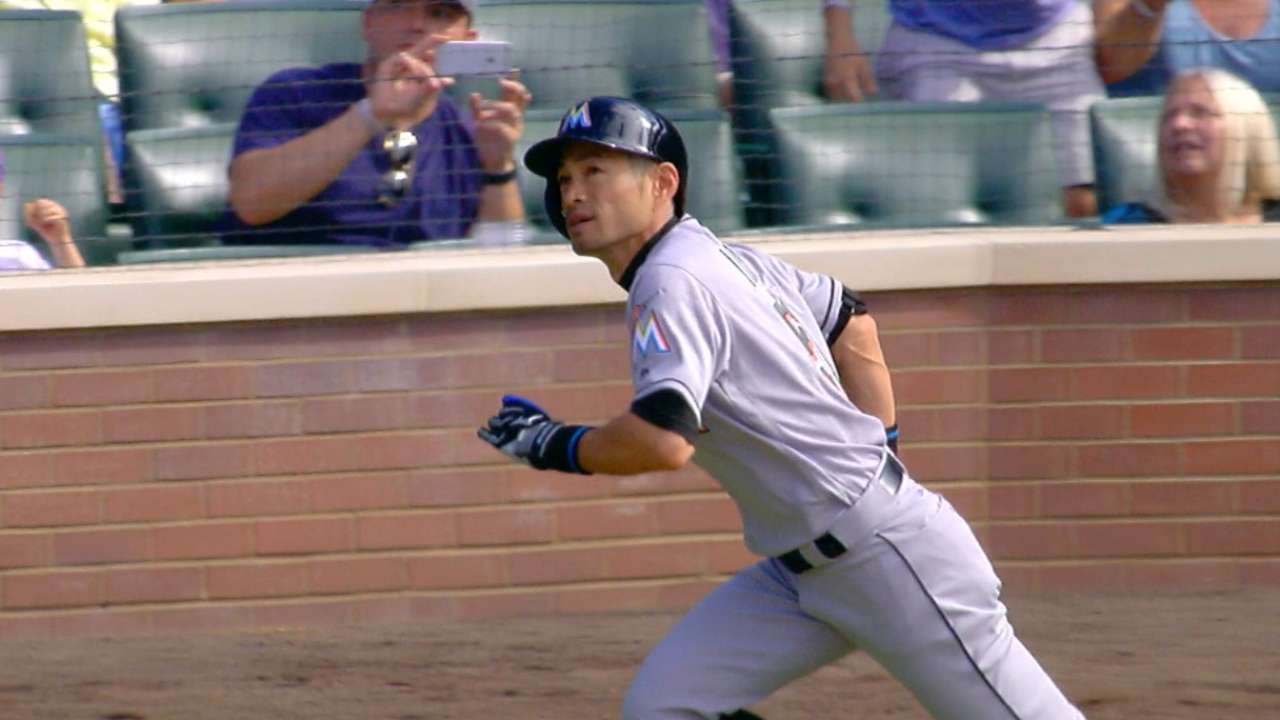 On Oct. 1, 2004, Ichiro Suzuki stepped up to the plate with the sold out crowd at Safeco Field already on its feet.
Amy Franz, who would later become better known as the Ichi-meter lady, stood in the right field stands. Her black and neon green hit-counting sign read, "257," even with George Sisler's single-season hit record from 1920.
"Magical would be the best description for it," Franz said. "Excitement. And the closer he got, it was a butterflies-in-your-stomach kind of feeling: Oh, this is really going to happen."
•
Ichiro triples to reach 3,000-hit milestone
•
From Japan to US, Ichiro born to be a star
•
DYK: Ichiro joins 3,000-hit club
•
To Ichiro, 3,000 hits bigger than 1 person
•
Ichiro congratulated by 3,000-hit club members
•
Ringo: Ichiro's road to 3,000 paved in Emerald City
•
Ichiro means everything to Ichi-meter lady
•
Like Ichiro, daily beat demands dedication
•
Celebrate Ichiro's 3,000th hit with 13 great photos
•
Griffey admires Ichiro's feat from afar
•
Old foes praise Ichiro's greatness
•
Ichi-Rose: Combo batter expands hit story
•
Ichiro's player page
•
Rare feats: 3,000 hits club
•
Shop for Ichiro merchandise
Sights & sounds
Ichiro's 3,000th MLB hit
Radio calls Ichiro's 3,000th hit
Ichiro discusses milestone
A look at the 3,000-hit club
Ichiro reaches milestone
Ichiro's historic hit No. 4,257
Ichiro highlights
Ichiro broke the 84-year-old record with a single up the middle. He went on to get four more hits that season to set a still reigning record of 262 hits. He was 30 years old at the time. Now, at 42, Ichiro has chased down another milestone in his career and joined just 29 others in the 3,000 Major League hits club.
Fanz wasn't going to miss that one. She scheduled a 17-game trip following the Marlins after the All-Star break, and then extended it, so that she would be there for Ichiro's 3,000th hit.
"It's not my team," she said. "But he's my player."
Ichiro played with Seattle from 2001 to 2012. In his first year -- the Mariners' 116-win season -- he became the second player ever to be named American League Rookie of the Year and Most Valuable Player in the same season. With his slap hitting approach and quickness both on the bases and in the outfield, Ichiro had success year after year. He was named to the All-Star team 10 consecutive seasons and received 10 Gold Gloves and three Silver Slugger awards.
Even as the Mariners began to decline, Ichiro remained a reminder of the good old days. And as a player who never sought the spotlight, he was the perfect hero for a mid-sized tech town in the Pacific Northwest.
Franz, a Mariners season ticket holder since 1996, was there to witness it all.
"He's amazing," she said. "His talent, his dedication to the sport, he's so respectful of the sport."
Franz made her famous sign in 2004 to track Ichiro's hits as it became clear that he was going to overtake Sisler's record.
Her family's season tickets were in the perfect place for the Ichi-meter: first row in right field. She and her kids picked up cardboard, sheet protectors, packing tape and bright green paper to throw together the sign that now sits in the Hall of Fame commemorating Ichiro's record breaking year.
Franz remade the Ichi-meter after the 2004 season and continued to track Ichiro's hits every year after that. But then in 2012, the Mariners traded Ichiro to the Yankees.
"The fans in Seattle have so much respect for him," Franz said. "Even though he [was] traded to the arch-enemy, the Yankees, nobody hated him for it."
In his first at bat back at Safeco Field, an amazing thing happened. Seattle fans rose to their feet and applauded the New York-clad Ichiro as he stepped up to the plate.
Franz stayed loyal to Ichiro, too. She made a four-digit Ichi-meter, first to count up to Ichiro's 4,000th career hit, MLB and Japan's top professional league combined, and then for his 3,000th MLB hit.
Ichiro has been impressive, especially for his age, this year with Miami. But Seattle was lucky enough to have him at the peak of his career.
"Everybody loved him," Franz said. "They just really seemed to be in awe. And even though he's on a different team, he's always going to be a Mariner in everybody's mind."
Maddie Lee is a reporter for MLB.com based in Seattle. This story was not subject to the approval of Major League Baseball or its clubs.