Anibal delivers best start of season with 10-K gem
Tigers righty allows just one run over eight innings, provides lift in rotation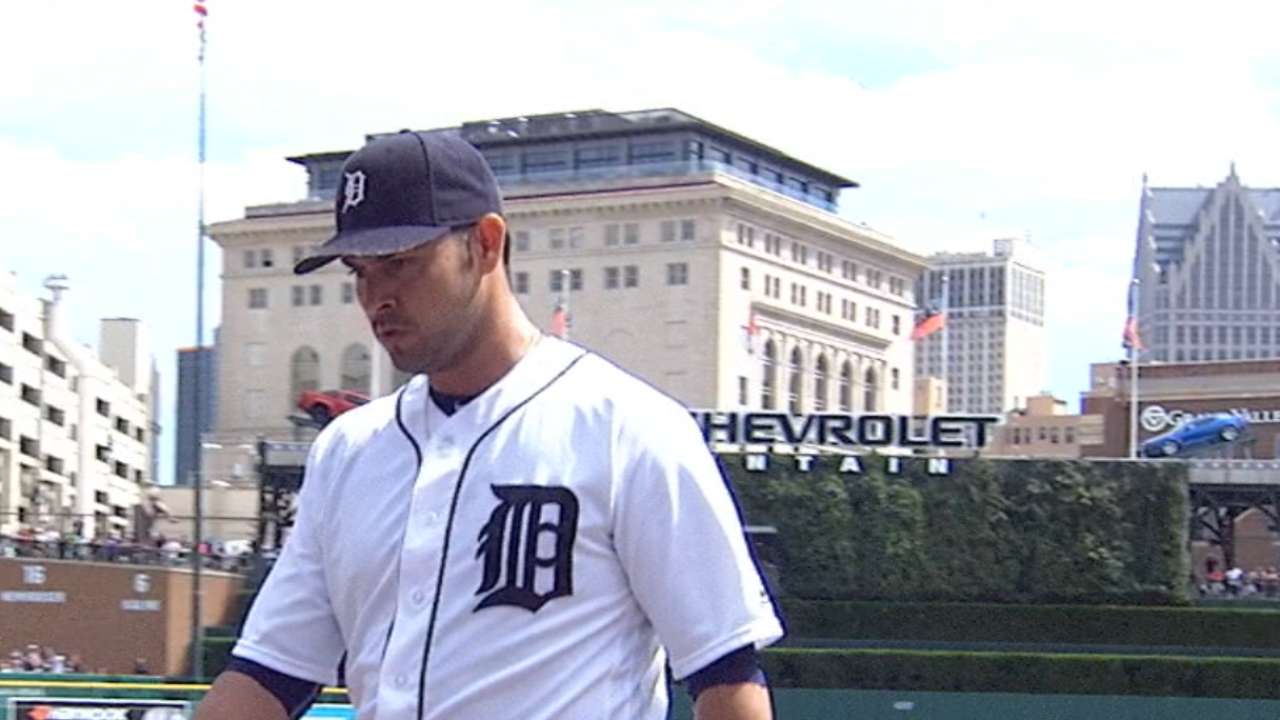 DETROIT -- Anibal Sanchez, demoted to the bullpen amid struggles earlier this season, has been hanging around the Tigers' starting rotation recently, thanks to injuries on the team. While his numbers as a starter have been drastically different than his last couple of seasons, the Tigers were lucky to have him on the mound Sunday.
Sanchez turned in eight innings of work for his longest outing of the season at Comerica Park in the Tigers' 3-1 loss to the Mets. Sanchez's lone run allowed came on a home run in the seventh inning by Michael Conforto.
Sanchez notched 10 strikeouts and issued no walks. It was the first time he had 10-plus strikeouts and no walks since Aug. 3, 2014.
"There's no question it was his best outing of the year," Tigers manager Brad Ausmus said. "He was outstanding. He went deeper than he's gone in any other game. He kept the pitch count down, had some strikeouts. Definitely his best outing."
Sanchez allowed just three baserunners until Conforto's homer in the seventh. Sanchez's command was on point, as he threw first-pitch strikes to 22 of the 28 batters he faced.
"A lot of times when you're ahead in the count, you can expand the zone, you can play a little bit with your offspeed pitch, and that's what I did today," Sanchez said.
Sanchez had not gone deeper than six innings since May 4. After also allowing one run against the White Sox in his last outing, Sunday marks the first time Sanchez has allowed fewer than four runs in consecutive starts since his first two games of the season.
It appeared that Sanchez might have been in for another short start when Ausmus and trainer Kevin Rand had to take a trip to the mound before the sixth inning began. Sanchez was stretching his back out after feeling a little tightness, but ultimately stayed in the game.
"It was more of an, 'Uh-oh, here we go again moment,'" Ausmus said, referring to the Tigers' recent slew of injuries. "But it turned out to be nothing. He said he didn't even feel it, he just felt it that one time and never felt it again."
Jordan Zimmermann (right lat/neck strain) is on the DL for the second time this season and Mike Pelfrey is on the DL with a back injury, which could open the door for Sanchez to make a few more starts. If his recent trends continue, that is something Ausmus thinks could be good for the team.
"That's the best we've seen him," Ausmus said. "If he can continue to pitch somewhat like he has his last few starts, that would be a huge lift to our rotation."
Kyle Beery is a reporter for MLB.com based in Detroit. This story was not subject to the approval of Major League Baseball or its clubs.