MLB.com Columnist
Mike Bauman
Giants need to get things going in 2nd half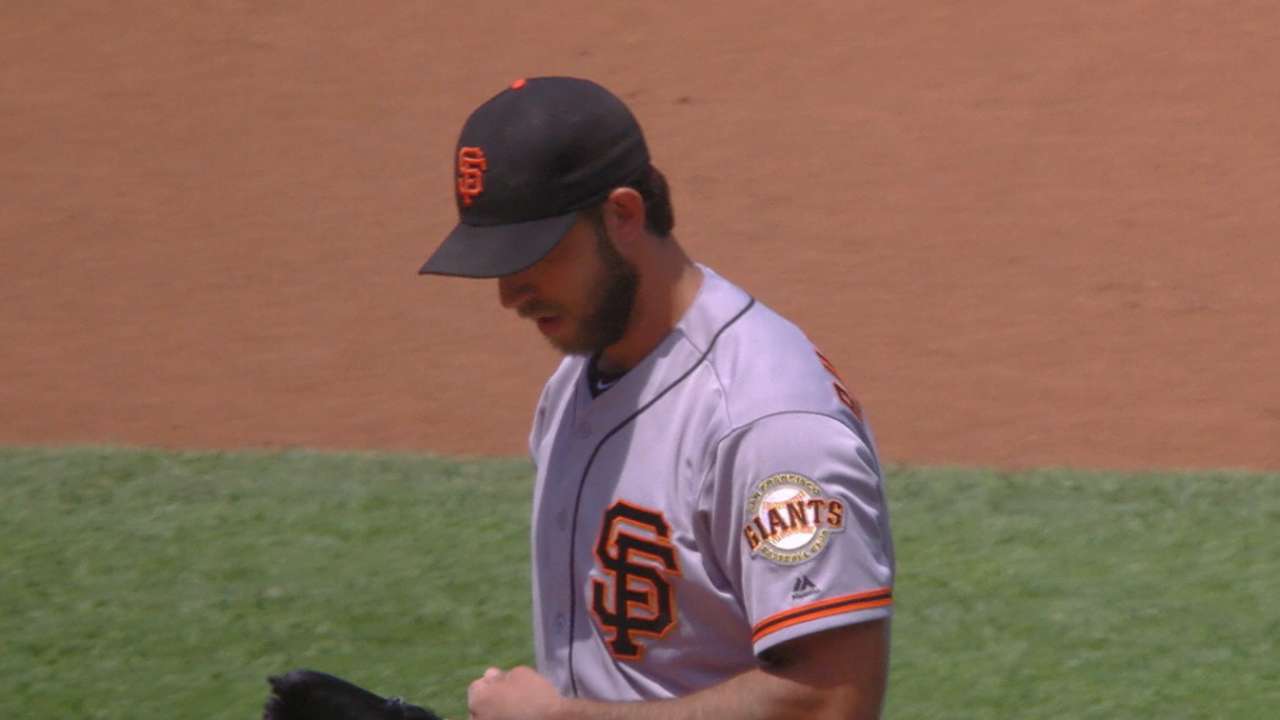 WASHINGTON -- The time for the San Francisco Giants to stage a turnaround has definitely arrived.
With a 1-0 loss to the Washington Nationals on Sunday, the Giants' record since the All-Star break is 6-15, the worst in the Major Leagues over that period.
Washington's Ben Revere made what turned out to be a classic game-saving over-the-shoulder catch on a deep drive to center by Brandon Belt in the seventh. That cost San Francisco two runs and, as it turned out, the game..
"Can't do much more than hit the ball 400 feet," Belt said.
Things have been going so badly for the Giants recently that they have won only two of Madison Bumgarner's past 10 starts. For the most part, those eight defeats were the result of a lack of run support, not any shortcomings on his part.
Bumgarner was the losing pitcher Sunday, but you could hardly blame him. He gave up one run on two hits while pitching a complete game. Unfortunately for Bumgarner, one of the hits was a homer leading off the seventh by Nationals catcher Wilson Ramos, whose breakthrough season continues.
San Francisco created opportunities against Washington starter Tanner Roark, but no runs. The Giants left nine runners on base in Roark's seven innings. Shawn Kelley in the eighth and new Nats closer Mark Melancon in the ninth gave them nothing.
The Giants were full of praise for Bumgarner's effort.
"What a terrific job Bum did," said manager Bruce Bochy. "He pitched his heart out."
"It's a tough draw for him," said center fielder Denard Span. "He did everything in his power to help us win the game. He's the definition of a horse. We just haven't done our jobs."
Bumgarner had what was arguably his worst start of the season the last time out at Philadelphia. The Giants knew he would rebound with a good one.
"There was no question that he was going to bounce back and throw a beauty, and he did," Bochy said. "He did all he could to win that game for us."
Bumgarner has not won a start since the All-Star break, but his season ERA still stands at a glossy 2.20. He said he wouldn't let the disappointment of losing low-scoring games get to him.
"I can only control what I can control and worry about that," Bumgarner said. "Just come out and put us in a good spot and keep us in the game. What's happened since the break, I can't worry about that or it's just going to dig a deeper hole."
Sunday's defeat means that the Giants have lost this season's series to the Nationals, 4-3. That may become more than a footnote if a tiebreaker situation arises for the two clubs in the 2016 postseason.
The Giants do not do their best work in our nation's capital. They have lost 14 of their past 17 games at Nationals Park, and they have not won a series here since July 2010.
The Giants had a 6 1/2-game lead in the National League West at the All-Star break at a time when they had the best record in the NL. That lead was down to 1 1/2 games after Sunday's loss, pending the outcome of the Dodgers-Red Sox game Sunday night.
San Francisco now travels to Miami, where it will have to contend with the Marlins, who are second in the NL East. With any luck, the Giants will not have to contend with the mosquitoes carrying the Zika virus.
Beyond that, these are the Giants, winners of World Series titles in 2010, '12 and '14. This being another even-numbered year, it is possible to see San Francisco, as a proven winning team, getting completely back on track.
As far as that development is concerned, the sooner the better would be the winning way to look at it.
Mike Bauman is a national columnist for MLB.com. This story was not subject to the approval of Major League Baseball or its clubs.