Teammates recall A-Rod's passion for game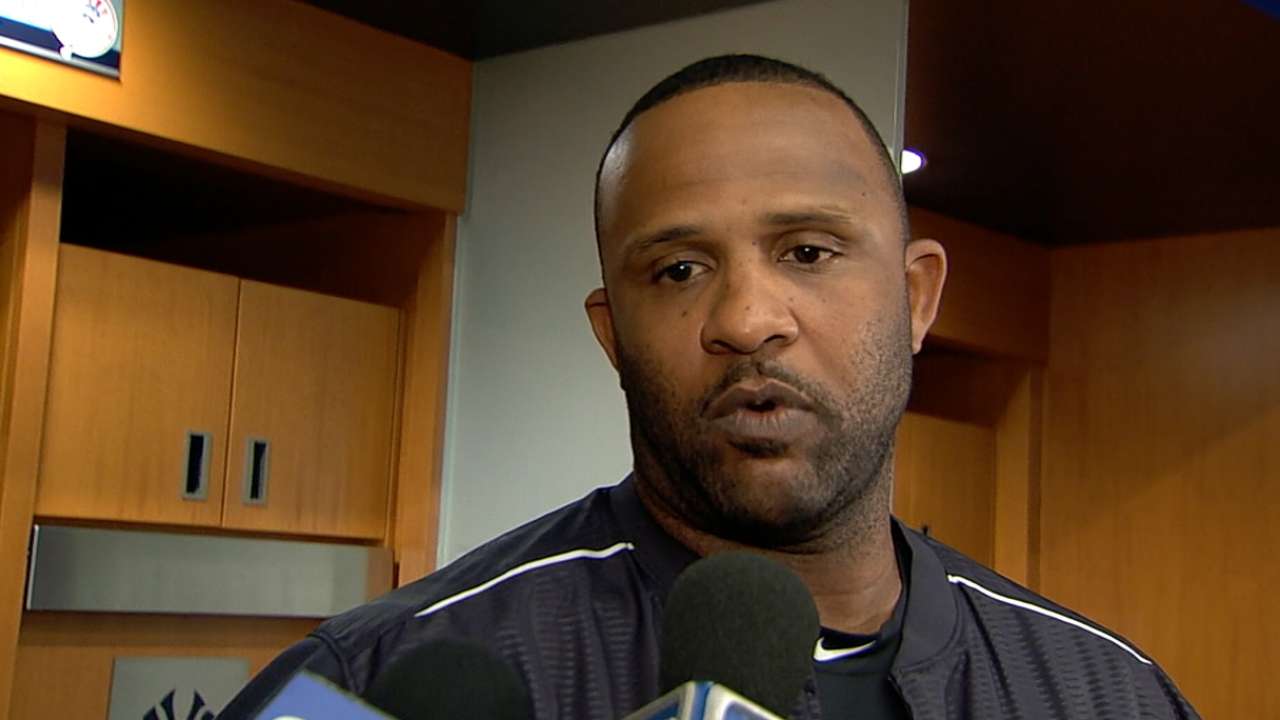 NEW YORK -- Before Mike Trout redefined what it means to be an American League phenom, there was a first overall Draft pick named Alex Rodriguez who won a batting title at 21 years old and hit his 100th home run just a few weeks after his 23rd birthday.
And as one of the few players who faced both in their primes, CC Sabathia feels it's his duty to remind the world just how good his soon-to-be-former teammate was.
"[Rodriguez] was kind of like any other guy right now, the Mike Trouts and the Miguel Cabreras," Sabathia said. "There's really nowhere you could throw the ball that he wasn't going to hit it hard. You just had to hope he was going to hit it at somebody."
•
A-Rod to play final game Friday, to become advisor
•
'This is it': A-Rod savors final games
•
Justice: In the end, A-Rod's love of baseball shines
•
10 numbers from A-Rod's iconic career
•
Peers praise A-Rod for legendary career
•
Teammates recall A-Rod's passion for game
•
Rogers: Machado has friend A-Rod on mind
•
A-Rod's announcement caps emotional week
•
A-Rod's player page
Sights & sounds
A-Rod on retirement
A-Rod to become an advisor
Cashman, Girardi on A-Rod
Yankees booth on A-Rod
Teammates discuss A-Rod
Rodriguez announced Sunday that he will play his last game Friday versus the Rays at Yankee Stadium. His teammates mostly described the situation as bittersweet. They were happy for Rodriguez because he seems to be at peace with his decision, but they couldn't help but feel sad for a multitude of reasons.
Perhaps the teammate that was the most disappointed about A-Rod retiring was Brett Gardner, who said he doesn't believe Rodriguez is getting to exit on his own terms. Gardner, who upon Rodriguez's retirement will be the longest tenured Yankee, said that he wishes Rodriguez could have a little more time so he could retire when he feels it's right, as first baseman Mark Teixeira is doing.
"I think the ultimate way to go out is to go out on your own terms and Tex is getting the opportunity to do that," Gardner said. "It's sad to see that Alex isn't."
Gardner may see things that way, but Sabathia doesn't. The veteran left-hander has been Rodriguez's teammate since 2009, over which time the two have built a close enough bond that Sabathia said he and Rodriguez spoke Saturday night before the decision was made public. Sabathia revealed that Rodriguez told him in that conversation that he's happy he's getting to retire as a Yankee and is excited to transition into his new role as a special instructor and assistant to Yankees managing general partner and principle owner Hal Steinbrenner.
On the subject of Rodriguez's next endeavor, Sabathia said he feels that it's not just his 22 years in the big leagues that sets him up to be a good mentor. Sabathia described Rodriguez's baseball mind as "unbelievable," a sentiment that Teixeira echoed by comparing Rodriguez's passion for baseball to Hall of Famer Cal Ripken, Jr.
As for Teixeira, the first baseman could do nothing but smile when asked if he was bummed out that Rodriguez's retirement is stealing his retirement's thunder.
"Not at all," Teixeira said. "Not at all. Alex's thunder is always a little bit louder than mine anyway."
Nick Suss is a reporter for MLB.com based in New York. This story was not subject to the approval of Major League Baseball or its clubs.