Mets hope win over Tigers gets them on a roll
Improving from within key for club, which feels urgency of upcoming stretch run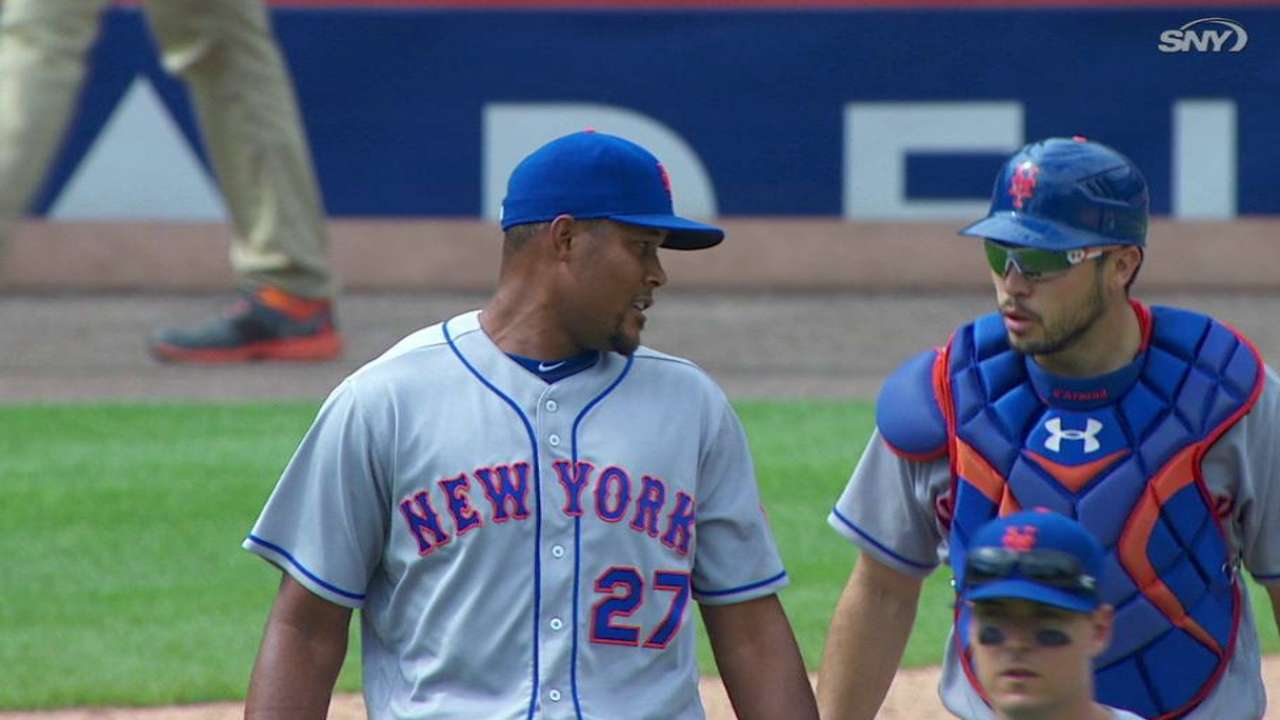 DETROIT -- When Mets manager Terry Collins and his staff settled into Comerica Park on Friday afternoon, going over their advance scouting materials for a three-game series with the Tigers, they took note of one thing in particular. Despite everything -- the injuries, the underperformance, the heartache, the frustration -- the Mets stood just one game out of a National League Wild Card spot.
In salvaging a 3-1 victory Sunday over the Tigers to avoid a sweep at Comerica, the Mets felt just as blessed despite a losing weekend. They departed Detroit 1 1/2 games back of the Marlins, a seemingly inexplicable number considering everything that's gone wrong.
"Guys are doing a really good job of not worrying about who's hurt, who's behind them, what's going on, what their numbers say," said second baseman Neil Walker, who delivered a go-ahead two-run homer in the ninth. "They're really focusing on each night, and that's important -- especially this time of year."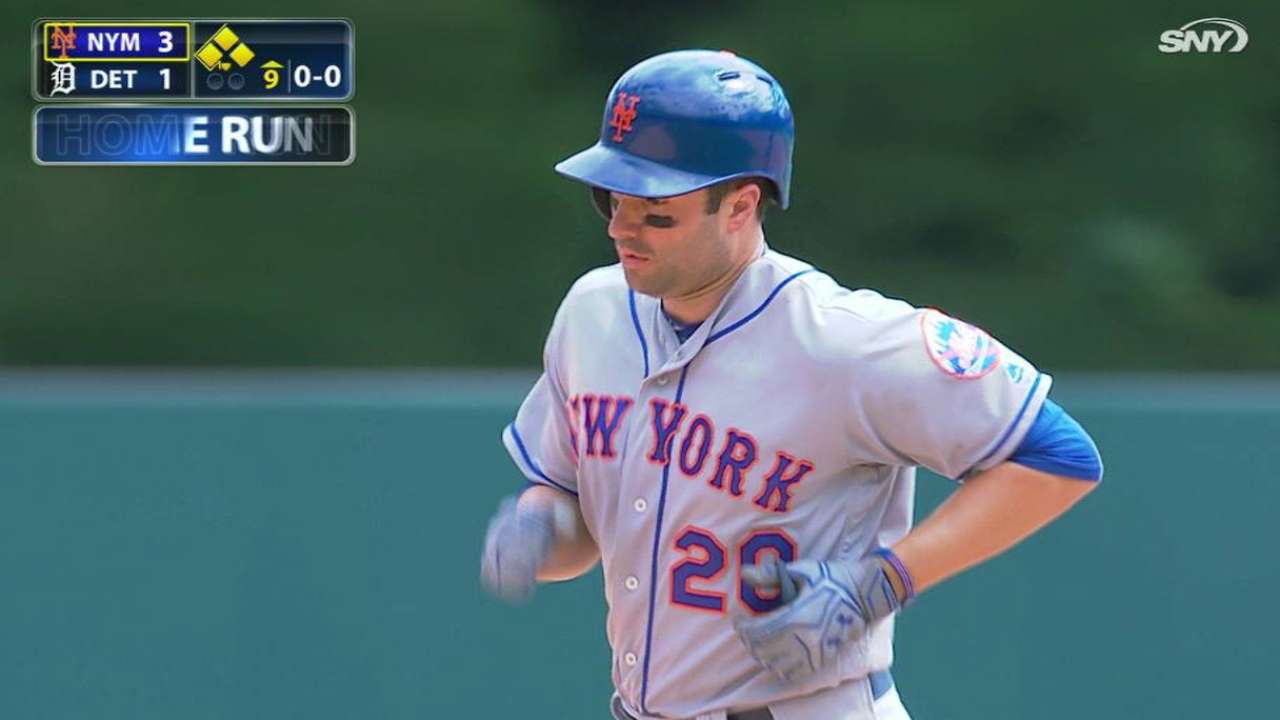 Before trading for Jay Bruce last week, the Mets spoke frequently about how badly they needed to improve from within. Lest the Bruces of the world not arriving on their doorstep, the Mets were in critical need of contributions from elsewhere on their roster.
Among the leading candidates was Walker, who slumped for much of May, June and July before catching fire in recent weeks. Also on that list was Michael Conforto, who opened the scoring Sunday with a solo homer in the seventh. And with injuries up and down their pitching staff, the Mets needed Jacob deGrom to carry the rotation on his back.
DeGrom continued that process on Sunday, delivering 6 2/3 spotless innings before Collins removed him in a questionable pitching change. It wound up working in their favor, as the Mets parlayed multiple Tigers mistakes into a much-needed victory.
"Every day we show up with the same mentality, and that's to win," Conforto said. "We've got to start winning some games. I think we know we're going to get hot here sometime soon. So there is that urgency. I wouldn't say there's any panic. I think we feel the urgency, but that doesn't change the way we show up every day."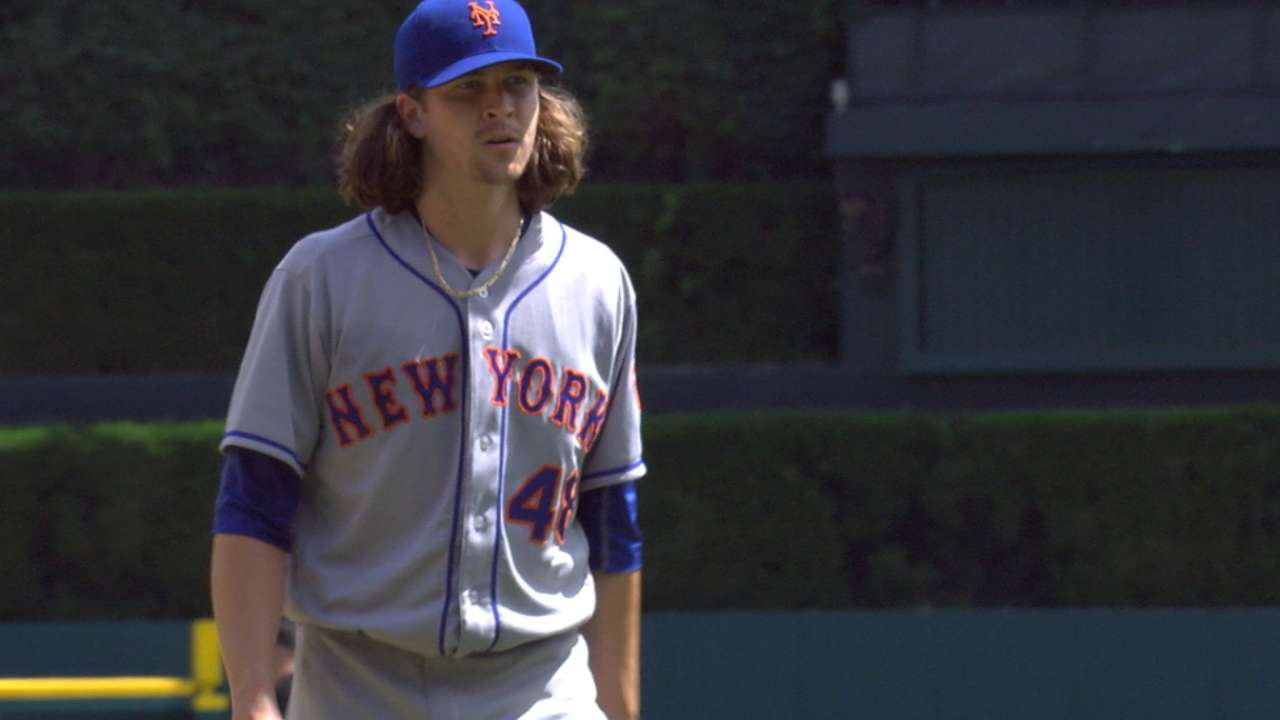 For the rest of this season, the Mets will be compromised. They will play all of it without Matt Harvey, David Wright and Lucas Duda, and at least some of it without Yoenis Cespedes, Asdrubal Cabrera, Jose Reyes and others.
Bruce will help -- he's already helped -- but he is just one man. To make the type of run they did a year ago, the Mets will need daily help from Walker, Conforto, Curtis Granderson and others, in addition to the type of steady pitching that is their brand.
If they can do it, the Mets know a Wild Card spot is still there for the taking.
"That's the most important thing this time of year is just to try to get on a roll, try to get hot," Walker said. "That's what we're looking for. So hopefully we'll hit our stride here soon."
Anthony DiComo has covered the Mets for MLB.com since 2008. Follow him on Twitter @AnthonyDiComo and Facebook, and listen to his podcast. This story was not subject to the approval of Major League Baseball or its clubs.