Blue Jays feel slumping offense will break out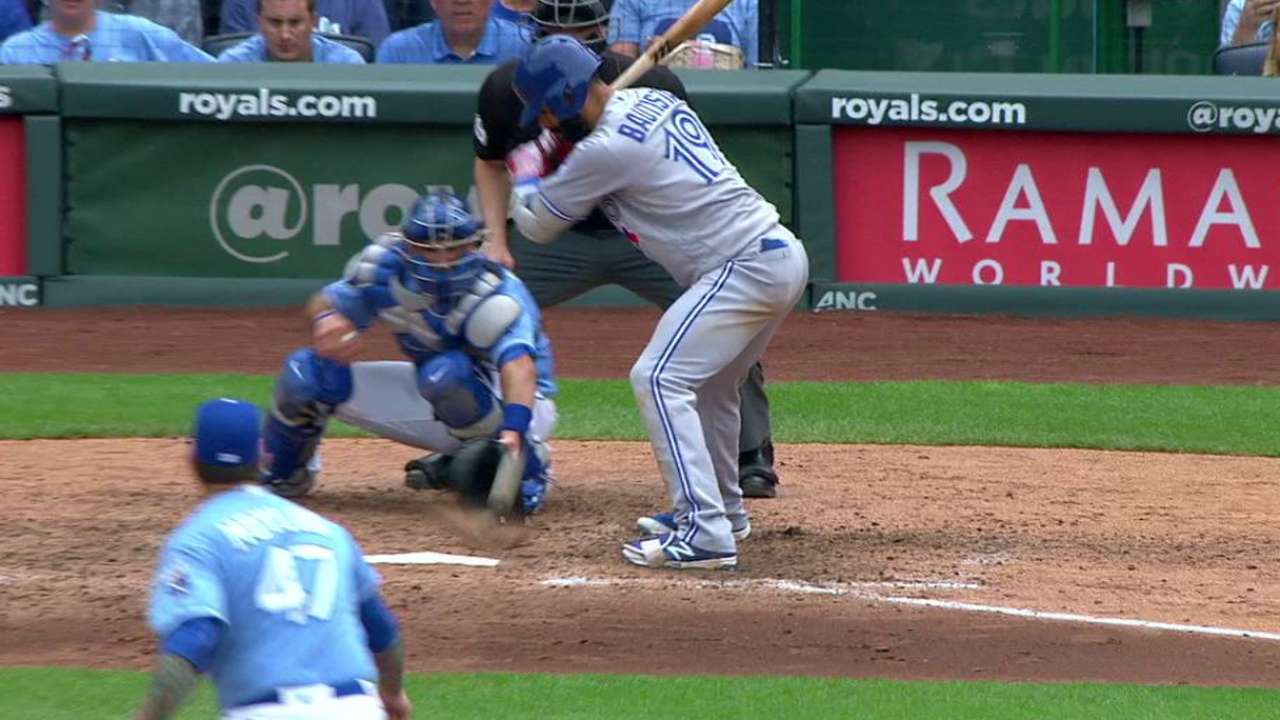 KANSAS CITY -- Despite possessing one of the top offenses in the Majors this season, ranking just outside the top five in overall runs scored and per game, the Blue Jays have found themselves in the midst of a slump.
On Sunday, those struggles continued, as they stranded eight runners and did not score more than four runs for the eighth straight game in a 7-1 loss to the Royals to cap a frustrating road trip. Toronto also fell one game back of Baltimore atop the American League East standings.
"We really haven't been swinging [the bats well] since the beginning of the last homestand," manager John Gibbons said. "We're due to explode."
As Sunday's rubber game went on, the frustrations seemed to mount. Blue Jays hitters had a series of lineouts in the fourth, fifth and sixth innings that just seemed to find the gloves of the Royals outfielders.
Josh Thole, who filled in for regular catcher Russell Martin, was the victim of one of those lineouts, as well as a fantastic defensive play by the infield in the seventh inning. He hit a grounder up the middle, but Royals shortstop Alcides Escobar slid over to snag it.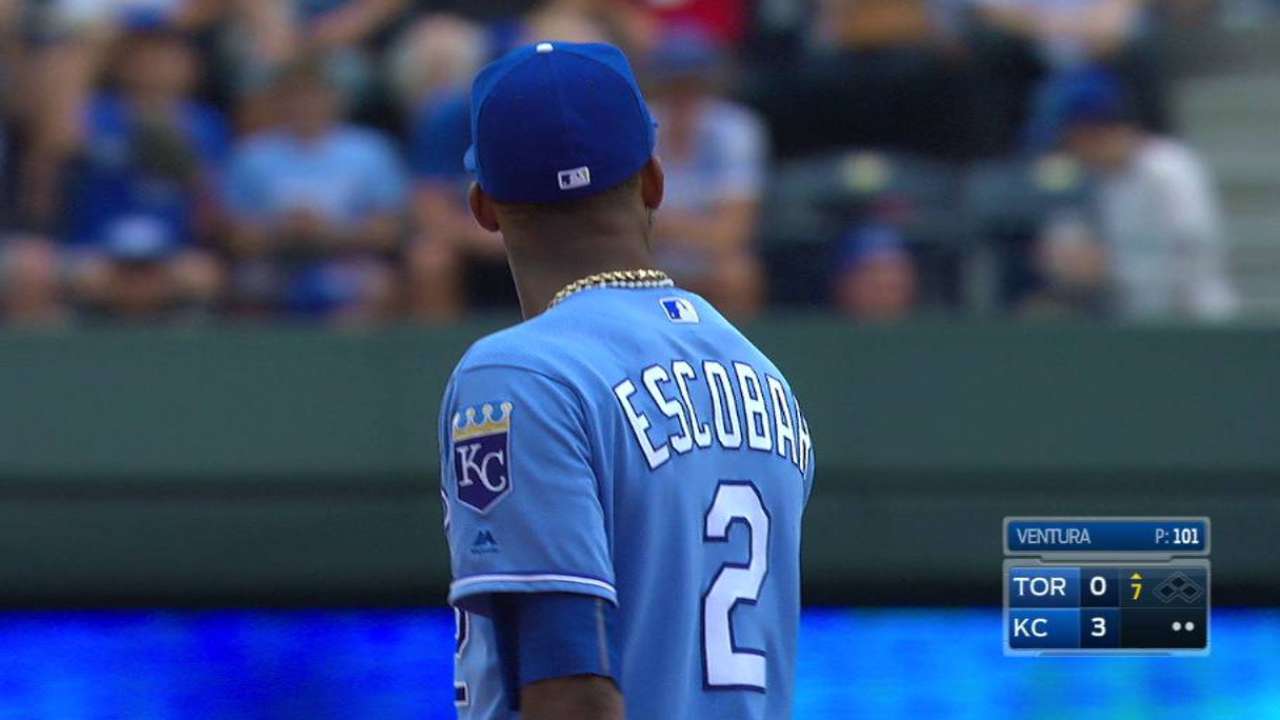 Escobar had trouble getting the throw off, but first baseman Eric Hosmer made up for it with a nice scoop.
"We have a really good offense. I think we've been swinging it OK, [but] didn't have a couple breaks today," Thole said. "When it rains, it pours on you. ... Up and down the lineup, we hit some balls good, just right at guys. That's the nature of the beast."
Overall, Thole was confident the offense would snap out of its funk, a sentiment that was echoed throughout the clubhouse. Even right-hander Marcus Stroman, who gave up three earned runs in his start on Sunday, said he expected things to turn around quickly.
"It's hard to be hot for 162 [games]. Our guys are some of the best hitters in the league," Stroman said. "The drought's not going to last."
Stroman refrained from pointing fingers at the offense, and owned up to his mistakes. Gibbons, on the other hand, was somewhat more willing to acknowledge the struggling bats, although he did credit the Royals' defense for making difficult plays throughout the game. Gibbons said Stroman pitched well enough to win, stopping short on his answer to ask a somewhat rhetorical question to reporters.
"What'd we score?" Gibbons asked.
The answer came back: One.
"There you go."
Scott Chasen is a reporter for MLB.com based in Kansas City. This story was not subject to the approval of Major League Baseball or its clubs.