DYK: Machado socks 3 homers vs. White Sox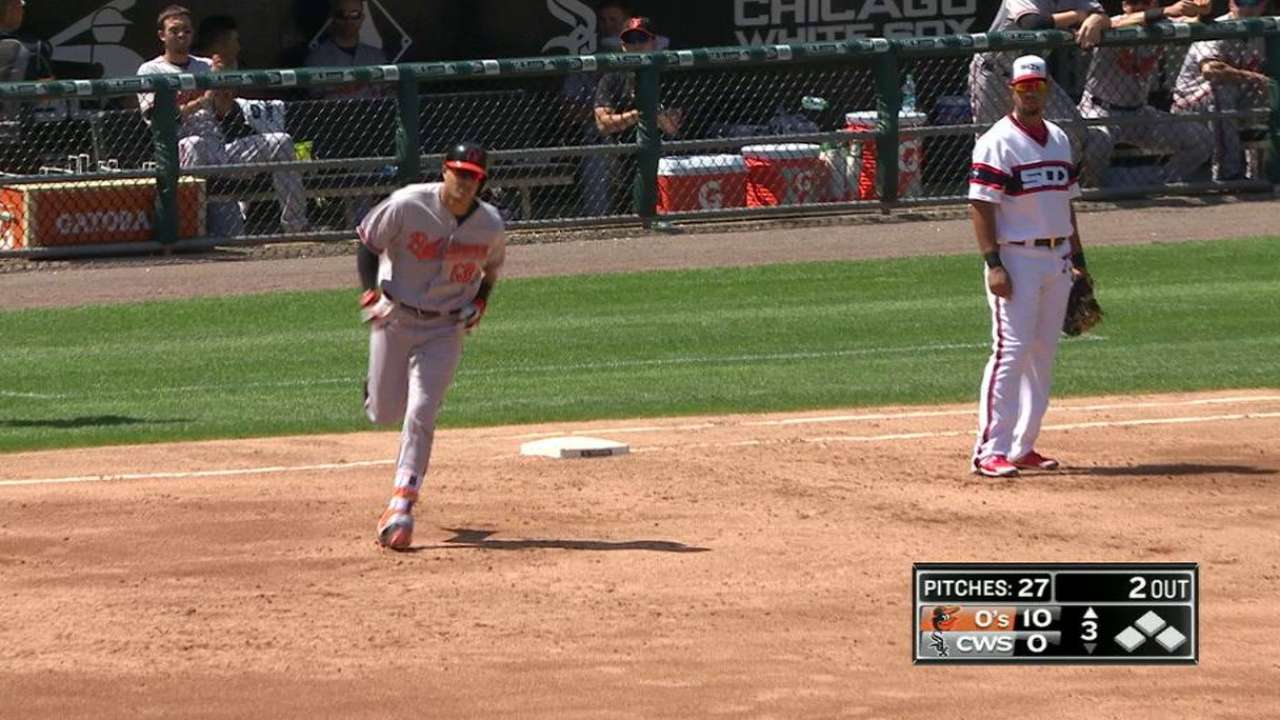 Manny Machado had himself quite a powerful day on Chicago's South Side. The Orioles slugger belted three homers in each of his first three at-bats, with one in each of the first three innings.

Machado finished the day 3-for-6 with those three home runs and seven RBIs in the Orioles' 10-2 victory over the White Sox on Sunday.
Here are a few interesting factoids on why this feat is significant:
• He's just the second player ever to hit three homers in each of the first three innings, joining Carl Reynolds, who did so with the White Sox on July 2, 1930. However, two of Reynolds' three homers were inside-the-park homers.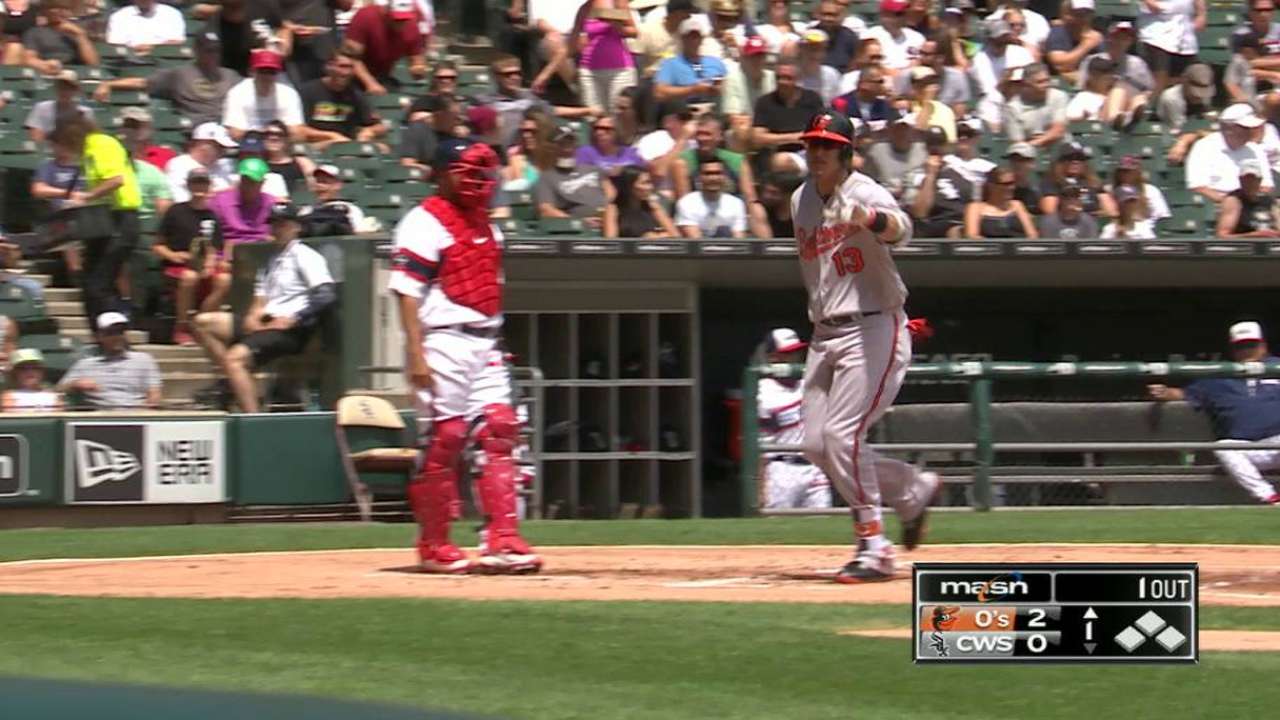 • Machado fell short of a fourth deep fly, failing to become just the 15th player ever to do so. No player has ever hit five in a game.
• Machado ended the day with single-game career highs in homers and RBIs. The MLB record for most RBIs in one game is 12, set by Mark Whiten (Sept. 7, 1993) and Jim Bottomley (Sept. 16, 1924). The 2016 high is eight by the Blue Jays' Michael Saunders on June 17 against the Orioles.
• Machado is the second Oriole to have a three-homer game over the last 10 seasons, joining teammate Chris Davis, who has done so twice. He's the first to belt three against the White Sox since Justin Morneau on July 6, 2007.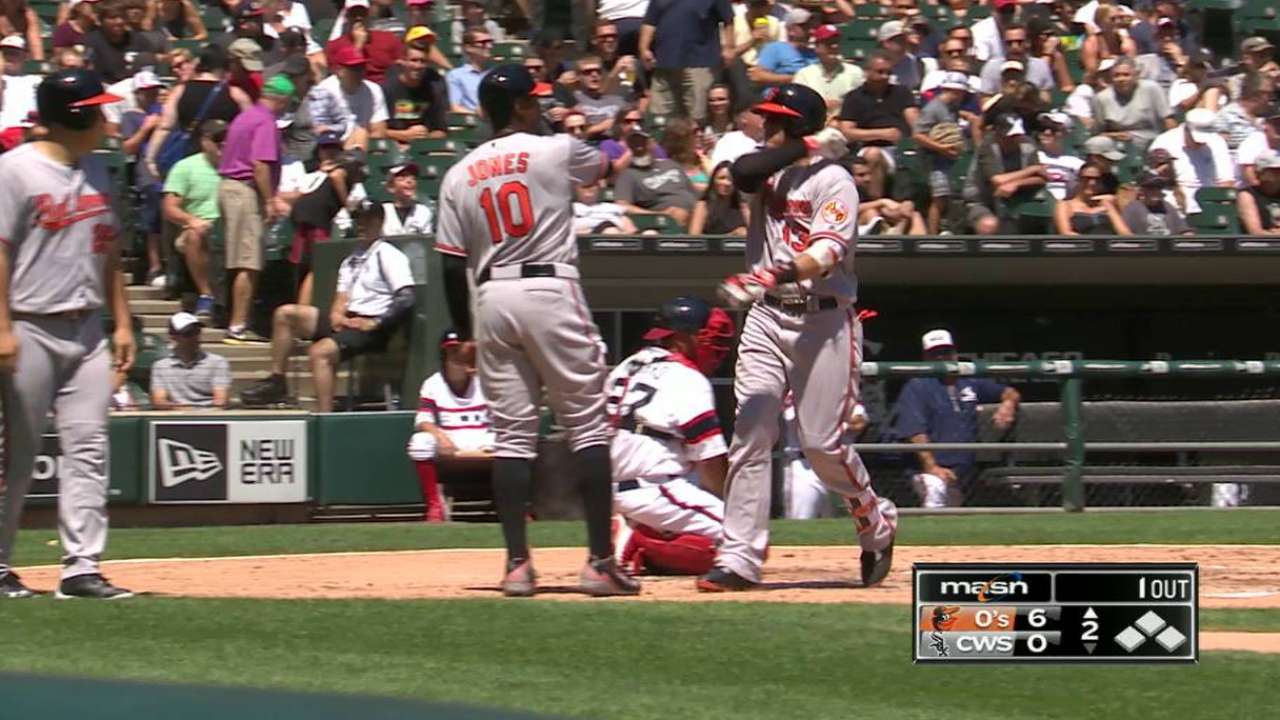 • The Orioles entered Sunday with the MLB lead in homers, with 163. They're on pace to hit 242, which would be 15th-most all-time. Since Machado broke into the Majors in 2012, Baltimore had belted 1,017 entering Sunday -- 66 more than second-best Toronto in that span.
• Machado is 15-for-32 (.468) against the White Sox this season, with seven extra-base hits and 14 RBIs -- each a personal high versus any team he's had at least 10 at-bats against.
• His third homer came on an 0-2 count. He was a career .169 hitter in 178 at-bats in such situations entering Sunday, with just one of his career 90 homers.
Daniel Kramer is a reporter for MLB.com based in Denver. Follow him on Twitter at @DKramer_. This story was not subject to the approval of Major League Baseball or its clubs.