Revere leans on football skills for critical catch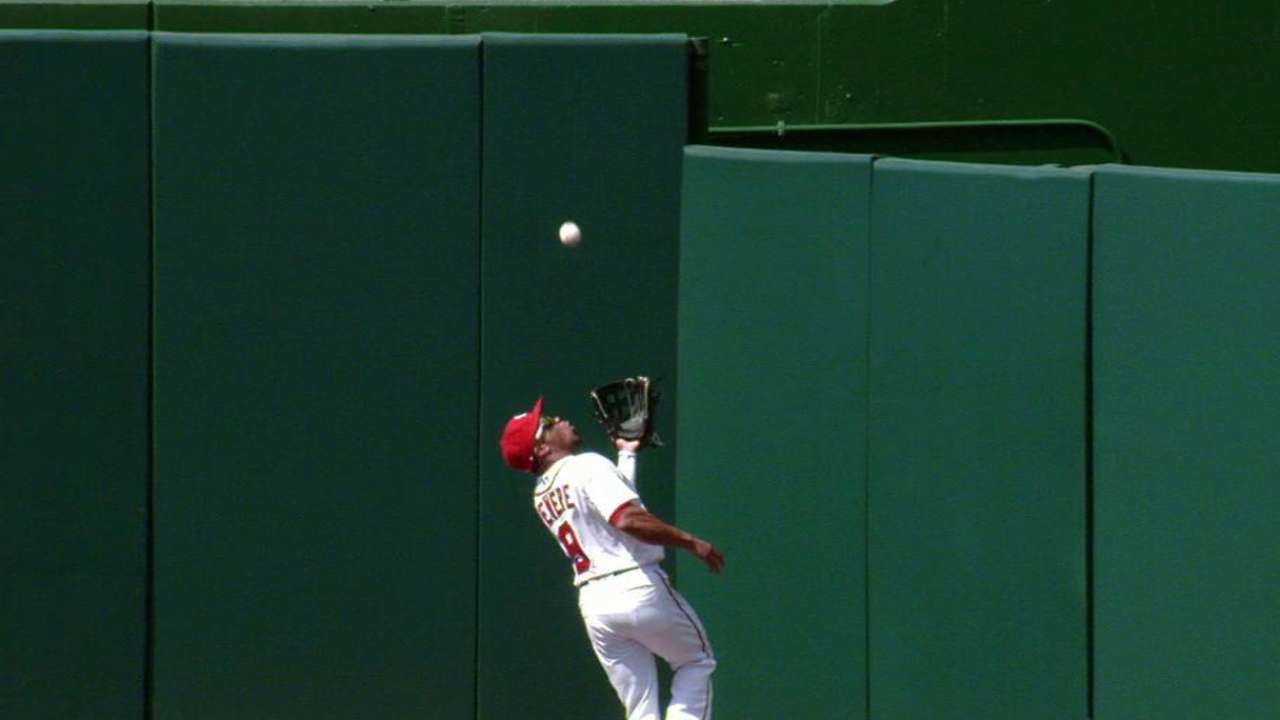 WASHINGTON -- To complete his game-saving, over-the-shoulder catch in center field Sunday, Ben Revere leaned on the skills he gained growing up playing football. He thought back to the days when he and his dad, John -- a longtime assistant football coach -- would work on receiving drills in the driveway of their home in Georgia.
It all helped Revere pull off a highlight-reel catch in the seventh inning of Sunday afternoon's 1-0 victory against the Giants. With runners on second and third, Brandon Belt drove a 2-2 pitch from Tanner Roark 404 feet, which sent Revere twisting and turning to make an over-the-shoulder running grab just shy of the wall in center field.
"That was a Willie Mays catch right there," manager Dusty Baker said.
Revere's catch saved at least two runs and preserved a tie game at that point for the Nationals, who went on take the lead in the bottom of the inning on a homer by Wilson Ramos.
Once Roark delivered the 2-2 pitch to Belt, he said he did not even see the ball off the bat. But Roark could tell Belt had made hard contact; according to Statcast™, similarly-batted balls are home runs 42 percent of the time.
"But then I saw Ben racing backwards," Roark said. "And I'm like, 'Oh, man. Come on.'"
Revere covered 90 feet in center field with a 92.3 percent route efficiency, according to Statcast™, and once he secured the catch and bounced off the wall, the crowd of 32,790 fans at Nationals Park erupted. Belt slammed his helmet into the ground as he rounded first base. Roark yelled and skipped off the mound.
As for when Revere knew he could make the play, he said he wasn't sure until it landed in his glove.
"I heard the Redskins were in the audience today scouting," Revere said with a laugh.
Jamal Collier covers the Nationals for MLB.com. Follow him on Twitter at @jamalcollier. This story was not subject to the approval of Major League Baseball or its clubs.