Phils work with Hernandez to limit miscues
Second baseman's mental errors, lack of focus frustrate Mackanin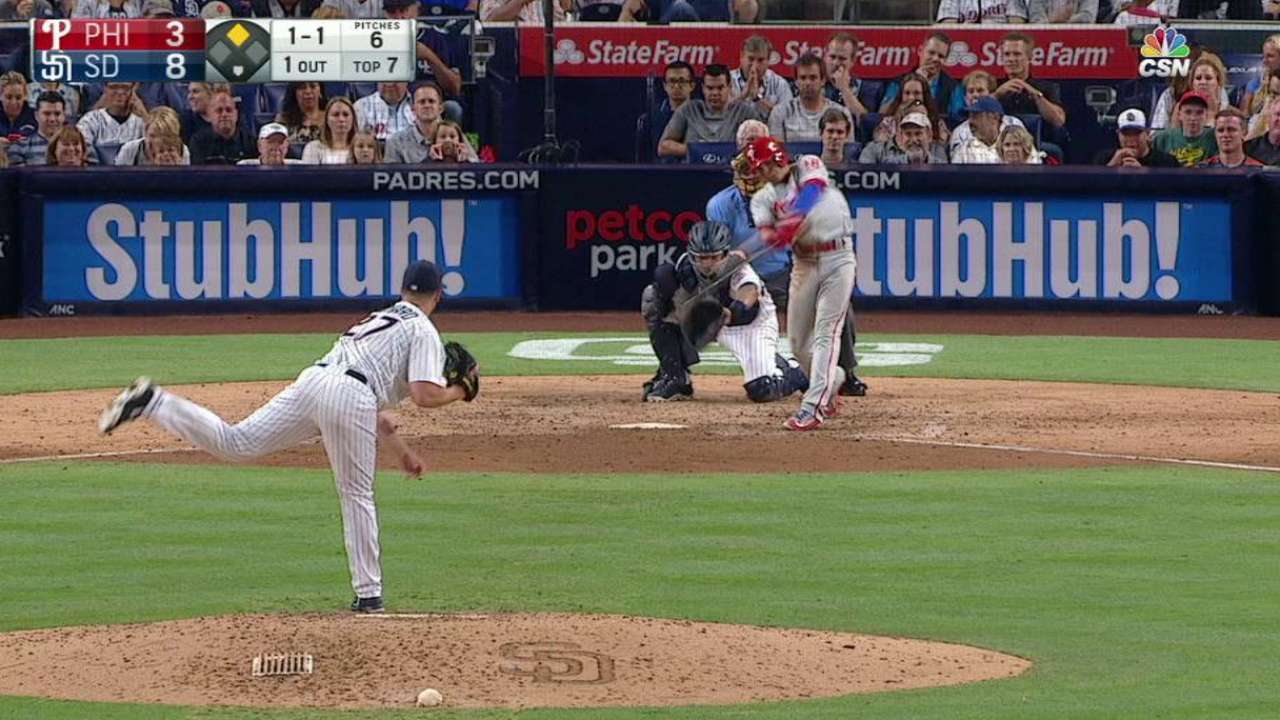 SAN DIEGO -- Cesar Hernandez is having the best season of his career, but he remains an enigma to the Phillies.
The second baseman entered Sunday's series finale against the Padres at Pecto Park hitting .292 with 11 doubles, seven triples, two home runs, 27 RBIs and a .727 OPS in 405 plate appearances. He has hit .362 with an .877 OPS since Phillies manager Pete Mackanin benched him two games in Minnesota in June.
"He could be a hell of a player," Mackanin said after Saturday's 9-7 loss to the Padres.
But Mackanin's praise came at the end of an answer to a question that has been asked repeatedly this season: Why does Hernandez keep making so many mental mistakes on the field?
He got caught stealing third base in the seventh inning Saturday, which befuddled Macakanin and coaches because the Phillies trailed by four at the time.
"I have no idea why he went," Mackanin said.
In fact, a couple of Hernandez's teammates approached Hernandez after the game and told him that it was not a smart time to run.
"I know this situation wasn't ideal," Hernandez said Sunday through an interpreter. "But I'm learning. I'm trying to get better. It's a learning process for me. But I really thought I could have stolen that base. I just wanted to go to third so if there was a deep fly ball I could have scored a run."
Hernandez has stolen 11 bases this season, but he has been caught eight times. His 57.9 stolen base percentage is 46th out of 48 qualified basestealers. He also has been picked off once and made four other outs on the bases.
The 13 outs on the bases, plus other head-scratching decisions on the field, are why Hernandez's future with the Phillies is not secure.
The Phillies' top prospect J.P. Crawford could be the team's everyday shortstop as early as next season, which means Freddy Galvis could compete with Hernandez for regular playing time in 2017 and beyond. Galvis is not the offensive player that Hernandez is, but Phillies coaches love his defense, instincts and leadership qualities in the clubhouse. Second base prospects like Scott Kingery also are moving up through the system.
"Cesar is in a rut where he's making too many mental mistakes," Mackanin said. "We've got to keep working with him and talking to him about it. He's got so much talent. We have to corral it and figure out a way to get him on track. That's the one thing he's missing right now. He needs to be a little smarter on the bases, and all-around baseball."
Hernandez seems to recognize this, although discussions about focus and concentration with Phillies coaches have not stuck.
"It's something I definitely want to get better at," Hernandez said. "I'm going to keep working to learn. It's concentration."
Todd Zolecki has covered the Phillies since 2003, and for MLB.com since 2009. Read his Phillies blog The Zo Zone, follow him on Twitter and listen to his podcast. This story was not subject to the approval of Major League Baseball or its clubs.