Broxton's change in stance leads to success
Brewers center fielder has thrived since being recalled from Triple-A
PHOENIX -- Keon Broxton was lying in bed in Colorado Springs when he dreamed up the mechanical adjustment that might be saving his season. He had a habit of dropping his hands as a pitch was being delivered and was too late in returning them to a proper hitting position. So, Broxton thought, why not start those hands low and eliminate the hitch?
"I tried it in the cage the next day and off the tee, and I liked how it felt," he said. "I took it over into BP and it felt amazing. I took it into the game, and that's where I am today."
He is in the Major Leagues today, and if he'd allowed himself to do so, would have spent Sunday morning basking in the first five-hit game for a rookie in Brewers history.
He also became the sixth player -- rookie or otherwise -- in franchise history to reach safely six times in a nine-inning game. Before Broxton's big night, the last to do that was Geoff Jenkins in 2005.
"It's always, to, me, what comes first, the confidence or the adjustment?" Brewers manager Craig Counsell said of Broxton's new setup. "The big thing is -- the hands are in play -- but the conviction and confidence of his swings. It's been noticeable that it's changed. …
"He got shaken a little bit. There's no question he was shaken early in the season. What's rewarding to see, really, is that he went down to Triple-A and worked hard and … now some of that work comes out. He's had some adversity, but he understood and he worked and he came through it."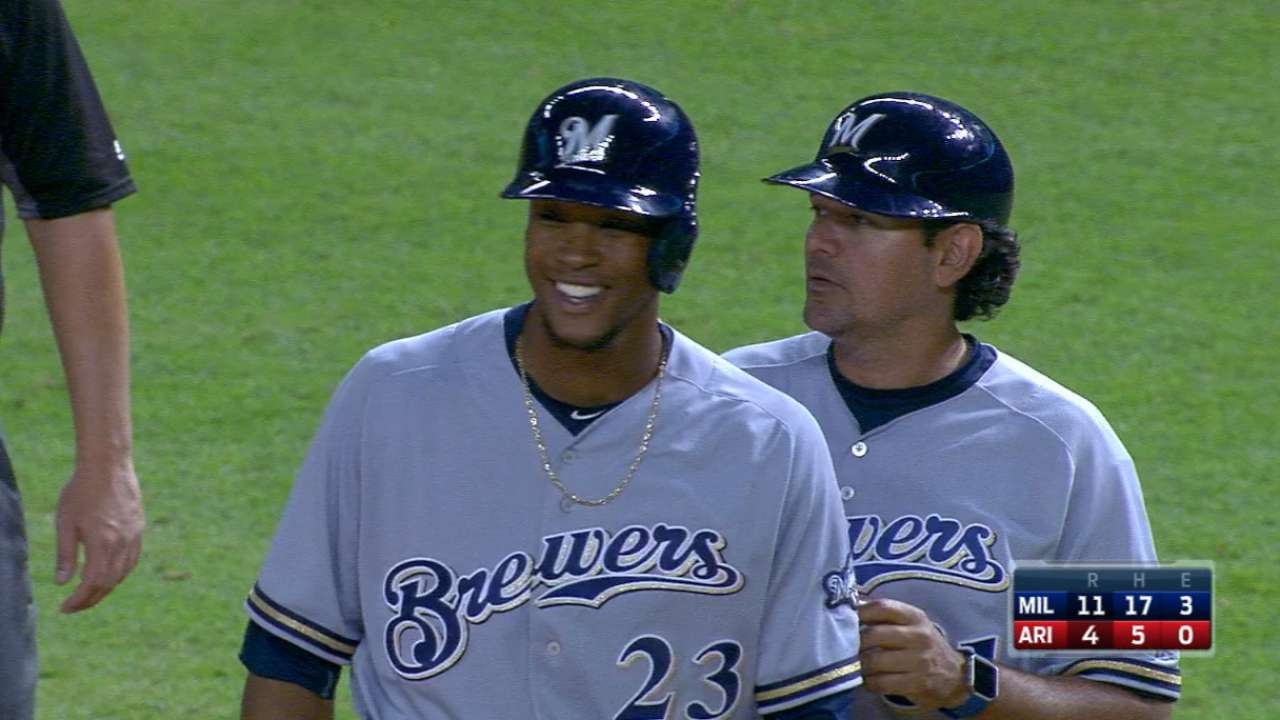 Acquired from the Pirates in a December trade, Broxton was the Brewers' Opening Day center fielder but began the season 0-for-16 and was optioned back to the Minors. He was recalled a few weeks after his 26th birthday in May, then optioned down again with a .125 batting average through his first 75 plate appearances.
It was during that stint at Triple-A Colorado Springs that Broxton came up with the hand adjustment. When the Brewers called him up again on July 25 to replace an injured Will Middlebrooks, Broxton went 12-for-29 (.414) in his first 11 games back, capped by a Saturday breakout that featured all of his skills. He collected four singles, including one on a bunt. He doubled, walked and delivered a pair of two-out RBIs. The night before, he'd shown his power potential by hitting a 421-foot home run.
"Just being confident, it's a big part of this game. When you don't have confidence in yourself, you're going to struggle a lot. I've kind of developed a pretty good confidence in myself, a trust and belief in myself to be able to do it."
Broxton started again in center field on Sunday.
"There will at at-bats for Keon," Counsell said. "You have to perform. There still has to be performance, but he's earning playing time, which is the best way to do it."
Adam McCalvy has covered the Brewers for MLB.com since 2001. Follow him on Twitter @AdamMcCalvy, like him on Facebook and listen to his podcast. This story was not subject to the approval of Major League Baseball or its clubs.