Rox activate Parra off DL, option Ynoa to Triple-A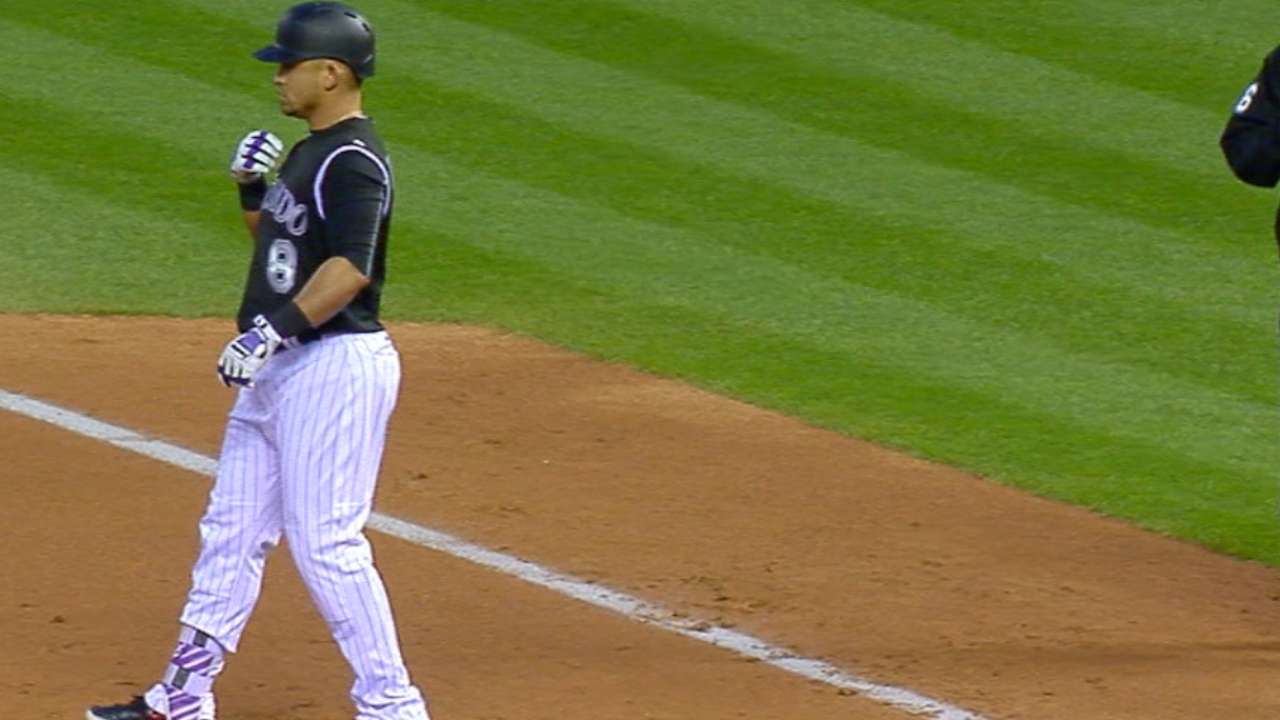 DENVER -- Before Sunday's series finale with the Marlins, Rockies manager Walt Weiss sat in the dugout wearing a "Parra for President" T-shirt, a clubhouse favorite, honoring Gold Glove outfielder Gerardo Parra. It was fitting apparel for Parra's return from nearly two months on the disabled list recovering from a sprained left ankle.
"We got Parra back and we optioned out Raffy Ynoa," Weiss said. "Physically, he's doing very well. We wanted to get in the neighborhood of about 30 at-bats, and he was approaching that on his rehab. It felt like the time was right."
Parra played seven rehab games between Double-A Hartford and Triple-A Albuquerque, going 5-for-26 (.192) with three RBIs. When he went on the DL after a June 14 home game against the Yankees, he was hitting .263 (64-for-243) with five homers and 27 RBIs. Parra injured the ankle in a collision with shortstop Trevor Story as both were chasing a shallow fly to left.
Weiss put the left-handed-hitting Parra back in the lineup on Sunday, with left-hander Adam Conley on the mound for the Marlins.
"Today was the day I was looking to give CarGo a day," Weiss said of Parra taking Carlos Gonzalez's place in right field.
Gonzalez is hitting .321, with 23 homers and 76 RBIs but is nursing a sore ankle.
"The day game after a night game, his ankle still not great," Weiss said. "Conley has very strange splits. They're extreme reverse splits. It was a good fit for 'G' to be in there."
Parra joins Charlie Blackmon (.306, 13 home runs, 49 RBIs) in center and rookie David Dahl (.380, three homers, seven RBIs) in left. Dahl is in riding a 12-game hitting streak since making his big league debut on July 25, the second-longest streak to start a career in franchise history, trailing Juan Pierre's 16-game streak in 2000.
"Parra provides great defense," Weiss said. "In a short period of time, he's become one of our leaders, too. He's really helped with our clubhouse culture. Very well-respected. A big part of this team. We'll figure out the split on the playing time among four left-handed hitting outfielders, four good outfielders. It's a good problem to have. Parra's a big part of this moving forward, as are the other three guys. It's a nice issue to have."
Ynoa played in three games since his first callup of the season on Tuesday, taking Story's roster spot after the rookie underwent left thumb surgery. Ynoa was 0-for-5 with the Rockies and returns to Triple-A Albuquerque, where he is hitting .266 with 24 doubles and 27 RBIs.
Owen Perkins is a contributor to MLB.com based in Denver. This story was not subject to the approval of Major League Baseball or its clubs.