Rangers using caution with Beltran
OF out of lineup with bruised quad, but pinch-hits in 10th inning of Rangers' win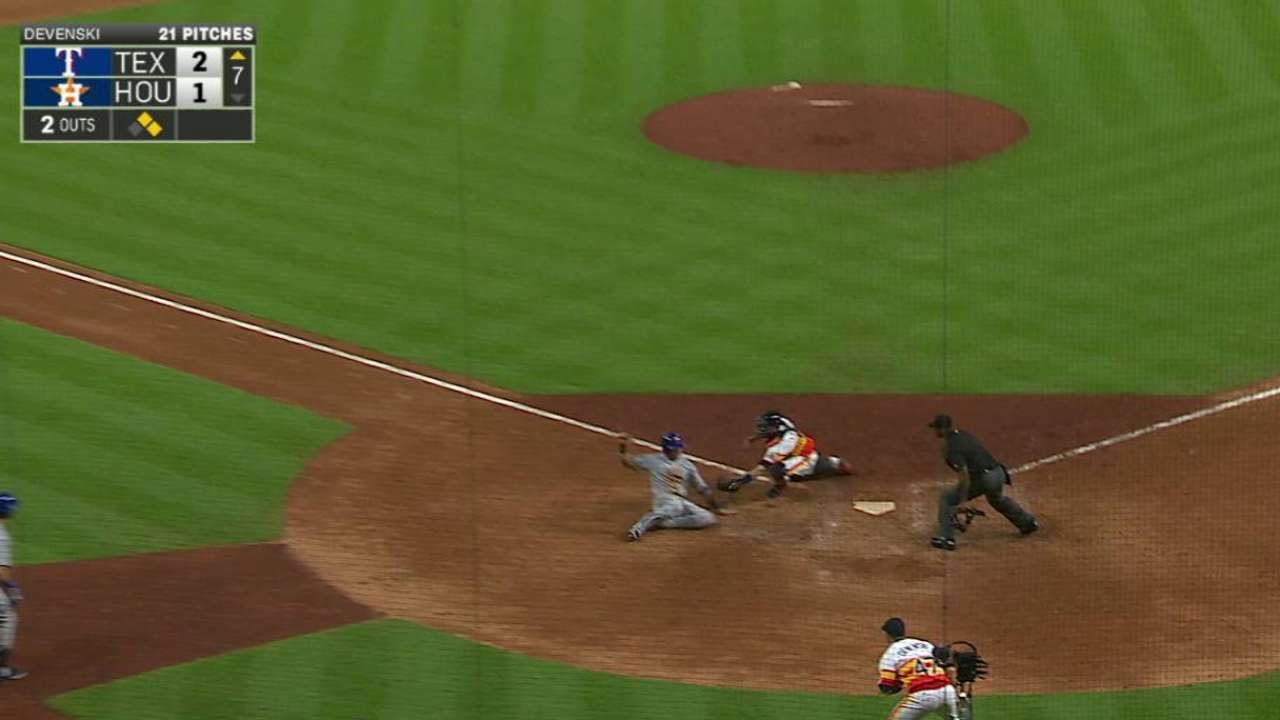 HOUSTON -- Rangers outfielder Carlos Beltran was out of the lineup in Sunday's 5-3, 11-inning win over the Astros, one day after leaving a 3-2 victory over the Astros with a bruise on his left quadriceps.
"He is better today than he was last night," Rangers manager Jeff Banister said before Sunday's game. "My point is being cautious. Not concerned, but cautious. He still feels the bruise, day game after a night game. He has been in every game. I want to give him a day down."
Beltran bruised the muscle on a play at home plate as he was thrown out trying to score from first on a seventh-inning double by Rougned Odor. He had started the game in right field after being used at designated hitter for four straight games since being acquired from the Yankees on Monday.
"Yeah, after that play, I felt a weakness sensation," Beltran said. "I was trying to make it go away, but it didn't go away. Today I feel a little sore, so I'll take a day and see where I am tomorrow."
The Rangers will be in Colorado on Monday for the first of two games vs. the Rockies at Coors Field. There will be no designated hitter used in the National League park, so Texas has the option of giving Beltran, who lined out in a pinch-hit at-bat in the 10th inning Sunday, two extra days of rest.
Banister said the original plan was to use Beltran in the outfield in at least one of the two games.
"We are not in Colorado yet, so I haven't changed anything," Banister said.
Beltran said he'll do everything he can to be ready on Monday, but he would also give the Rangers a formidable pinch-hitter.
"I don't know," Beltran said. "If I feel good, I'll let the manager know, and he'll decide. My job is to be ready."
Beltran sees ex-teammates retiring
When Beltran left the Yankees on Monday, Mark Teixeira and Alex Rodriguez were still a part of that team. Much has changed in one week. Teixeira announced Friday that he'll retire at the end of the season, and Rodriguez announced on Sunday that this Friday will be his last game.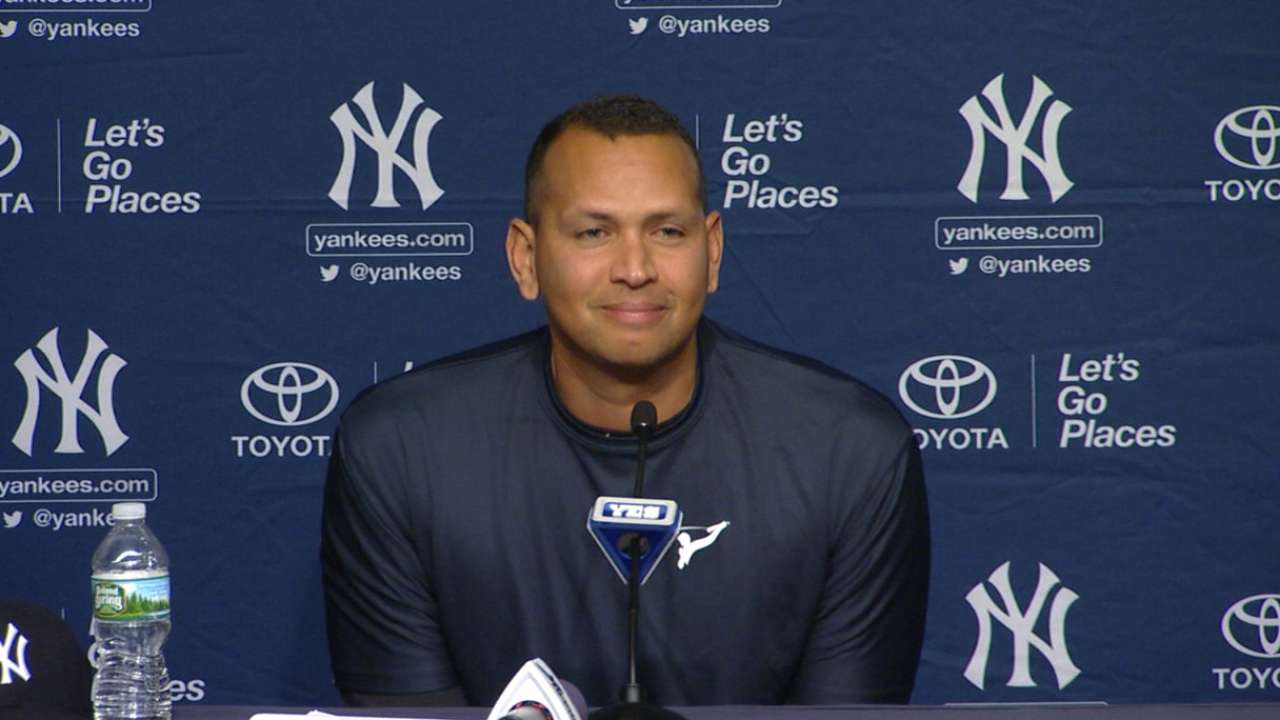 "People had enough," Beltran said. "Tex had been dealing with a lot of injuries, and it was tough for him. Alex's situation, he was not playing much and got into an agreement with the franchise."
Rodriguez has long been a controversial player, but Beltran had nothing but good things to say about him.
"Honestly, I've heard so many things about him, but I can only speak from my experience. And my experience is he is a great teammate," Beltran said. "He is passionate about the game of baseball, he is passionate about winning and he works extremely hard. He acted like a leader. I know throughout his career he has made some mistakes that have cost him a lot. But he was able to get back and turn the page. It takes a person with an extremely strong mindset to do that."
Rodriguez signed a 10-year, $250 million contract with the Rangers before the 2001 season, but he played just three years with them before being traded to the Yankees.
Rodriguez is still owed approximately $40 million in deferred money from his three years with the Rangers. But that money was set aside in a separate account and was deducted from the sale money that former owner Tom Hicks received from the current ownership group.
Rangers beat
• Reliever Tanner Scheppers, who was shut down from throwing for 10 days because of soreness in his left knee, is expected to play catch on Monday and then throw live batting practice on Wednesday. Scheppers has been out all season while recovering from knee surgery but is still trying to get back and be a September callup.
• Jonathan Lucroy's 16 home runs this season are tied for the second most by a catcher.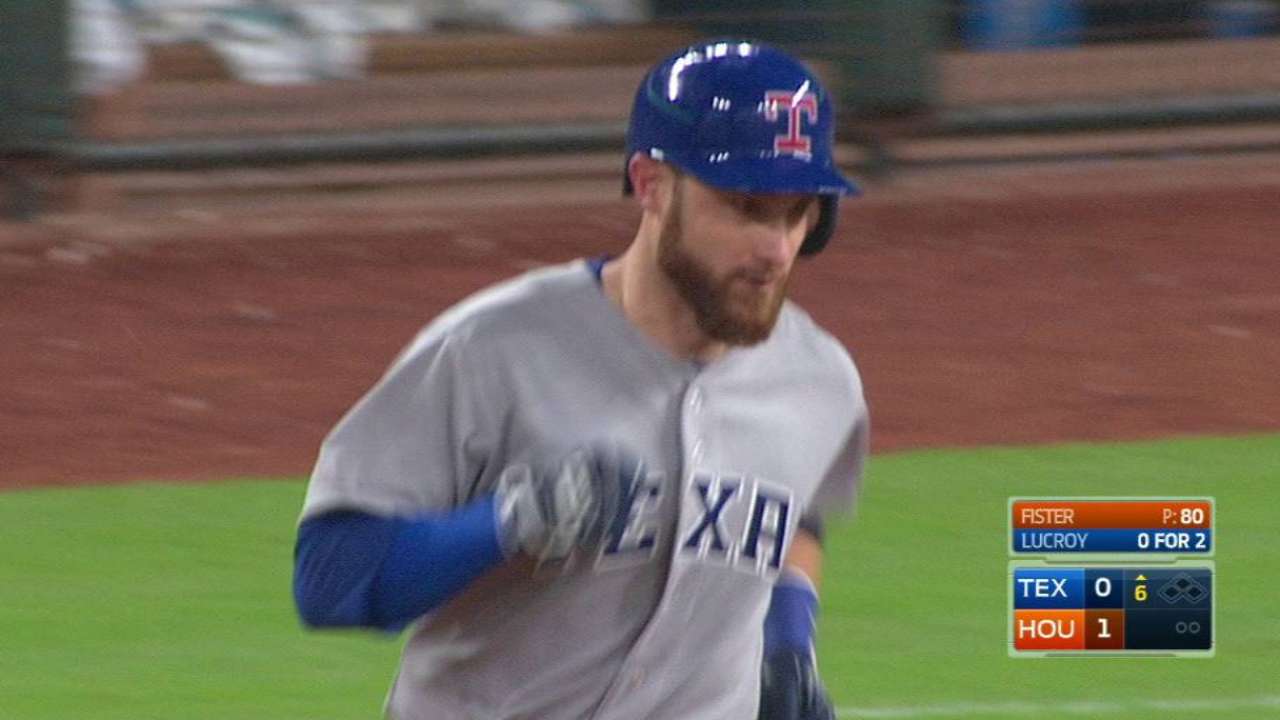 • Reliever Tony Barnette has not allowed a run in 16 consecutive innings and has not allowed an earned run in 24 straight innings. The longest such stretch by a Rangers reliever is Robbie Ross Jr. with 31 1/3 innings without allowing an earned run in 2012.
T.R. Sullivan has covered the Rangers since 1989, and for MLB.com since 2006. Follow him on Twitter @Sullivan_Ranger and listen to his podcast. This story was not subject to the approval of Major League Baseball or its clubs.