Twins activate Plouffe off DL, option Buxton
Rookie hitting .193 in 63 Major League games this season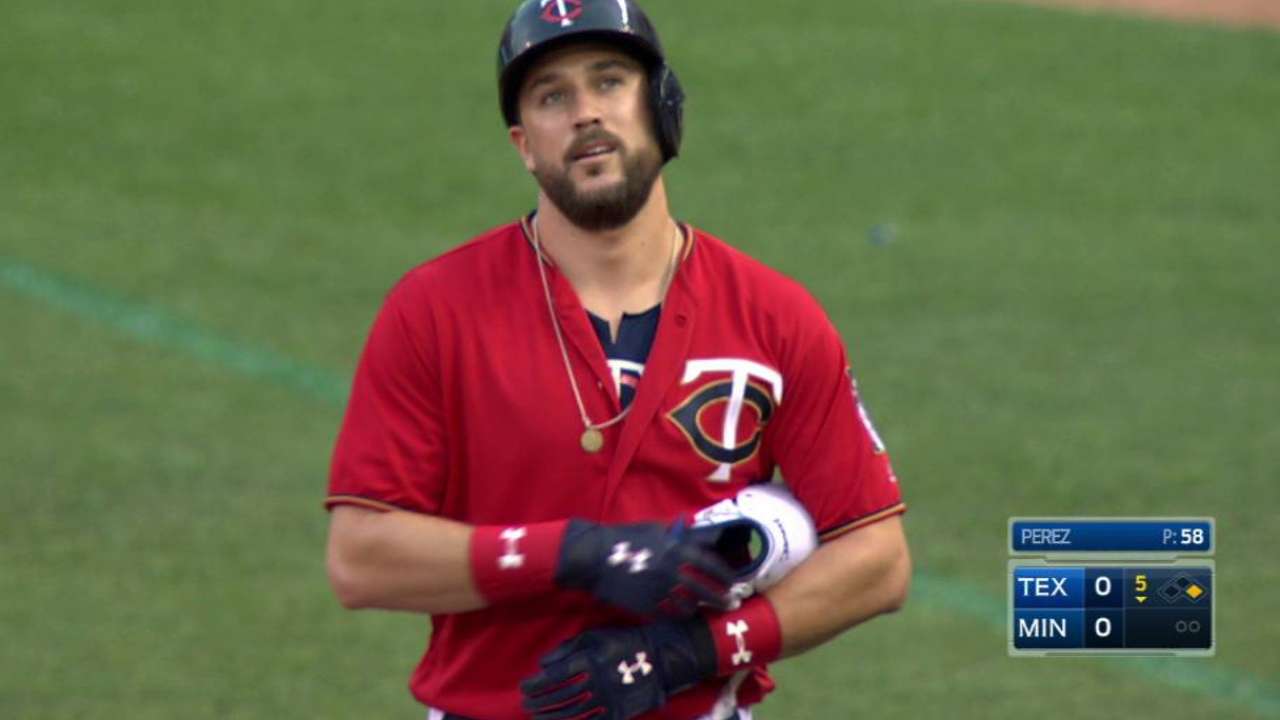 ST. PETERSBURG -- On a rehab assignment with Triple-A Rochester, Minnesota third baseman Trevor Plouffe rented a food truck for his Minor League teammates on Saturday.
They won't be eating quite so well anymore.
Plouffe was activated off the disabled list after the Twins' 6-3 win on Sunday, and he'll return Monday in the first contest of a four-game set with Houston. The club optioned Byron Buxton to Triple-A in a corresponding roster move.
Sidelined with a fractured rib since July 1, Plouffe had hit .252 with nine home runs and 27 RBIs in 58 games for the Twins. On Saturday, he went 2-for-4 with a homer and a double for the Red Wings. In six rehab games, Plouffe had six hits in 19 at-bats with a walk.
For Buxton, meanwhile, the demotion comes as he continues to struggle at the Major League level. In 63 games this year, Buxton is hitting just .193 with just 18 extra-base hits.
"It's tough, but it's baseball," Buxton said. "You've got to come out here, grind it out, and try to get better every day."
Buxton implied that his struggles were more related to his mental approach at the plate.
"I was just thinking too much," Buxton said. "Especially if you get off the game plan, your mind just starts thinking too much, and you end up rushing your swing, being too quick, and that leads to not seeing the ball as good."
Twins manager Paul Molitor said the move was primarily geared toward giving the 22-year-old a better chance to grow his confidence and work on his mechanics. With the Twins out of contention, Molitor said it would not necessarily be in Buxton's best interest to continue to mature with the big league club.
"We have to consider more than just gaining at bats and things like that, because you get to a point where you continue to go backwards instead of going forward," Molitor said. "You want to try and get him back on track. He'll still get at-bats up here -- that's what I imagine happening -- but in the short term, this is what's best."
Entering Sunday, there had been some speculation that Miguel Sano could be demoted. After a big two-home run game, any thought of him being sent down quickly evaporated. Sano said he tried not to get distracted with the talk of a possible demotion.
"It's not in my control, I can't worry about it," Sano said through an interpreter. "I'm just going to keep working hard, hustling, and keep moving on."
Greg Zeck is a contributor to MLB.com. This story was not subject to the approval of Major League Baseball or its clubs.