Huntington: Bucs monitoring waiver market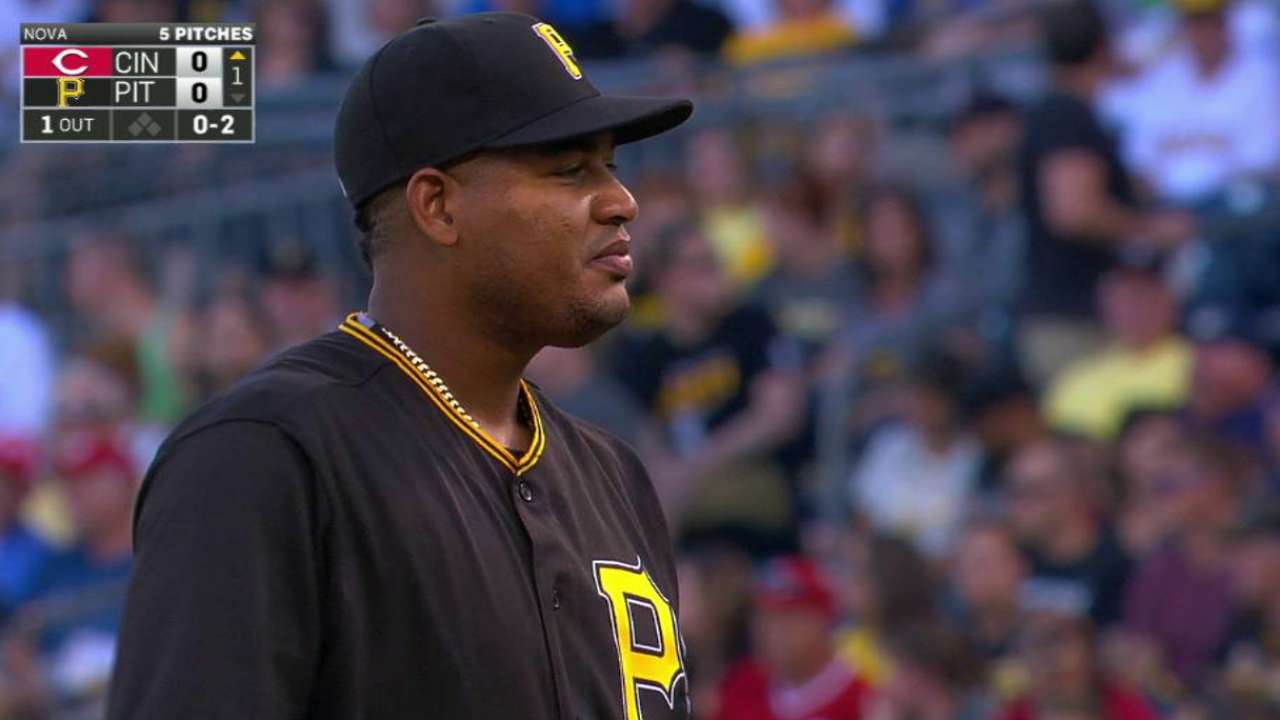 PITTSBURGH -- The Pirates were one of the Majors' most active clubs in the minutes before last Monday's non-waiver Trade Deadline, and they could be involved in the August trade market as well.
"We're certainly looking for ways to add to the club," general manager Neal Huntington said on Sunday.
Clubs can still deal and acquire players who pass through waivers, as Pittsburgh showed in sending Arquimedes Caminero to Seattle for a player or players to be named on Saturday. Players acquired by Aug. 31 are eligible for postseason play.
It's not as easy to make trades in August, of course. For the Pirates to inquire on an American League player who passed through waivers, he would have to go unclaimed by every AL team and any NL club with a worse record than Pittsburgh.
"It's a rare player that does get through to us from the American League. The National League, if there is a benefit to being on the outside [of the postseason race] looking in, it's that we have an earlier waiver claim situation," Huntington said. "We hope to be able to utilize that, but I don't want to sit here and promise that we're going to be active, because there's so much beyond our control."
In 2013, the Pirates acquired outfielder Marlon Byrd and first baseman Justin Morneau during the waiver-trade period. Trading Caminero to the Mariners, who asked about the pitcher prior to Monday's Deadline as part of a bigger trade, allowed the Pirates to move Jeff Locke to the bullpen and slot prospect Chad Kuhl into their rotation.
The financial flexibility the Pirates gained by trading Francisco Liriano (and the remainder of the three-year, $39 million contract he signed before last season) to the Blue Jays on Monday may allow them to be more aggressive in claiming players, Huntington said -- whether it's to acquire a player or to block him from getting to one of their opponents.
"We look every day to improve the club. This is the time of year names cross the waiver list all the time," manager Clint Hurdle said. "That's out there. That's real. If there's an opportunity to improve our bullpen, improve our team, improve whatever area you're looking at, we're going to explore it."
Around the horn
• Gregory Polanco was out of the starting lineup for the third straight day due to left shoulder discomfort. The injury hinder's Polanco's throwing ability but isn't considered serious enough to necessitate a trip to the 15-day disabled list.
• David Freese did not start Sunday after leaving Saturday's game early due to left elbow discomfort, the result of being hit by a pitch.
• Starling Marte was thrown out trying to steal third base in Saturday's 5-3 win over the Reds. According to Hurdle, Marte ran through a "red light," explaining why Andrew McCutchen remained at first base on the steal attempt.
"Cutch was well aware it was a no-run situation," Hurdle said. "I don't anticipate that happening again."
Adam Berry has covered the Pirates for MLB.com since 2015. Follow him on Twitter at @adamdberry. This story was not subject to the approval of Major League Baseball or its clubs.