A-Rod could play regularly in final week
Girardi to meet with slugger, whose last game is set for Friday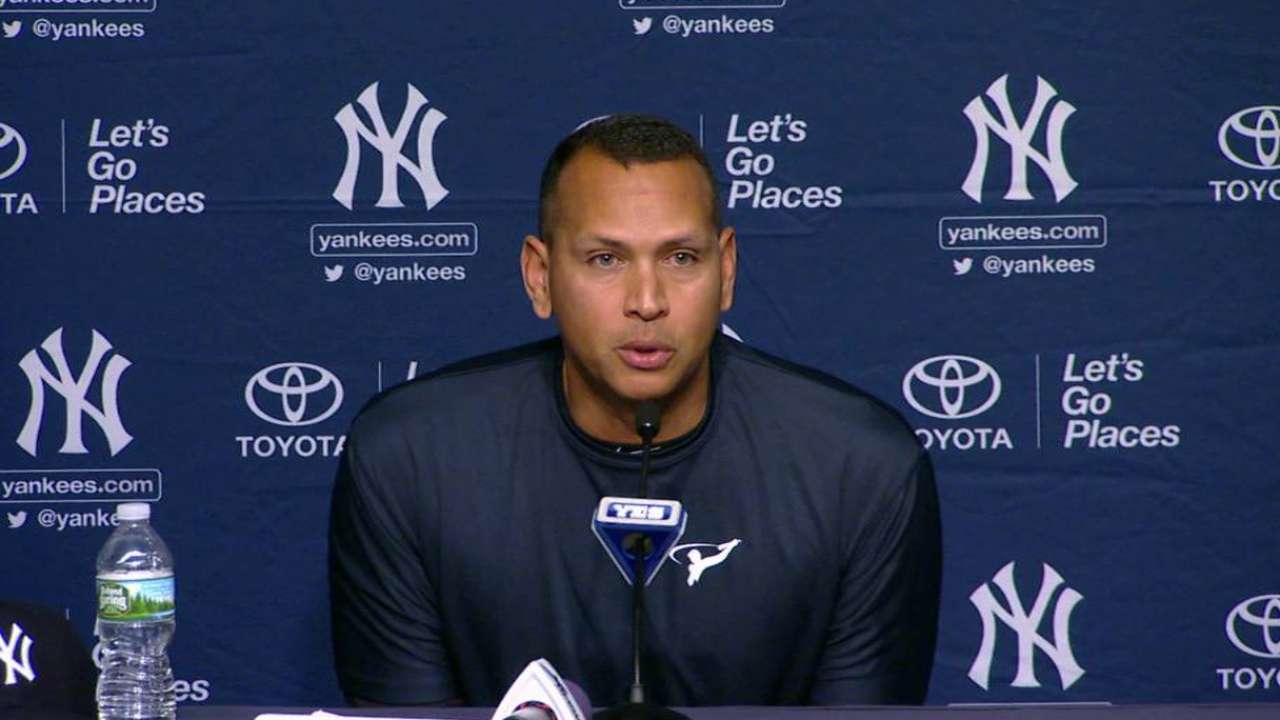 NEW YORK -- Alex Rodriguez has played in 2,781 Major League games. Now, with less than a week left in his career, one of the only remaining questions to be answered is how many games he has left.
Rodriguez, who announced Sunday morning that his 22-year MLB career will come to an end on Friday at Yankee Stadium, will for sure be in the lineup for the Yankees in that game against the Rays. Beyond that, though, manager Joe Girardi said he's open to playing the veteran as frequently as every day, as long as that's what Rodriguez wants.
"I mean, that's a conversation I have to have," Girardi said. "If he wants to play in every game, I'll find a way. I need to talk to him, we need to sort through these emotions, see about today."
•
A-Rod to play final game Friday, to become advisor
•
'This is it': A-Rod savors final games
•
Justice: In the end, A-Rod's love of baseball shines
•
10 numbers from A-Rod's iconic career
•
Peers praise A-Rod for legendary career
•
Teammates recall A-Rod's passion for game
•
Rogers: Machado has friend A-Rod on mind
•
A-Rod's announcement caps emotional week
•
A-Rod's player page
Sights & sounds
A-Rod on retirement
A-Rod to become an advisor
Cashman, Girardi on A-Rod
Yankees booth on A-Rod
Teammates discuss A-Rod
This is a sharp change from the club's recent usage of Rodriguez, who has only played in four games and appeared in the starting lineup just once in the last two weeks. Since July 1, A-Rod is hitting .132 (5-for-38) with one home run and two RBIs.
With regards to both his struggles and his recent stint on the bench, Rodriguez admitted that it's been hard to stay positive.
"The last four weeks have not been fun," Rodriguez said. "It's been very painful and embarrassing to sit on the bench. It's been awful. So from that sense, I'm very happy that we found a solution."
As drastic as this solution may seem, Yankees general manager Brian Cashman said that he doesn't believe the decision was made based off the recent decrease in playing time. More specifically, Cashman said he thinks that Rodriguez decided to end his playing career based on the body of work he's put on the field since last August; Rodriguez is hitting .198 with 18 home runs and 54 RBIs in 399 at-bats over that span.
But Rodriguez's recent output at the plate doesn't seem to matter to Girardi, as Rodriguez continues to chase 700 career home runs -- he's hit 696 -- and looks to end his career on a positive note. Girardi said he's even open to having Rodriguez play the infield, something he's only done six times in the last two seasons (none this year), if Rodriguez wants one last go as a defender.
"You know, I kind of thought of that," Girardi said. "Is it something that you possibly do? Again, I think he has earned the right to have the conversation with me and what he wants to do here, so I'll sit and talk to him."
Nick Suss is a reporter for MLB.com based in New York. This story was not subject to the approval of Major League Baseball or its clubs.