Bucs to call up Kuhl to bolster evolving rotation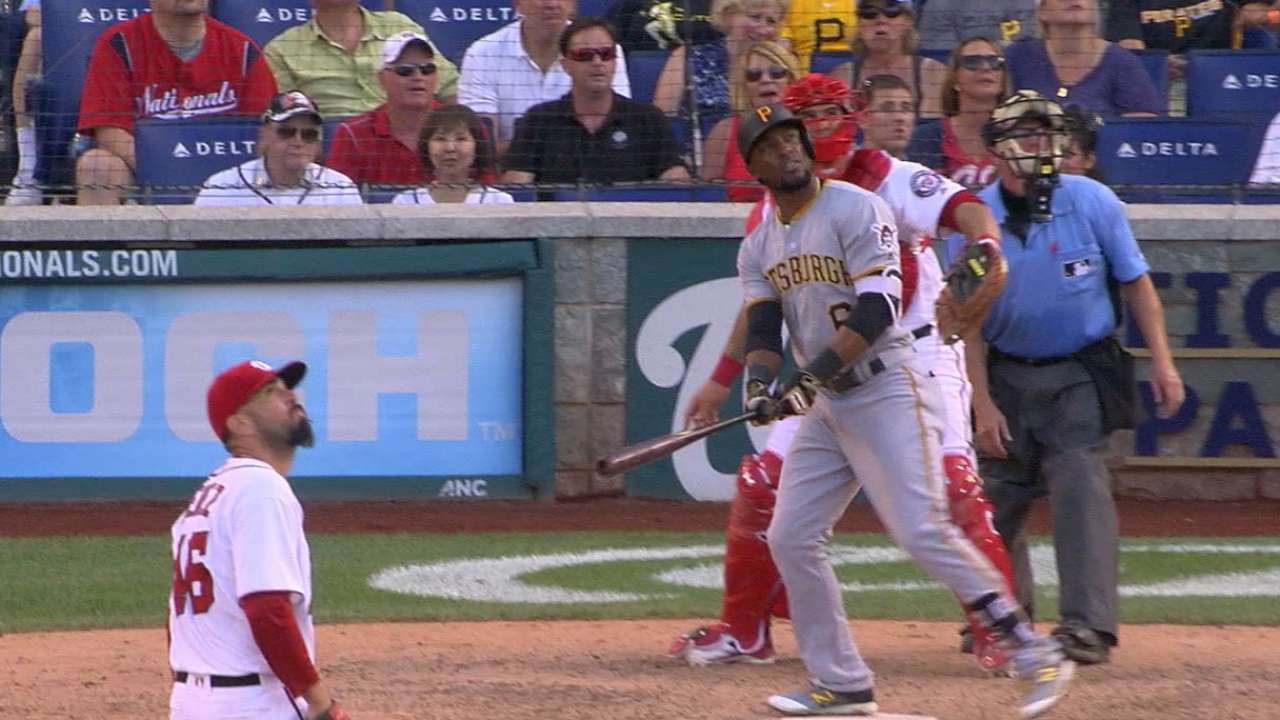 PITTSBURGH -- The Pirates' revolving-door rotation may stop spinning soon.
Pittsburgh will call up right-hander Chad Kuhl to start Tuesday's series opener against San Diego at PNC Park, general manager Neal Huntington said on Sunday. Kuhl will round out a group that, for the foreseeable future, also includes right-handers Gerrit Cole, Jameson Taillon, Ivan Nova and Ryan Vogelsong.
Huntington said Kuhl, the Pirates' No. 7 prospect according to MLBPipeline.com, has a chance to claim the final spot.
The 23-year-old went 1-0 with a 4.19 ERA in his first four Major League starts, occasionally flashing the power sinker that helped him push through Pittsburgh's Minor League system.
In two appearances since returning to Triple-A Indianapolis, Kuhl has allowed one unearned run on six hits while striking out seven without a walk.
"If he keeps that low- to mid-90s sinker at the bottom of the zone and gets them to beat the ball into the ground and throws enough good sliders and changeups to mix and match, he's going to be a successful Major League pitcher," Huntington said. "He did that on occasion, but more often than not, [his pitches] were elevated. That's not how he's going to be a successful Major League pitcher.
"Few minor adjustments, get him back to pounding the bottom of the zone and he's got a chance to keep this spot in this rotation."
The Pirates have completely overhauled their Opening Day rotation, with only Cole remaining. Juan Nicasio and Jeff Locke moved to the bullpen. Jonathon Niese was traded back to the Mets and Francisco Liriano was shipped to the Blue Jays.
Pittsburgh has used 12 starters this season, shuffling pitchers in and out of the bullpen, up and down from Triple-A -- and with Nova, in from another organization.
Vogelsong was another recent addition, coming off the 60-day disabled list to start in Atlanta on Thursday. The outing was remarkable not just for the comeback it completed -- Vogelsong sustained multiple facial fractures on May 23 -- but for the right hander's strong performance.
"He earned this start. He's put us in a position to win, and that's what you're looking for out of the rotation," Huntington said. "We do have alternatives, but our anticipation is that Ryan will continue to give us a chance to win. As we feel he's able to do that, he'll remain starting."
If the Pirates need another option beyond Kuhl or Vogelsong, left-hander Steven Brault and top prospect Tyler Glasnow could come into play.
Brault pitched well in his first two Major League starts, while Glasnow struggled before leaving his second outing due to a sore shoulder.
Glasnow, who threw 35 pitches and felt good after a bullpen session Saturday, is scheduled to throw a simulated game at PNC Park on Tuesday before beginning a Minor League rehab assignment.
"Ultimately, we need them to be them," Huntington said. "There's a reason why we put [rookies] in position to get starts or get the ball out of the bullpen or get at-bats. They've shown us abilities."
Adam Berry has covered the Pirates for MLB.com since 2015. Follow him on Twitter at @adamdberry. This story was not subject to the approval of Major League Baseball or its clubs.