Braves add Younginer to bullpen, DFA Snyder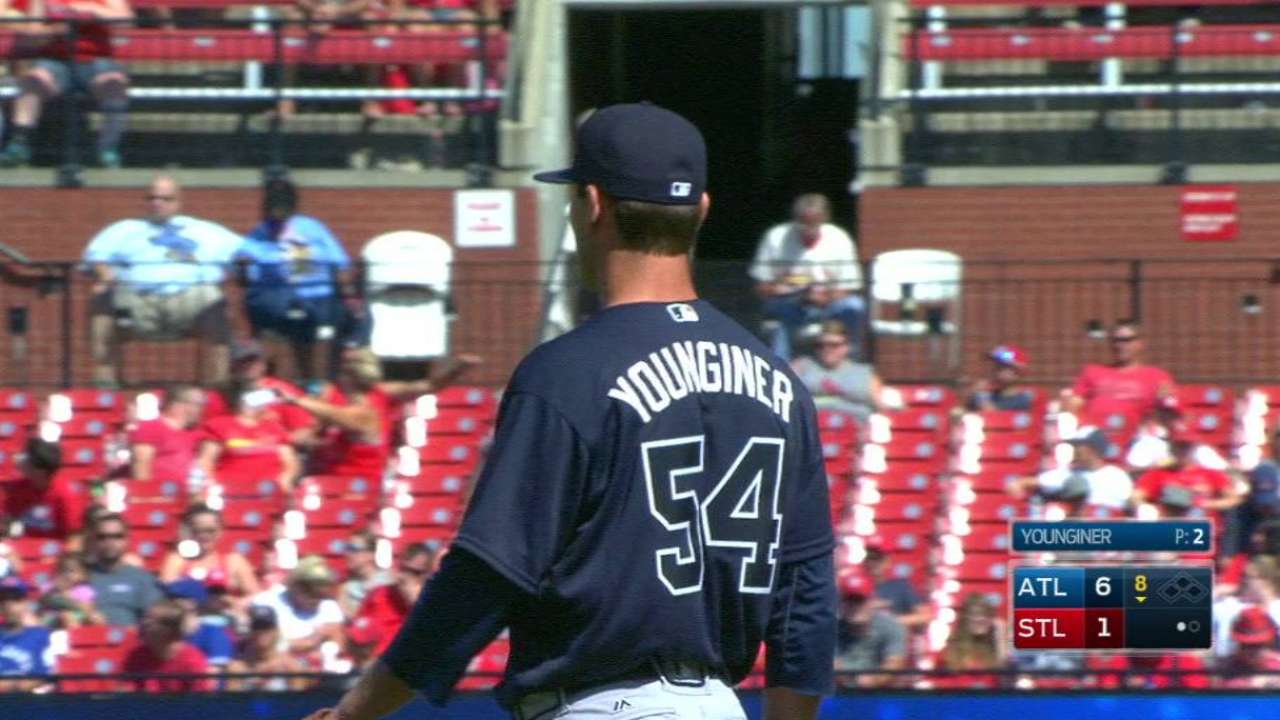 ST. LOUIS -- The Braves selected the contract of reliever Madison Younginer from Triple-A Gwinnett and designated Brandon Snyder for assignment prior to Sunday's 6-3 win over the Cardinals.
Younginer, a seventh-round Draft pick of the Red Sox in 2009, had spent the last six years in Boston's system before signing a Minor League deal with the Braves in the offseason.
"I was keeping an eye on him and watching the reports and they're like, really good reports right after the other," said Braves interim manager Brian Snitker. "The velocities were spiking and he's got that good curveball."
Younginer pitched two-thirds of an inning in his Major League debut on Sunday and gave up three hits and two runs in the eighth.
"We just decided to put him in the fire today," Snitker said. "He's got stuff and his velocity has picked up. It was a positive first outing for him."
Younginer posted a 3.46 ERA in 42 appearances, including 15 saves, between Double-A Mississippi and Gwinnett this season. He appeared in seven Triple-A games and gave up 11 runs (six earned) in 9 2/3 innings.
Snyder was used primarily in a utility role, playing first base, third base and the outfield for Atlanta. He started three and appeared in a total of 24 games for the Braves, usually as a pinch-hitter.
He was hitting .182 in 33 at-bats with six hits, including three doubles and two home runs. His most recent appearance came Wednesday against Pittsburgh.
Nick Krueger is a reporter for MLB.com based in St. Louis. This story was not subject to the approval of Major League Baseball or its clubs.