Green sends clear message with removal of Clemens
Manager wants to establish the 'Padres' way'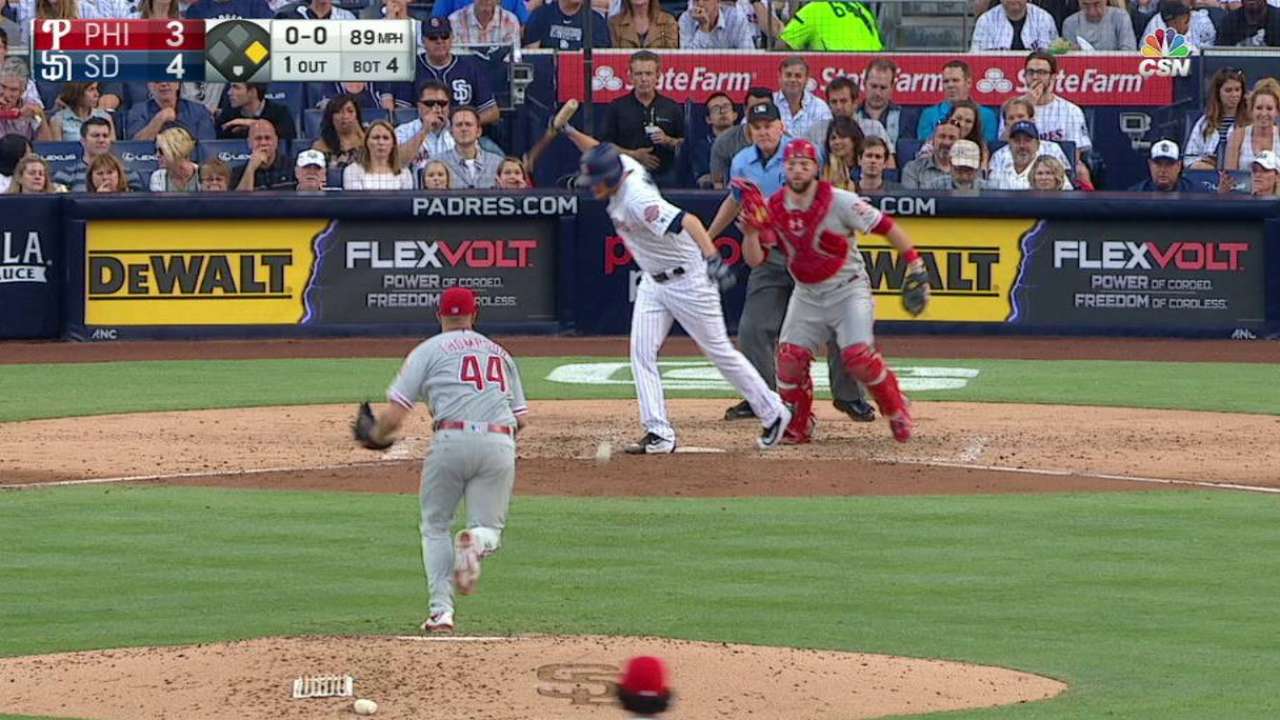 Bill Center, longtime sportswriter for U-T San Diego, is an employee of the Padres.
Clearly, Andy Green was on a mission on Saturday night, as he walked to the mound in the top of the fifth inning.
He was making a statement. And I loved seeing it.
As long as Green is managing the Padres, there is going to be a "Padres way." His charges are going to play the game the right way ... and play it hard.
Pitcher Paul Clemens was not the first player to make a mistake this season. But his misgivings were pretty obvious for all to see -- and Clemens became where Green drew the line and sent a loud and clear signal.
While bunting in the bottom of the fourth, Clemens got jammed by the pitch. He got the bunt down. But he threw the bat to the ground -- evidently angered by the pitch -- then didn't run to first.
Green saw it. Everyone at Petco Park saw it. And what Clemens did is not how you play the game -- certainly not how Green wants his Padres to play the game.
Since Clemens made the last out in the fourth, no one was ready in the Padres' bullpen. But as soon as Buddy Baumann was ready, Green sternly walked to the mound after Clemens retired the first hitter in the fifth. On the mound, Green explained to Clemens why the pitcher was coming out just two outs shy of qualifying for the win.
"There were a couple of things that occurred with Paul during the game that are not going to happen in a Padres uniform," Green said later. "Not running to first on that bunt (which the Phillies turned into a double play) and a couple other minor things.
"We're going to do things right."
Clemens said he got the message.
"He made the right decision," Clemens said of being pulled from the game by Green. "I will learn from it and move on. I will clean up a few things in my competitive nature."
Likely so did other Padres. The removal of any player from a game sends a clear message, particularly when it is done the way Green delivered it.
Good for Green.
The Padres recently cleared their clubhouse of some veterans who weren't contributing much to the development of the younger players who are the future of this franchise.
Change is afoot. We saw major proof of that on Saturday night.
Notes from the scorebook
• Center fielder Travis Jankowski extended his hitting streak to a career-best six games with Saturday's 3-for-4 performance and a career-best four runs scored. Jankowski is hitting .522 (12-for-23) during the streak with two doubles, four walks, seven steals and 11 runs scored.
• Catcher Christian Bethancourt had two doubles in five at-bats on Saturday for a career-high three RBIs. Bethancourt has four hits in his last 10 at-bats, with two doubles and five RBIs. Green said Bethancourt would be getting more at-bats over the last eight weeks of the season as both a catcher and outfielder.
• Third baseman Yangervis Solarte was 3-for-4 with three RBIs on Saturday and is hitting .333 (49-for-147) in 37 games since June 18, with 11 doubles, seven home runs, 28 RBIs and 24 runs scored.
• Left-handed pitcher Clayton Richard signed with the Padres as a free agent Saturday and was immediately activated. Richard was released by the Chicago Cubs on Wednesday after being designated for assignment on July 26. Richard was 40-39 with a 4.16 ERA with the Padres in 108 games (107 starts) from 2009-2013. He originally came to the Padres as part of a package that sent RHP Jake Peavy to the Chicago White Sox. He allowed a run on two hits and made an error on a fielding play in one-third of an inning Saturday night.