Yanks hand Indians 5th loss in past 7 games
NEW YORK -- A fresh stain of dirt lining the left side of his jersey, Mark Teixeira welcomed reliever Adam Warren's hand and hopped up to his feet. The 36-year-old Yankees first baseman had just snared a hard-hit ball with runners on first and second in the seventh inning Sunday, before diving and extending his glove to the bag to beat Cleveland's Francisco Lindor and end the frame. The highlight-reel play helped the Yankees to a 3-2 win over the Indians, who were handed their fifth loss in their past seven games.
It was a great play by Teixeira, who on Friday announced his intention to retire at the end of the season. Alex Rodriguez, another longtime Yankee, said in an emotional pregame news conference on Sunday that he will play his final Major League game next Friday.
"Just a really impressive play," Yankees manager Joe Girardi said. "That's Tex. He gives everything he's got. He slid headfirst, that's a huge play."
Behind six-plus innings of one-run ball from Masahiro Tanaka, the Yankees clinched the series victory with just five hits, one of which was a home run off the bat of Didi Gregorius. The fourth-inning blast came off Carlos Carrasco, who pitched seven innings of three-run ball.
"I thought he was pretty good. Every mistake, it seemed like he really paid for it," Indians manager Terry Francona said of Carrasco. "Double, triple, homer, all three hurt us."
• Despite loss, Carrasco impressive
Dellin Betances entered in the eighth to pick up the four-out save. Cleveland still leads Detroit by two games in the American League Central due to the Tigers' loss to the Mets. The Tribe hasn't won a series against a team above .500 this season aside from the Tigers.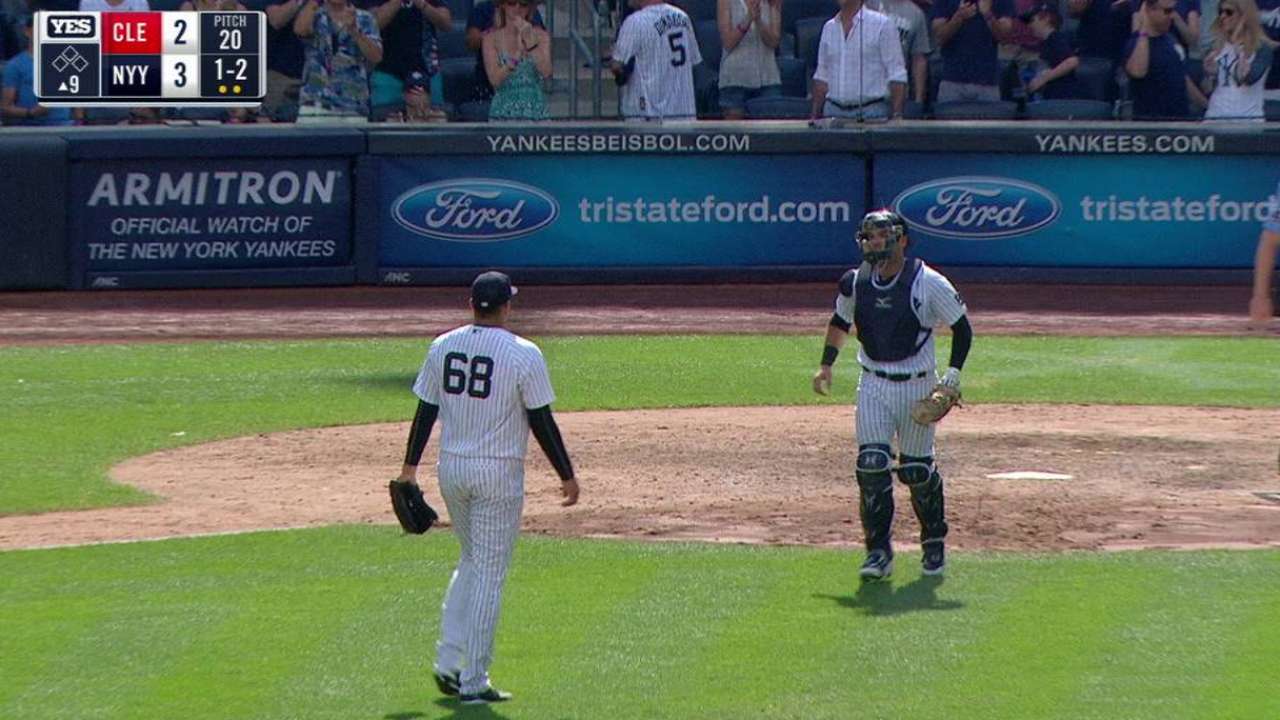 MOMENTS THAT MATTERED
Triples threat: Gardner led off the home half of the first inning with a triple and came around to score on a sacrifice fly in the next at-bat, giving the Yankees a lead they never relinquished. After not recording a triple in his first 80 games of the season and only tripling twice through the end of July, Gardner already has three triples in August. Gardner led the AL with 10 triples in 2013 and has 49 three-baggers in his nine-year career.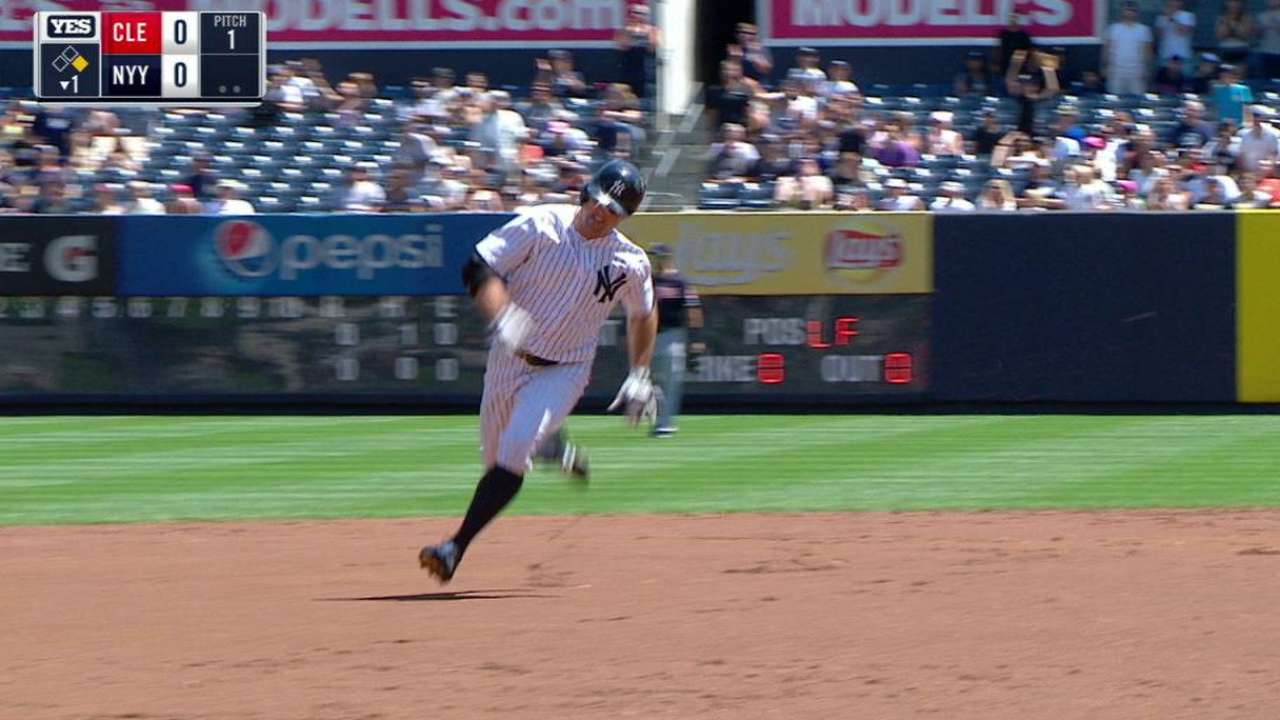 Missed opportunities: The Indians might have been held to two runs, but it wasn't because of a shortage of chances. The team finished 1-for-8 with runners in scoring position, with perhaps their best opportunity, aside from Roberto Perez's RBI single in the seventh, coming in the fourth. Mike Napoli and Jose Ramirez each singled with one out, but the Tribe couldn't capitalize. Lonnie Chisenhall struck out swinging and Rajai Davis flied out to left.
"Carrasco more than pitched well enough to win the game today. This one was actually on the offense," Jason Kipnis said. "He gave up three runs. I'll take three runs from our starting pitchers every day."
A bobblehead blastoff: Though only one fan got to go home with Gregorius' fourth-inning home run ball, many more left the park with a way to remember the home run, as Sunday was Didi Gregorius bobblehead day at Yankee Stadium. Gregorius' solo blast in the fourth traveled a Statcast-estimated 355 feet and came off the bat at 100 mph. It was Gregorius' 13th home run of the season, four more than his previous career high, and gave the Yankees a 2-0 lead.
QUOTABLE
"The answer made about as much sense as him going. All I can tell you was it was a brain cramp. Every once in a while you're going to see it from a player and you just scratch your head and you just say, 'OK, that's a first for me.'" -- Girardi, on Jacoby Ellsbury's explanation for his bizarre decision to run from first on a foul ball with no outs, which ended up as a double play in the third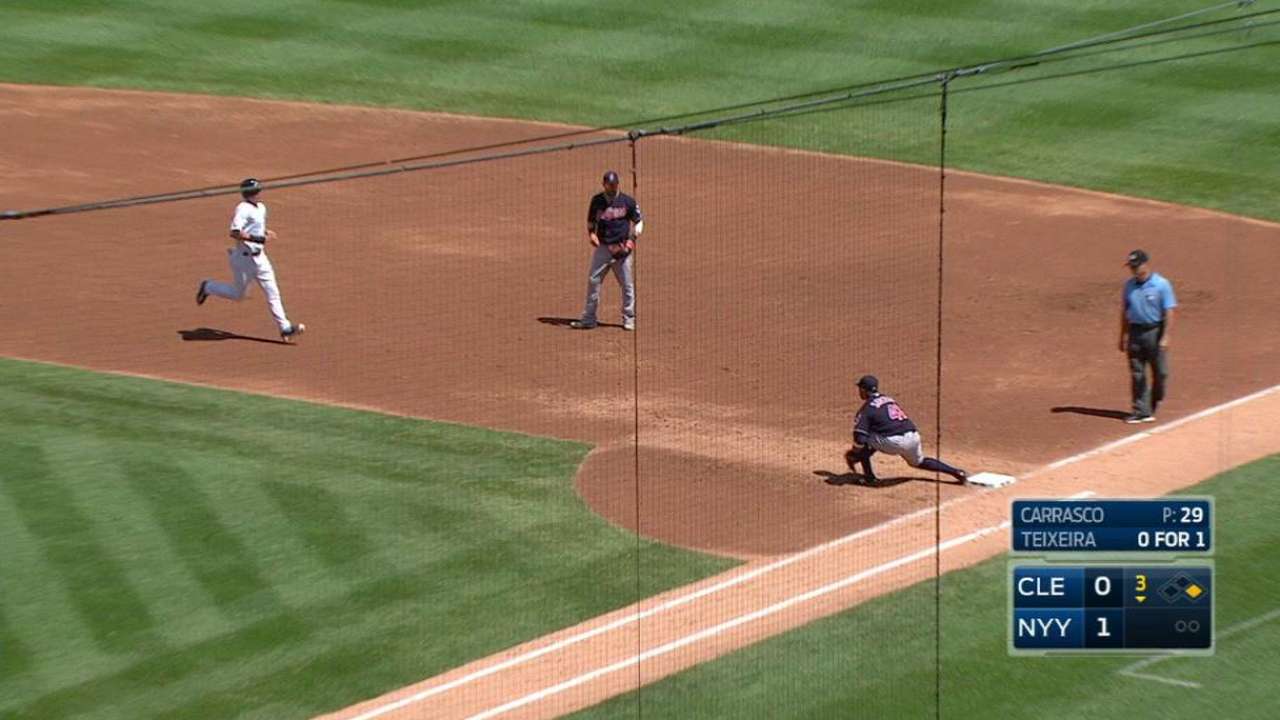 SOUND SMART WITH YOUR FRIENDS
By coming in as a defensive replacement in the top of the eighth inning, Starlin Castro played in his 1,000th career Major League game. Castro, 26, has averaged more than 140 games played per season since 2010 to achieve this feat.
WHAT'S NEXT
Indians: After an off-day Monday, the Indians and Trevor Bauer (7-5, 4.08 ERA) head to Washington to begin a two-game set against the Nationals at 7:05 p.m. ET on Tuesday. Bauer hopes to get back on track after allowing a career-high eight runs last Wednesday against the Twins.
Yankees: After an off-day Monday, the Yankees head to Boston for a three-game road trip to rekindle baseball's most famous rivalry. Luis Severino will take the mound for the Yankees on Tuesday (first pitch is at 7:10 p.m.), making his first start since May. Severino has pitched three times out of the bullpen since July 27 and hasn't allowed an earned run.
Watch every out-of-market regular-season game live on MLB.TV.
Joshua Needelman is a reporter for MLB.com based in New York and covered the Indians on Sunday.

Nick Suss is a reporter for MLB.com based in New York.

This story was not subject to the approval of Major League Baseball or its clubs.