Ventura reflects on A-Rod's decision to retire
White Sox manager missed Yankees slugger by one year in New York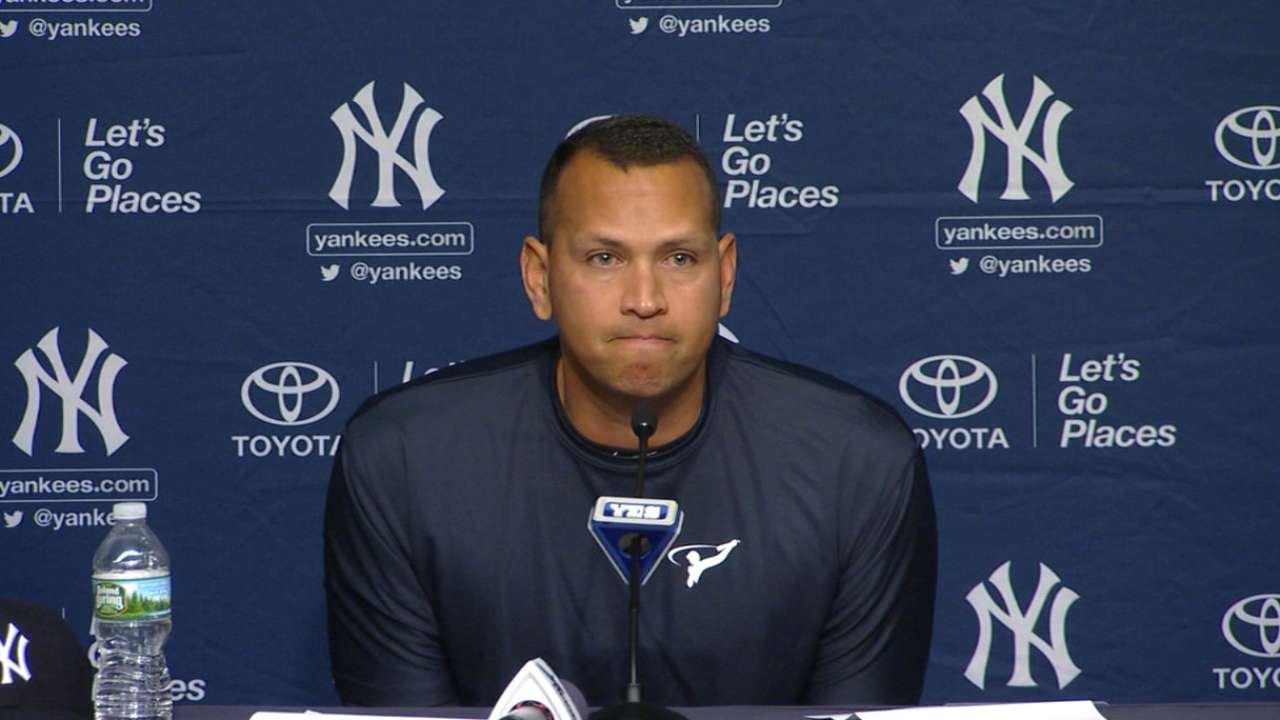 CHICAGO -- A number of White Sox players watched Alex Rodriguez's retirement announcement on television prior to Sunday's series finale against the Orioles.
Manager Robin Ventura, who missed Rodriguez by one season during their respective Yankees' tenures, spoke of the 22 years of accomplishments for a man with 696 homers, 3,114 hits and 2,084 RBIs during stints with the Mariners, Rangers and Yanks.
"When he first came up, you're talking about an 18-year-old kid that makes it to the big leagues," Ventura said. "Today, you look at [Bryce] Harper or when Ken Griffey Jr. made it. When guys make it that young, I think guys that have been around a while, you're in shock at first that they can do that at such a young age. But even playing 20-something years is impressive as well."
•
A-Rod to play final game Friday, to become advisor
•
'This is it': A-Rod savors final games
•
Justice: In the end, A-Rod's love of baseball shines
•
10 numbers from A-Rod's iconic career
•
Peers praise A-Rod for legendary career
•
Teammates recall A-Rod's passion for game
•
Rogers: Machado has friend A-Rod on mind
•
A-Rod's announcement caps emotional week
•
A-Rod's player page
Sights & sounds
A-Rod on retirement
A-Rod to become an advisor
Cashman, Girardi on A-Rod
Yankees booth on A-Rod
Teammates discuss A-Rod
Ventura, whose 16-year playing career ended after the 2004 season, said retirement isn't always a tough call to make, even with Rodriguez sitting four homers from 700.
"I don't know what he's thinking and how it's gone. I think the team made it for him as well, so it's not all necessarily his idea," Ventura said. "You just kind of know when it's time and physically you can't do it anymore. That part became very easy.
"It depends on how you're feeling. There are some guys that get to go out the way they want to go out. Some guys get asked to leave and some guys physically can't do it. There are many ways guys end up retiring. Some guys you have to rip the jersey off them, and some people just tell you to go away."
Ventura provides injury updates
Austin Jackson, out since June 10 due to surgery to repair a medial meniscus tear in his left knee, made an appearance in the White Sox clubhouse on Saturday.
"He looks great," Ventura said. "I don't know if he can play center any time soon, but he looks great. It was nice seeing him and I think guys like seeing that. But I don't think we're necessarily any closer to him coming back and playing."
Ventura said that Jackson was off crutches, but he is "not there yet" in regard to a rehab assignment or anything of that sort.
Second baseman Brett Lawrie and his strained left hamstring are kind of in the same area as Jackson, according to Ventura.
"I'm hoping he actually gets closer within the next week or so to be able to get out and do a rehab assignment," Ventura said. "He hasn't really been able to get out here and get on the field and hit.
"We're hoping he can do that first and jog around a little bit and then be able to go on a rehab assignment. Hopefully, some time on our road trip he can do that."
Ventura said catcher Alex Avila, who is sidelined by a right hamstring strain, is doing better, but he is still not at the point where he can let it go.
Scott Merkin has covered the White Sox for MLB.com since 2003. Read his blog, Merk's Works, follow him on Twitter @scottmerkin, on Facebook and listen to his podcast. This story was not subject to the approval of Major League Baseball or its clubs.