Pence out of starting lineup for scheduled off-day
Tests on right fielder's face indicate no damage from foul ball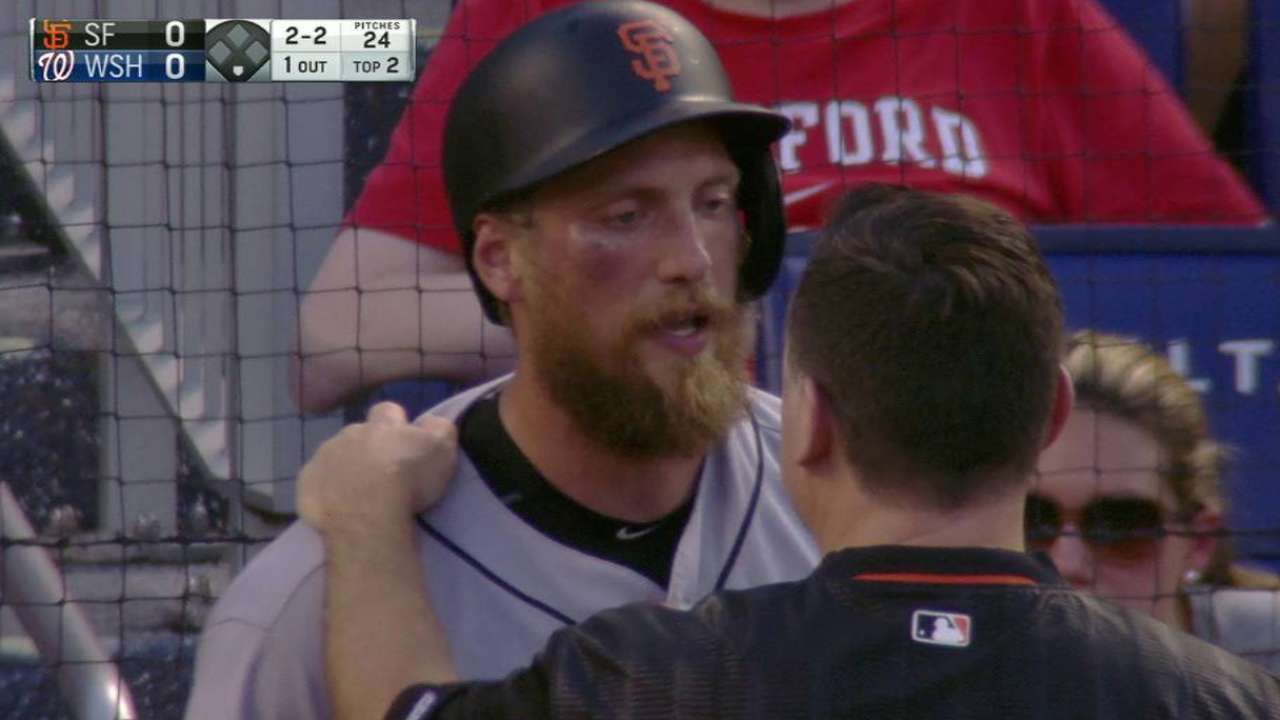 WASHINGTON -- For a guy who essentially was slugged by a baseball at point-blank range, Hunter Pence was feeling quite good Sunday.
Pence's activity was limited to a ninth-inning pinch-hit appearance in San Francisco's 1-0 loss to Washington. He struck out on three pitches to end the game.
Giving Pence a near-complete rest was a move planned by Giants manager Bruce Bochy before Pence hit a ball that bounced off home plate and struck him in the right side of his face during the second inning of San Francisco's 7-1 victory Saturday.
Bochy rated Pence's playing status as day to day and said that the right fielder conceivably could rejoin the lineup as early as Monday, when the Giants open a three-game series at Miami.
Bochy said that Pence underwent tests that revealed no structural damage. Pence's right cheekbone remained swollen and a thin red half-circle had formed underneath his right eye.
Worth noting
The Giants will enthusiastically welcome back relievers Cory Gearrin (shoulder) and Josh Osich (forearm), who are expected to recover from their respective injuries soon and be reinstated from the disabled list. Gearrin has begun an injury rehabilitation stint with Triple-A Sacramento and Osich is expected to begin one Monday or Tuesday.
Bochy said that the Giants can use reinforcements for the bullpen, which entered Sunday with 377 relief appearances, third-most in the National League behind Atlanta (396) and Los Angeles (388).
"I'm not going to lie. I'm getting a little concerned for this group," Bochy said. "To get guys like Gearrin and Osich back will freshen the bullpen up."
Chris Haft has covered the Giants since 2005, and for MLB.com since 2007. Follow him on Twitter at @sfgiantsbeat and listen to his podcast. This story was not subject to the approval of Major League Baseball or its clubs.