Sox maintaining 'balancing act' with Fulmer
Top prospect has advantages of Major League coaching, but not playing time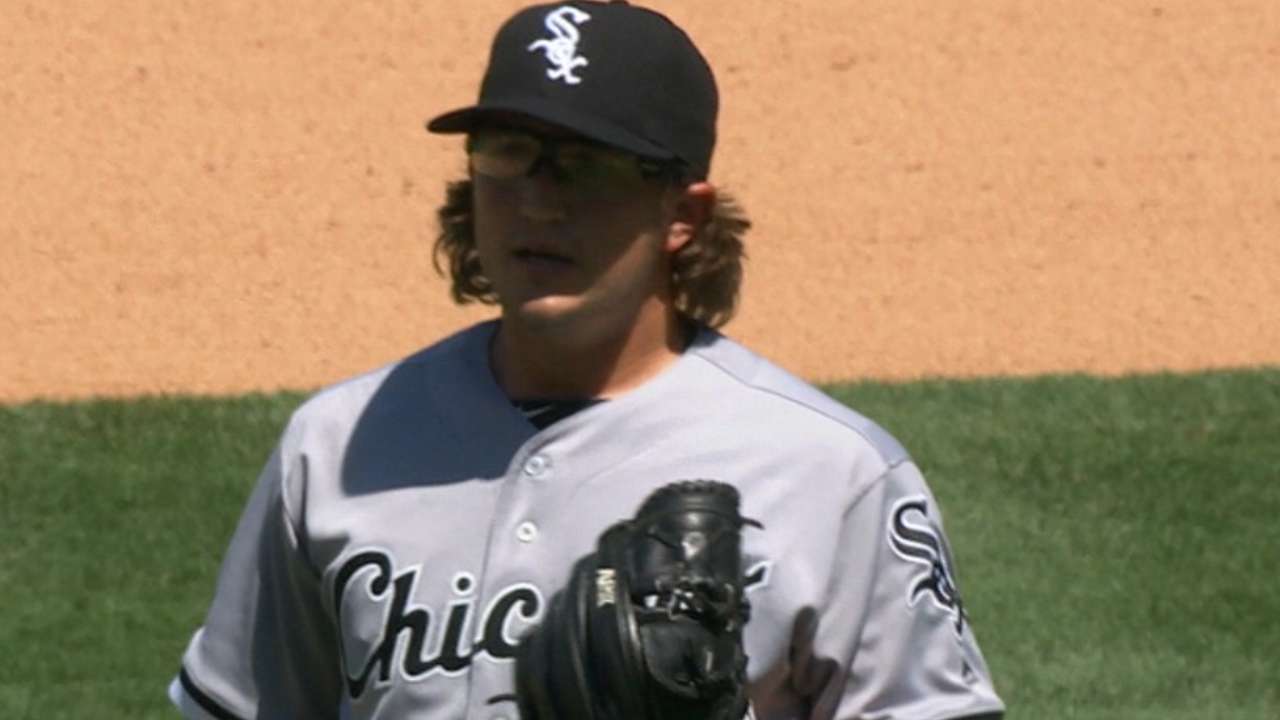 CHICAGO -- Since arriving with the White Sox on July 15, Carson Fulmer has pitched 8 2/3 innings over seven appearances.
It's a definite adjustment for the team's top prospect, per MLBPipeline.com, going from starting every fifth day and working six or seven innings for Double-A Birmingham to sporadic Major League relief appearances. But it's a developmental balance the White Sox have worked to find with the right-hander.
"He does benefit from facing big league hitters," White Sox general manager Rick Hahn said. "He does benefit from working with [White Sox pitching coach Don Cooper] and [bullpen coach Bobby Thigpen] on the side up here, and all the extras we have here to help him improve and understand the areas he needs to get better.
"At the same time, he obviously is not getting regular work. You want a player like that to not miss out on an element of the development that comes with regular work. So it is a bit of a balancing act."
Hahn pointed out that Fulmer has been throwing side sessions and working early with Cooper and Thigpen to supplement his appearances.
"We are trying to get him some activity whenever we know he's not going to pitch, or we think it's less likely he's going to pitch on a given day," Hahn said. "It's difficult though to replicate the game action."
"I feel like more than anything, it's just that you have to be comfortable," said Fulmer after throwing 2 1/3 scoreless innings during a 10-2 loss to Baltimore on Sunday. "Obviously I'm not really comfortable with the role that I'm in, because I haven't done it very much. But the more reps I get, the more comfortable I'm going to get, and I'm definitely feeling that now."
Fulmer's first career strikeout came against Albert Pujols on July 17 in Anaheim during two scoreless innings of relief. He had struggled of late, allowing nine runs on six hits and six walks over 3 2/3 innings in his past four appearances leading into Sunday's solid relief effort.
But it's all part of the learning curve, a point that Fulmer fully understands. White Sox manager Robin Ventura said Sunday that Fulmer could be stretched out to start for Chicago before the end of the season, but it's not yet a certainty.
"That's a guy you want to master the one inning first before you can sit there and think he can give you seven or eight," Ventura said. "I think it's a time to learn, to gain some experience while you're up here and the guys that you're facing and what you need to do to survive up here. That's just as important as being stretched out. He can get valuable experience an inning at a time.
"When you do one inning, you can repeat it over and over again. But I think right now, he needs that focus of being able to go hitter to hitter and inning to inning. One inning that he needs to get through and have a good one and master it."
In regard to whether Fulmer looks to be a starter or reliever long term, Hahn said, "We'll figure that out along the way."
"I love it," Fulmer said of his relief work. "I haven't really done it that much, but I like that situation."
Scott Merkin has covered the White Sox for MLB.com since 2003. Read his blog, Merk's Works, follow him on Twitter @scottmerkin, on Facebook and listen to his podcast. This story was not subject to the approval of Major League Baseball or its clubs.