McGehee ready to contribute to Tigers' playoff push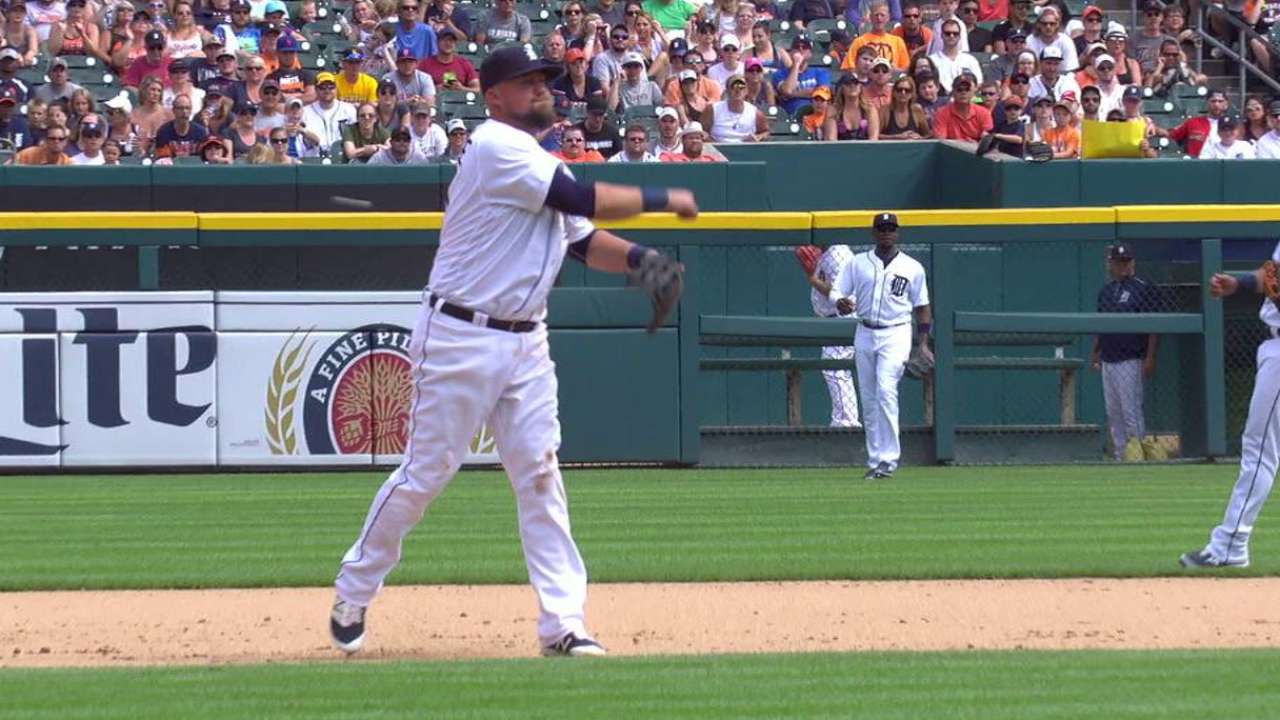 DETROIT -- The Tigers signed Casey McGehee at the start of Spring Training for this type of situation, to have a veteran Major Leaguer ready to step in if they suffered a corner-infield injury.
McGehee, a veteran of 821 Major League games across seven different teams, stuck around when he had chances to leave -- at the end of Spring Training and again in midseason after a June weekend stint with the Tigers as a pinch-hitter -- to be that veteran who could step in.
Thus, when Nick Castellanos left Saturday's game with a fractured bone in his left hand, the first move was to pull McGehee from the Triple-A Toledo lineup and get him on the road from Indianapolis -- where the Mud Hens were playing -- to Detroit.
This is what general manager Al Avila had in mind when he talked about building depth in the organization. Now, as the Tigers head into mid-August in a playoff chase, that depth gets another test, but maybe the test for which it has been better prepared.
"He's a big league player," manager Brad Ausmus said. "He's had some good years here. He's been a little up and down the last few years, but he's performed at the big league level. I'm not worried about him being in awe of what the environment's like."
It was a bittersweet call for McGehee, who worked alongside Castellanos in Spring Training. At the same time, it's the opportunity he was brought in to do, and the chance at a big league return he has been waiting for since last fall.
"I'd be lying if I said I wasn't hopeful to get back and really get back," he said. "Last time was just a quick two-day deal, but at the same time, I've seen how quick fortunes can change -- good and bad -- in this game at times. This is the best time of the year. This is the time where it's all about winning.
"To be able to walk into a clubhouse that's counting on every guy in here to do something, to help the team win and make a playoff push, I look forward to it. That's one of the best advantages being a little older. Of course I get nervous, just like anybody, but I'm not going to be overwhelmed. I'm excited about showing up and trying to fit in, hopefully stem the tide, and hopefully Nick can get back."
McGehee, who ranked second among International League hitters with a .322 batting average, credited Mud Hens manager Lloyd McClendon and hitting coach Leon Durham for making him feel comfortable enough to stick around in Toledo and maintain his focus. Instead of a letdown after his June stint with the Tigers lasted just a couple days, he hit for a higher OPS after his return to the Mud Hens (.848) than before he was called up (.810).
Now he has to carry that into the Majors. Though utility infielders Mike Aviles and Andrew Romine can play third, the at-bats will be there for McGehee if he hits. If he plays his role to help keep the Tigers in the race the next few weeks, those long Triple-A trips, those 10:30 a.m. games for school field trips will feel like prep work.
"I just truly love to play the game," McGehee said. "Who knows how much longer I'll get to do it? Whether it's Toledo or Detroit or Beijing, I just love playing."
Jason Beck has covered the Tigers for MLB.com since 2002. Read Beck's Blog, follow him on Twitter @beckjason and listen to his podcast. This story was not subject to the approval of Major League Baseball or its clubs.