MLB.com Columnist
Anthony Castrovince
Old foes praise Ichiro's greatness as a hitter
Veteran hurlers Lackey, Sabathia, Shields among those who tip cap to Suzuki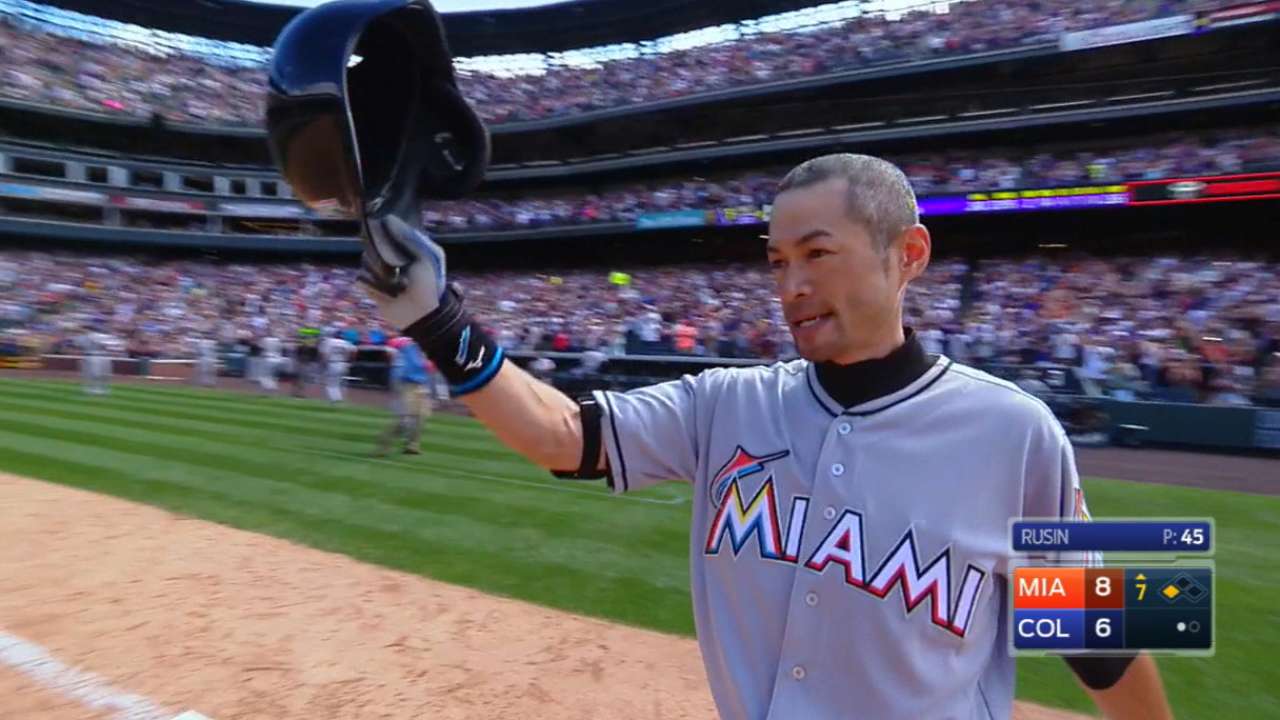 Maybe it's an exaggerated recollection, because ballplayers have been known to weave tapestries out of tall tales.
But Jon Lester claims that somewhere among the more than 30,000 pitches he's thrown in his time in the big leagues was a curveball that bounced in the Seattle dirt -- "It barely reached the cut of the grass," Lester said -- and then into the bat of one Ichiro Suzuki, who turned the bouncer into one of his now 3,000 base hits.
No article or video could be found to corroborate Lester's story, though the Internet -- always attempting to be an accommodating accomplice -- does provide some grainy evidence of Ichiro smacking a bouncing ball in Japan.
Ichiro amazingly hits a pitch that bounces in the dirt
So it's certainly feasible.
•
Ichiro triples to reach 3,000-hit milestone
•
From Japan to US, Ichiro born to be a star
•
DYK: Ichiro joins 3,000-hit club
•
To Ichiro, 3,000 hits bigger than 1 person
•
Ichiro congratulated by 3,000-hit club members
•
Ringo: Ichiro's road to 3,000 paved in Emerald City
•
Ichiro means everything to Ichi-meter lady
•
Like Ichiro, daily beat demands dedication
•
Celebrate Ichiro's 3,000th hit with 13 great photos
•
Griffey admires Ichiro's feat from afar
•
Old foes praise Ichiro's greatness
•
Ichi-Rose: Combo batter expands hit story
•
Ichiro's player page
•
Rare feats: 3,000 hits club
•
Shop for Ichiro merchandise
Sights & sounds
Ichiro's 3,000th MLB hit
Radio calls Ichiro's 3,000th hit
Ichiro discusses milestone
A look at the 3,000-hit club
Ichiro reaches milestone
Ichiro's historic hit No. 4,257
Ichiro highlights
But whether this specific account is accurate or not is hardly the point. The point is that Ichiro's legend as a creative compiler of base knocks is so cemented that such a claim, at the very least, feels emotionally accurate.
"That's how hand-eye coordinated he is," Lester said, "how unique he is. There's a reason he has a million hits."
OK, more exaggeration there. But after ripping a triple off the Coors Field wall Sunday, Ichiro does now have 3,000 stateside, and 4,278 in his professional career. You can question -- as Pete Rose and many others have -- the value of grouping the U.S. total and the Japanese total into one lump sum, and that's totally fine and fair. But there's no denying that this is a man spectacularly gifted at the art of hitting.
And no group of people is more qualified to confirm that than the pitchers he's burned along the way.
John Lackey leads the list, having served up 36 of the 3,000, though he's quick -- and accurate -- in pointing out that he leads the list of strikeouts vs. Ichiro, with 16 (he and James Shields are tied in that top spot).
"A lot of the early hits off me were infield hits, and he was fast," Lackey said. "It wasn't like there was a whole lot of damage behind it. He's able to put so many different pitches in play. He doesn't swing and miss very often. He doesn't have to hit it well to get a hit, especially when he first came over here. He could really run."
STATS LLC has data on infield hits going back to 1987. You won't be surprised to learn Ichiro has more infield hits (679) than anybody over the last 30 seasons. His speed compelled infielders to play shallow and to rush their throws to first, all too often unsuccessfully.
But speed alone isn't what made Ichiro one of the all-time greats at the plate. He also had -- has -- an advanced ability to cover the entire plate… and then some.
"He makes it look so easy," said Ervin Santana, who has given up 30 hits to Ichiro.
A search at Baseball Savant, which has data going back to 2008, revealed that more than one-third of Ichiro's hits over the past nine seasons have come on pitches delivered to the four quadrants outside the strike zone.
"It's always tough, said CC Sabathia, who has served up 23 of Ichiro's hits, "because you never know what he's trying to do. If he's trying to hit homers that day, then you're in trouble. If he's trying to hit singles that day, you're in trouble.
"You just always try to figure out where his mind is at that first at-bat. You always had to bring your 'A' game, moreso mentally than physically, just because you're trying to figure out if he was trying to yank [the ball] or if he was just trying to get singles."
Throw Ichiro a cutter at the shoelaces, and he might poke it down the line for a double…
Go way up and way away, and he's liable to get just enough bat on the ball to scoot it the other way for a single…
"Really," Lester said, "the best thing to do is to throw it down the middle and let him hit it, and hopefully he gets out."
Added Shields, who is responsible for 20 of Ichiro's hits: "His plate coverage and hand-eye coordination is one of the best in the history of the game. You throw a ball down and a way off the plate, he'll hit it in the six-hole. If you throw it in, he's going to yank you. More or less, he's going to get a base hit, and he's got a lot of power as well."
Ichiro's most hits vs. pitchers
| Name | Hits |
| --- | --- |
| John Lackey | 36 |
| Bartolo Colon | 34 |
| Kevin Millwood | 33 |
| Ervin Santana | 30 |
| Mark Buehrle | 27 |
| Barry Zito | 26 |
| CC Sabathia | 23 |
| Vincent Padilla | 21 |
| James Shields | 20 |
| Justin Verlander | 20 |
The book on Ichiro when he first arrived to the Majors was to pound him in, but he proved -- quickly -- that he had the coordination to turn on those pitches. And so pitchers had to adjust in other ways, with, obviously, limited success.
The data on Brooks Baseball, which goes back to 2007, suggests that the sinker (.330 average against, .420 slugging percentage against) has been the least-effective offering against Ichiro, among pitches that have ended at least 100 at-bats. On the other end of the spectrum is the slider, which has limited him to just a .047 isolated power mark and .328 slugging percentage, though it should be noted that Ichiro has still managed to produce a .281 average against that pitch.
"I started throwing the slider against him," Sabathia said. "I think that helped me out a lot. Early in my career, I had nothing to get him out with."
Eventually, pitchers just learned to live with the results.
"When you give up a hit to Ichiro," said Shields, "it's not the end of the world."
There are many ways to define the Ichiro experience. What he's meant to Japan, certainly. What he meant to the Mariners back in the day. His legendary preparation and attention to detail. The stories about his batting-practice prowess and supposed ability to hit home runs on command. His reportedly profane -- and hilarious -- pump-up speeches for the American League squads at the All-Star Game. His quotes, which have ranged anywhere from koanlike ("No pitch is ever the same, so no hit is ever the same") to kooky ("I hope [Daisuke Matsuzaka] arouses the fire that's dormant in the innermost resources of my soul").
But the resignation expressed by Shields, the mental exhaustion admitted by Sabathia, and the tip-of-the-cap to creativity voiced by Lester say a lot, too. These men find no shame in ranking high atop Ichiro's hit list on his way to No. 3,000. Rather, they are thankful for the opportunity to have faced him at all.
And that's no exaggeration.
"Hopefully," Lester said, "he gets the credit he deserves at the end of his career."
Anthony Castrovince has been a reporter for MLB.com since 2004. Read his columns and follow him on Twitter at @Castrovince. This story was not subject to the approval of Major League Baseball or its clubs.