Verrett may be bumped from starting rotation
Righty penciled in to start vs. Padres on Friday for now, but things could change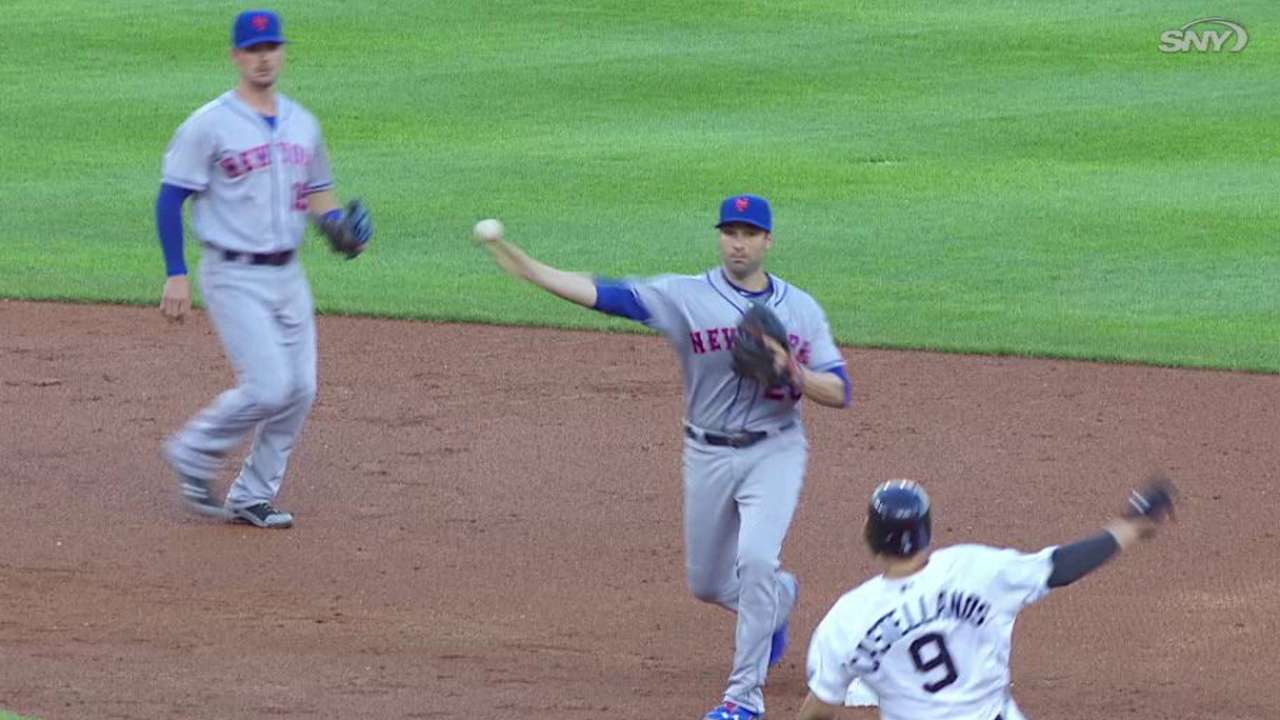 DETROIT -- A day after the Tigers blasted Logan Verrett for six runs in 3 2/3 innings, Mets manager Terry Collins remained uncommitted to Verrett as his fifth starter. For now, Verrett is penciled in Friday against the Padres at Citi Field, though the Mets will huddle between now and then to discuss a possible change.
"We're going to take a look and see basically who is best-suited to get them out," Collins said. "We've got to put a streak together. It becomes a big homestand."
If not Verrett, the Mets could turn to Jonathon Niese, who delivered 2 1/3 shutout innings Saturday in relief of Verrett. Collins specifically mentioned Niese, whom the Mets reacquired in a trade with the Pirates last Monday, as a possible rotation sub. Before losing his hold on a rotation spot in Pittsburgh, Niese was 7-6 with a 5.13 ERA.
Collins also left open the possibility of calling up a rookie from Triple-A Las Vegas. For most of the summer, No. 19 prospect Gabriel Ynoa ranked among the top candidates there, but he has struggled to the tune of a 6.55 ERA over his last 10 starts. More realistic at this point might be No. 14 prospect Robert Gsellman, who owns a 3.04 ERA with 25 strikeouts and four walks over his last four outings.
"I think any time's right if the guy's good enough," Collins said of potentially using a prospect in a pennant race. "We've seen what the dynamics are when you call some young guys up, starting with Matt Harvey to Zack Wheeler to [Jacob deGrom]. They come up and make a difference. A lot of times as we've seen when we face guys for the first time, they can dominate you. So we haven't made any decisions yet."
The simplest solution would be to proceed with Verrett, who owned a 3.86 ERA in his previous four outings before Saturday. But the Mets can ill afford another poor outing as they fall further from postseason contention by the day.
Whoever starts Friday is likely to be nothing more than a temporary rotation patch. The Mets remain hopeful that Wheeler, who began a Minor League rehab assignment on Saturday evening, can return by early September.
Anthony DiComo has covered the Mets for MLB.com since 2008. Follow him on Twitter @AnthonyDiComo and Facebook, and listen to his podcast. This story was not subject to the approval of Major League Baseball or its clubs.