10 numbers from A-Rod's iconic career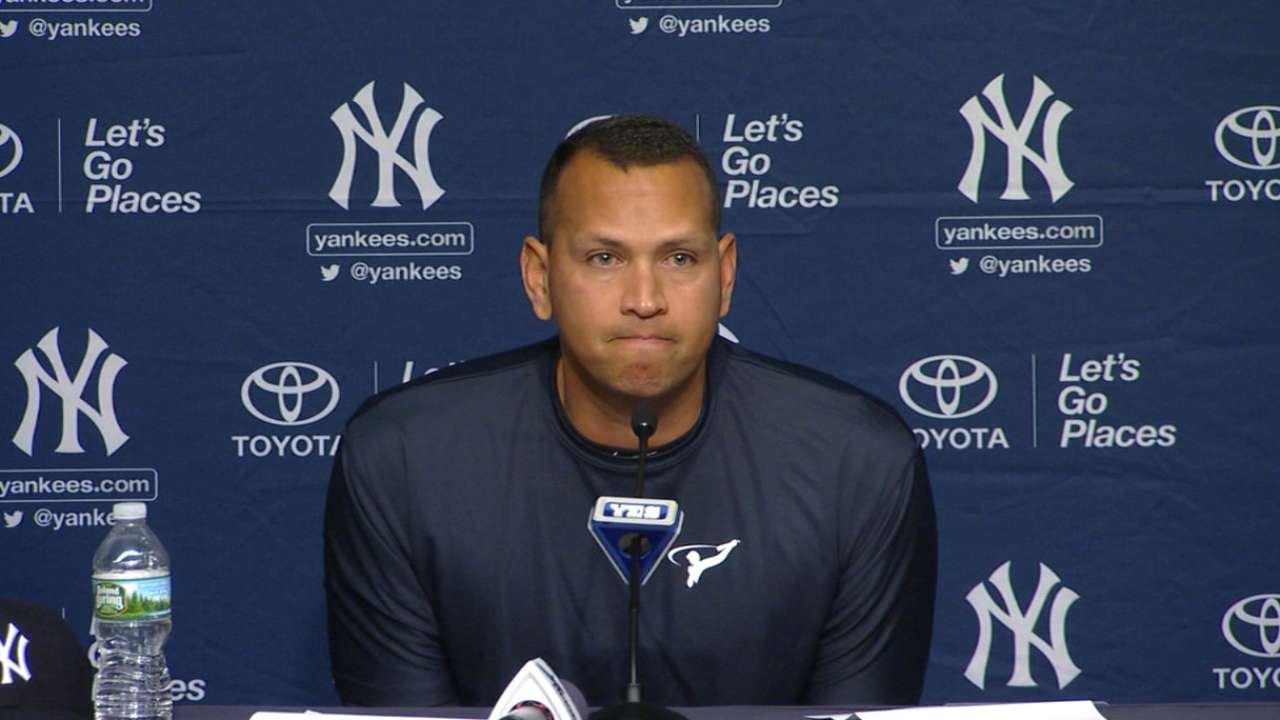 Alex Rodriguez is ending his iconic 22-year career this week. The 41-year-old designated hitter will play in his final game when the Yankees face the Rays at Yankee Stadium on Friday, and remain with the club as a special advisor through 2017.
Rodriguez has been one of the most renowned, yet controversial, figures of this era. Here's how his numbers stack up among the game's greats:
• Rodriguez's 696 career home runs rank fourth all-time behind Barry Bonds (762), Hank Aaron (755) and Babe Ruth (714).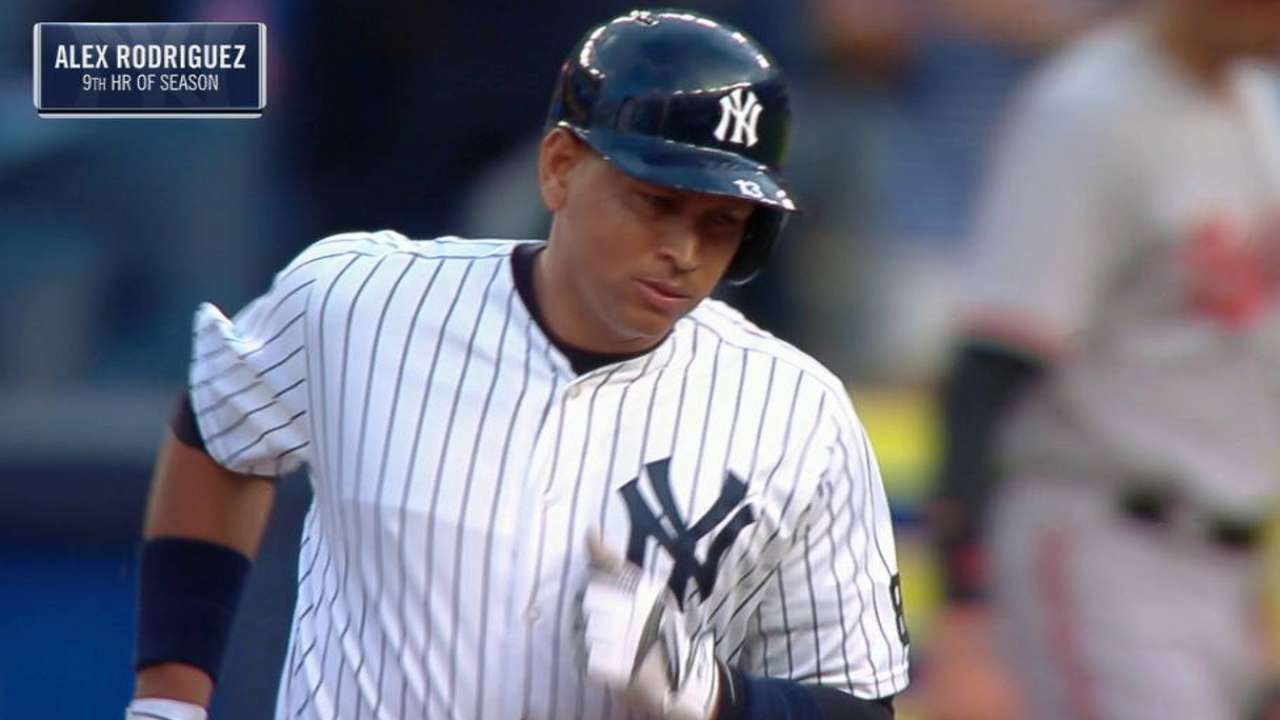 • His 2,084 RBIs are third-most behind Aaron (2,297) and Ruth (2,214).
• With 3,114 career hits, he is one of 29 members of the 3,000-hit club and ranks 19th all-time.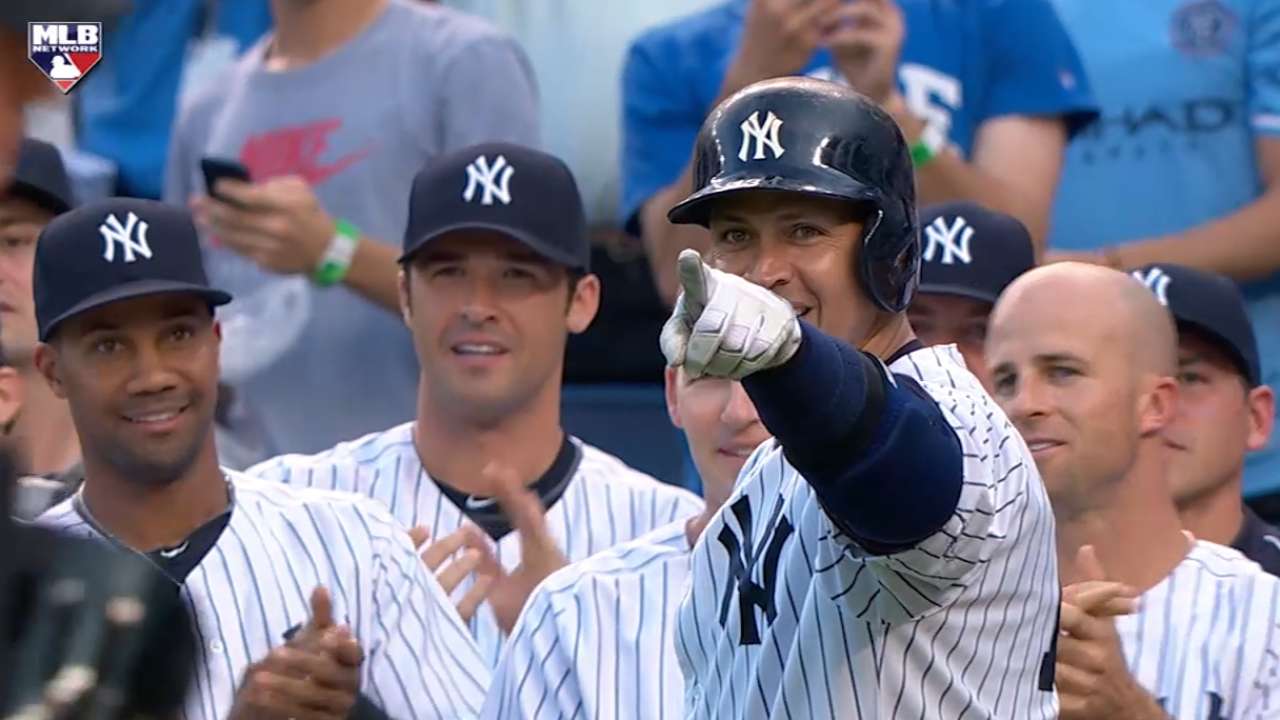 • Rodriguez has scored 2,201 runs, eighth-most in history.
• His career .295 batting average is 12th-best all-time among players with at least 10,000 at-bats.
• His 329 stolen bases rank behind only Bonds (514) and Willie Mays (338) among members of the 500 home run club.
• He is one of four players to hit at least 40 home runs and steal 40 bases in a single season, doing so in 1998 (42 homers, 46 steals).
•
A-Rod to play final game Friday, to become advisor
•
'This is it': A-Rod savors final games
•
Justice: In the end, A-Rod's love of baseball shines
•
10 numbers from A-Rod's iconic career
•
Peers praise A-Rod for legendary career
•
Teammates recall A-Rod's passion for game
•
Rogers: Machado has friend A-Rod on mind
•
A-Rod's announcement caps emotional week
•
A-Rod's player page
Sights & sounds
A-Rod on retirement
A-Rod to become an advisor
Cashman, Girardi on A-Rod
Yankees booth on A-Rod
Teammates discuss A-Rod
• He won the American League batting title in 1996 with the Mariners, with a .358 mark at 21 years old -- becoming the third-youngest batting champion in AL history, behind only Al Kaline and Ty Cobb. But he did not win AL Rookie of the Year that season; future teammate Derek Jeter did.
• Rodriguez won the 2003 AL MVP award with the Rangers, and two more with the Yankees in '05 and '07. He's just the sixth player ever to win MVP awards with multiple teams.
• He signed a 10-year, $252 million contract in 2001 with the Rangers that, at the time, made him the highest-paid player in MLB history. He signed an extension in '07 for $275 million that runs through '17 -- which Yankees general manager Brian Cashman said he will honor -- that is the second-richest contract in history, behind Giancarlo Stanton's 13-year, $325 million deal.
Daniel Kramer is a reporter for MLB.com based in Denver. Follow him on Twitter at @DKramer_. This story was not subject to the approval of Major League Baseball or its clubs.