MLB.com Columnist
Mike Bauman
Wins important in illustrating Strasburg's value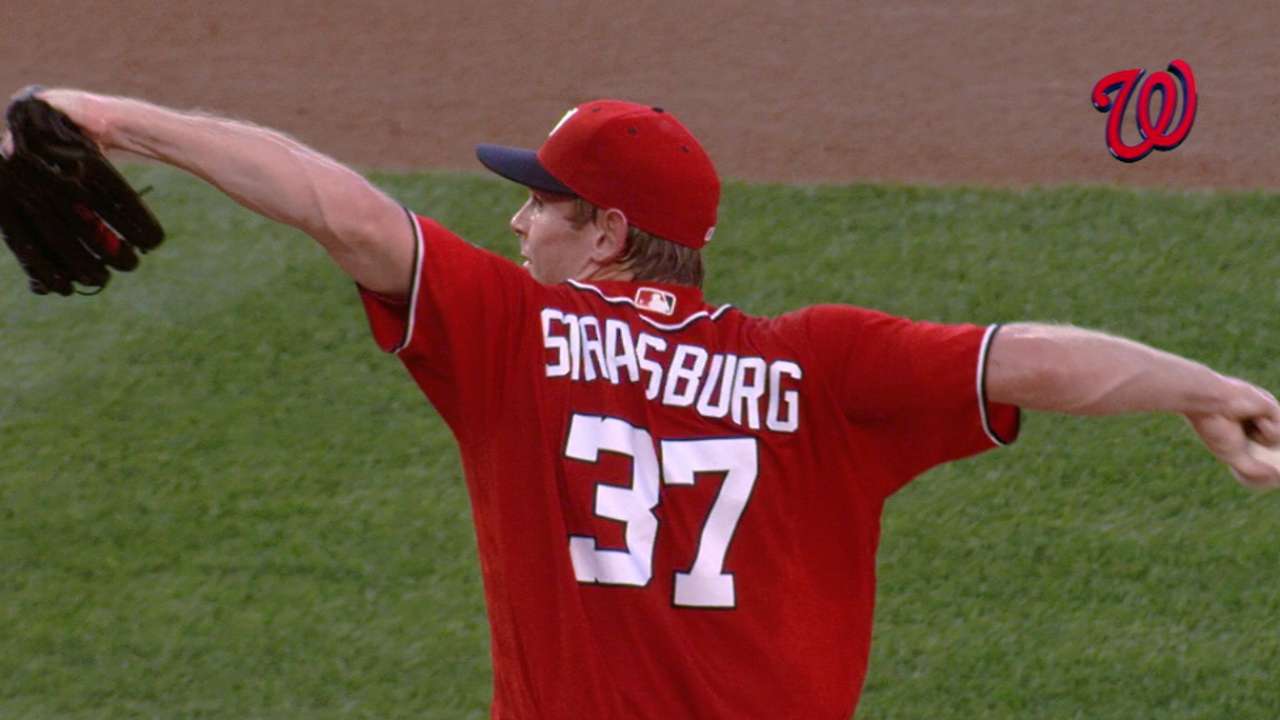 WASHINGTON -- People who tell you that victories are worthless as a measurement of Major League pitching success are not, themselves, Major League pitchers.
We all get it. Pitching is not an independent art form. Help is required from the offense, from the defense, from the bullpen.
But the win forms a connection between the individual and the collective in this case. If it is a less than perfect measurement of pitching worth, it is the ultimate measurement of team success.
You can check this in all six divisions at the end of the season: The team with the most wins will also win the division. And how did the most successful teams get all those victories? Individual pitchers won games, thus succeeding in the most basic way, time and again.
This brings us to Stephen Strasburg, who is 15-2 for the Washington Nationals. He was, in fact, 15-1 for the Nationals until Saturday night when the San Francisco Giants nicked him for four runs in 4 2/3 innings on their way to a 7-1 victory.
There were a few fluke hits. Like Hunter Pence's swinging bunt that was the centerpiece of a two-run rally in the fifth. But there was also a full-fledged National League emergence for new Giants third baseman Eduardo Nunez, who had two triples and a double off Strasburg.
"It was too much Nunez today," Nationals manager Dusty Baker said. "This was his day."
"Other than Nunez, I really didn't get hit around the yard too much," Strasburg said.
Strasburg retired nine of the first 10 batters he faced. But he said he never felt like he was at his usual level of efficiency.
"I felt like I was scuffling the whole game, yanking some pitches," Strasburg said. "Yeah, I retired nine of the first 10, but I didn't really feel like I was executing anyway and it just kind of caught up to me."
OK, Strasburg is mortal. But can we look at 15-2 and rationalize it completely away? Better yet, can we look at the Nationals' record in the games in which Strasburg starts -- 18-3 -- and pretend that it is incidental to the process of the Nats leading the NL East by seven games, with the second-best record in the NL?
Short of going 21-0 in those starts, there is not much more that Strasburg could have done. We can rationalize his success by noting that he leads the league in run support. Was it Strasburg's fault that the Nationals scored 49 runs in four of his starts? If you consider the remaining 17 starts, the Nats' run output was much more like normal.
Seven of Strasburg's victories came in games that were decided by two runs or less. In 138 1/3 innings, he has given up 101 hits. Strasburg has walked 39. He has struck out 169. His ERA is 2.80.
Strasburg is under contract with the Nationals through 2023, the result of a seven-year, $175 million extension he signed earlier this year. The Nats have seen him as a cornerstone of this franchise, and they have acted accordingly.
"As well as he's done, there's still a lot more in there," Baker said. "And I think he knows there's a lot more in there."
Strasburg may be an enigmatic sort, but that relates to his personality, not his performance.
"He's hard to figure, right?" Baker said. "He's always kind of smiling, but I don't know if it's a smile or a smirk. It's never a frown, he's not sad, but I'm having the same problems you have.
"Whatever it is, I think he's a pleasure to be around. I'll tell you one thing, he doesn't miss anything."
This is the bottom line on Strasburg the pitcher in 2016. He is 15-2. The Nationals are 18-3 in games he starts. This is clear, indisputable, utterly remarkable success on the mound.
The victory is still the basic coinage of success for starting pitchers. That is what longtime Cardinals ace Adam Wainwright said when asked what numbers he valued most. Wainwright then added:
"Be sure to tell me when they decide the pennant on the basis of WHIP."
Strasburg's WHIP, by the way, is 1.01, which is obviously good. But it is not as good as 15-2 or 18-3.
Mike Bauman is a national columnist for MLB.com. This story was not subject to the approval of Major League Baseball or its clubs.