Deadline additions come through for Texas
Lucroy belts two homers, Beltran hits go-ahead single and Jeffress pitches scoreless frame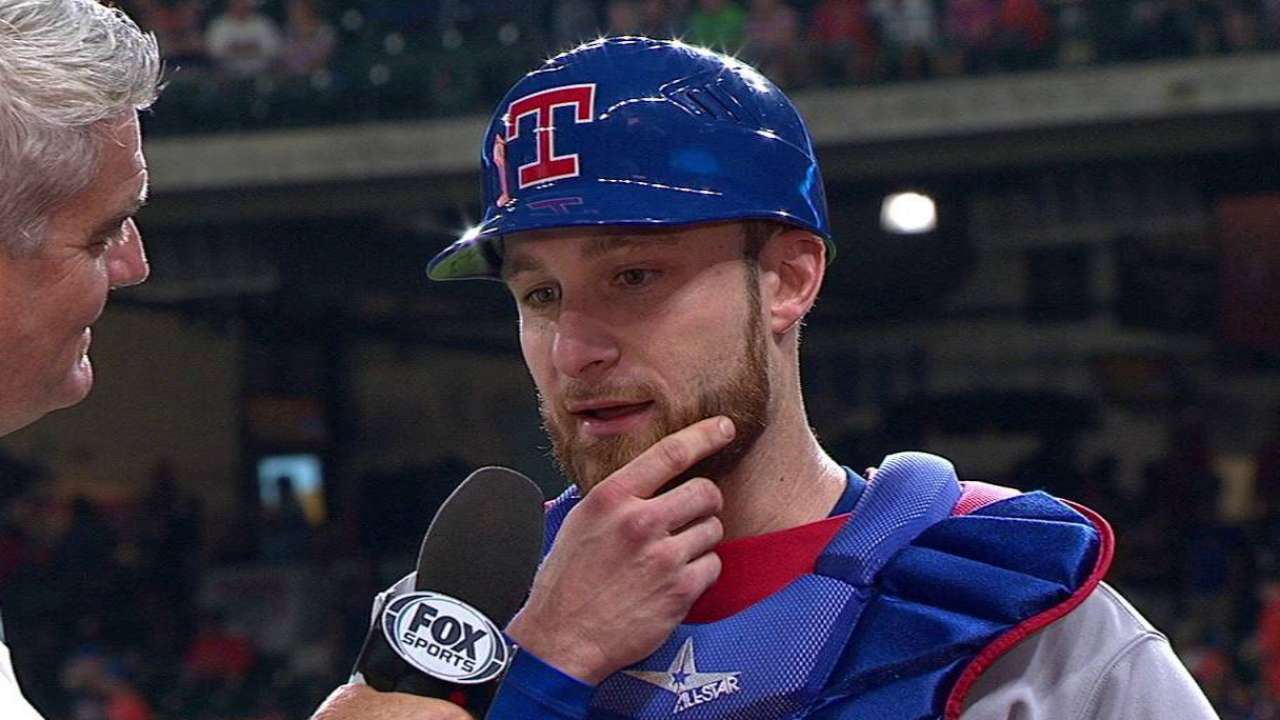 HOUSTON -- The Rangers announced two major trades on Monday, and general manager Jon Daniels opened the news conference by praising the organization for being able to develop young prospects who are coveted by other teams.
Daniels' remarks are worth reviewing because all three players acquired on Monday -- outfielder Carlos Beltran, catcher Jonathan Lucroy and reliever Jeremy Jeffress -- had big roles in the Rangers' 3-2 victory over the Astros on Saturday night.
"I want to recognize a number of folks," Daniels said on Monday. "First off, our scouts and player development folks. I can't begin tell you what an absolute gift it is for someone in my position, in the front office, when scouts, managers, Minor League coaches, trainers, strength coaches and members of the front office are constantly so productive and so good at what they do.
"We have players that other teams want when there are good players available on the trade market. It's a currency of the game. We really feel prepared, not only from the standpoint of that the people in our front office were locked in, our guys put a ton of work in and we were ready to roll, but the years of preparation of having such good players for our club and for moves like this. I can't speak enough about that."
Saturday's win said enough.
Lucroy hit two home runs and had a superb night behind the plate, Beltran had three hits -- including the go-ahead RBI single -- and Jeffress had a scoreless inning on a big night for the bullpen. If there was one game that highlighted why the Rangers made those trades, this was it.
"Huge night for all of them," manager Jeff Banister said after the Rangers opened up a 6 1/2-game lead over the Astros in the American League West.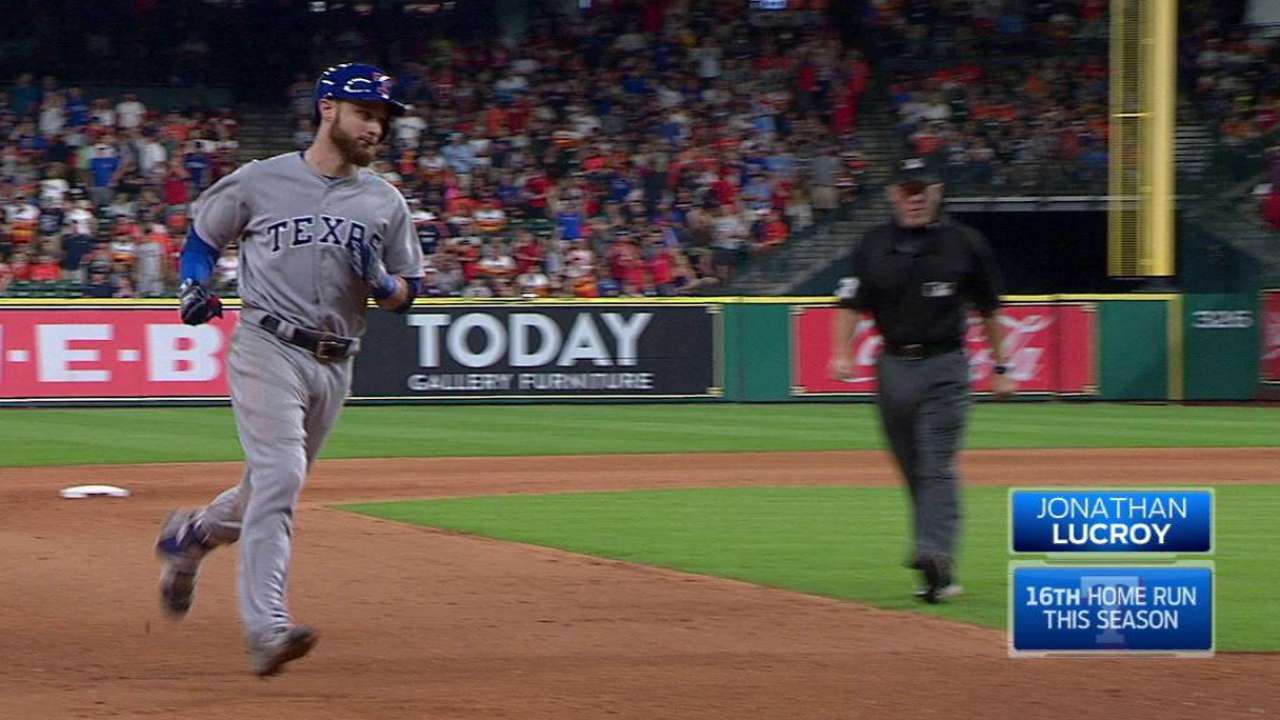 "It's pretty exciting playing in a meaningful game like this," Lucroy said. "It's the third time for me to play on a team actually in competition and it's a lot of fun. It makes it easier to play. It's just an exciting feeling."
The Rangers' fourth acquisition at the end of July had a hand in this too. Starter Lucas Harrell made it through just 3 2/3 innings, allowing five hits and five walks but just one run.
"Couple of times I didn't make pitches, but when I had to, I was able to make some pitches," Harrell said.
Lucroy helped him immensely. He threw out Jose Altuve trying to steal after a leadoff walk in the third and kept several runners from advancing by being able to block pitches in the dirt.
"He did a tremendous job … blocking balls, throwing out Altuve, working with our pitchers," Banister said. "Tremendous job."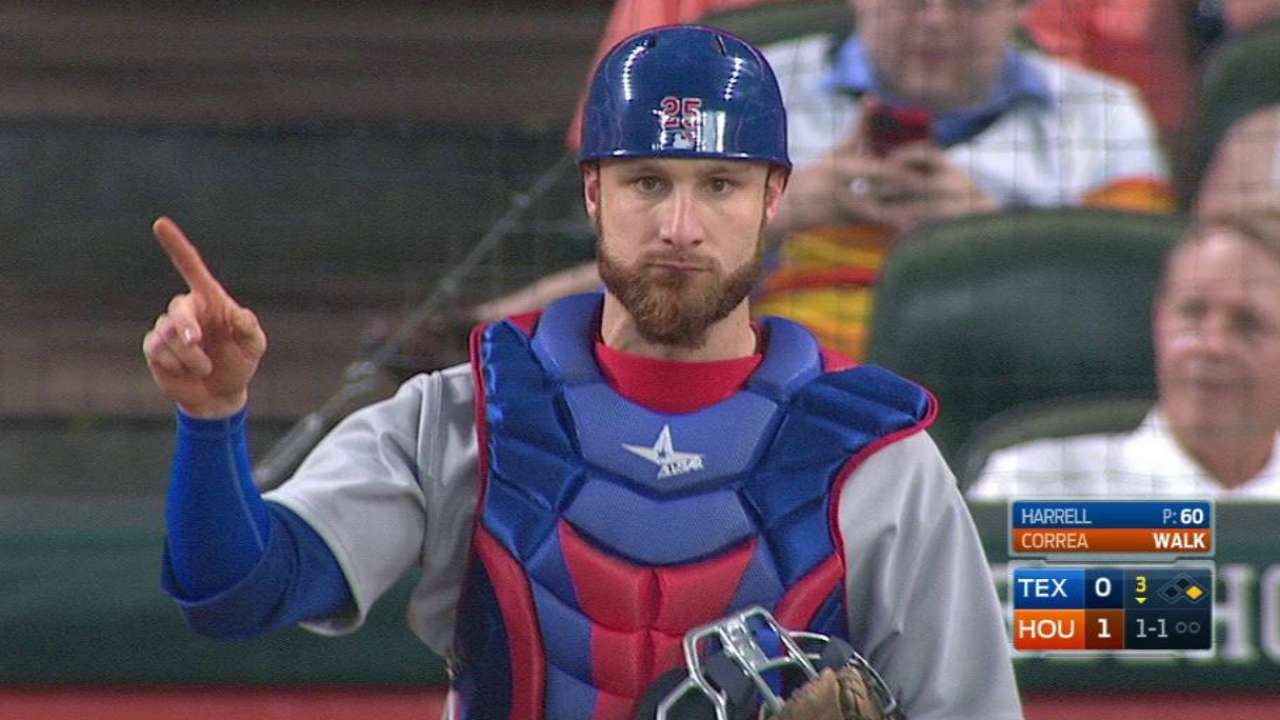 Lucroy also had to work with six pitchers as the Rangers needed five relievers to get this one nailed down.
"It's just my job," Lucroy said. "My job is to get it done, no matter what. I take it seriously no matter who the pitcher is."
Jeffress was one of them, pitching a scoreless seventh. But just having Jeffress out there allowed the Rangers to go with Tony Barnette in the fourth inning when Harrell was up to 92 pitches. Barnette almost never was used that early before Jeffress was added to the bullpen.
But Barnette got the Rangers through the fifth, and that allowed Banister to follow with Keone Kela, Jeffress, Jake Diekman and Sam Dyson for one-inning stints to shut it down.
"Those guys out there are animals," Jeffress said. "They go right after guys and don't back down. Tonight was awesome. It showed what happens when they get it to us."
Saturday also showed what happens when teams are able to make big midseason additions. Having a productive scouting and player development system -- from the amateur scouts on up -- make it happen.
"That's ultimately why we were able to add such good players to our big league club," Daniels said.
T.R. Sullivan has covered the Rangers since 1989, and for MLB.com since 2006. Follow him on Twitter @Sullivan_Ranger and listen to his podcast. This story was not subject to the approval of Major League Baseball or its clubs.