Base hit with RISP results in tough loss for Mets
Collins: 'We got a big hit when we needed it, yet we didn't score'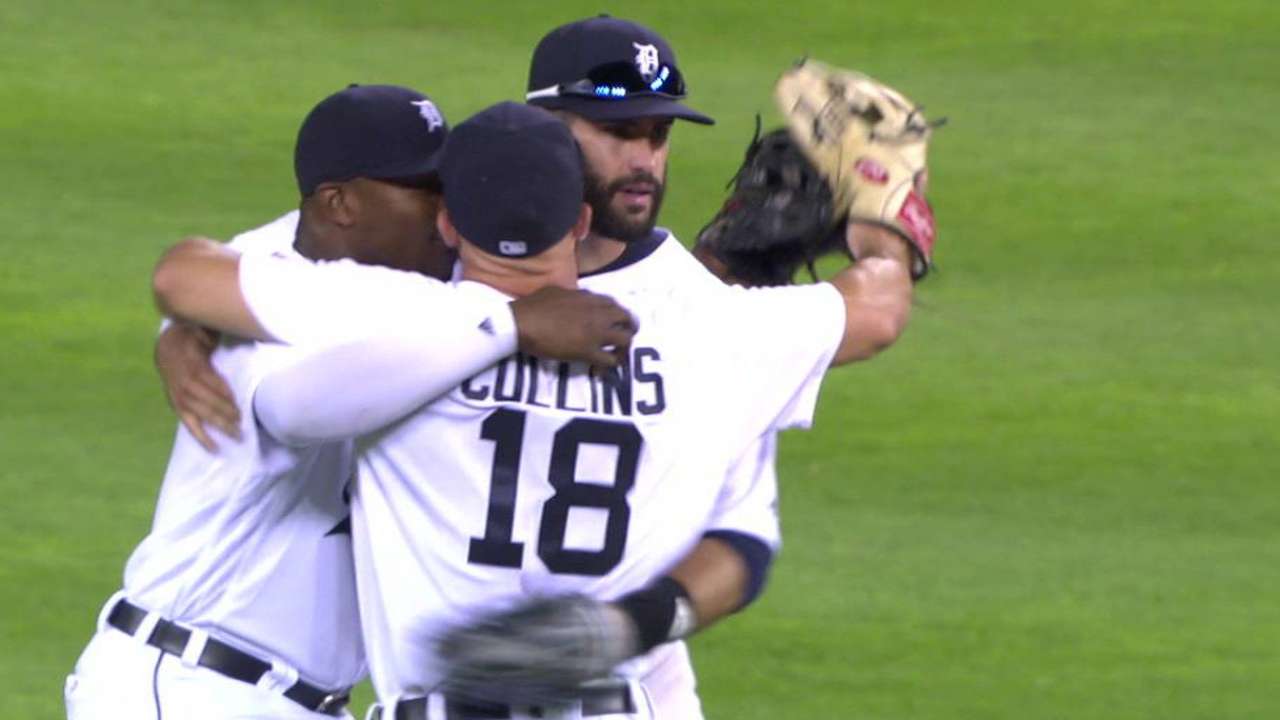 DETROIT -- The cruel coincidence of Saturday's 6-5 loss to the Tigers was that the Mets finally received the hit they needed with runners in scoring position.
Trailing by a run with two outs against Tigers closer Francisco Rodriguez in the ninth inning, the Mets manufactured some rare late-inning drama when Jay Bruce and Alejandro De Aza both singled, putting the tying and go-ahead runs on base. An offense so maligned all season long, particularly with runners in scoring position, gleaned a flicker of life.
Then Travis d'Arnaud rapped a single to right field and the Mets erupted in their dugout. They watched as Bruce puffed around third base and headed home. They watched as J.D. Martinez corralled the ball and fired. They watched, aghast, as home-plate umpire Tony Randazzo called Bruce out, with replays showing he likely never touched home plate.
"I tried my best to slide into home plate," Bruce said. "That's so bang-bang, it's so hit-or-miss."
As the Tigers piled onto the field, the Mets' usual review process unfolded, with their replay coordinator telling bench coach Dick Scott that Bruce was likely out. Scott relayed that information to manager Terry Collins, who opted not to challenge, despite the fact that he had nothing more to lose.
"Tough way to end it," Collins said. "I thought for sure he was going to make it, and then Martinez just made a great throw. ... That might be one of those plays where you might as well just take the chance [with a challenge] and see what happens. All they can do is not overrule it, or let it stand. That's the worst-case scenario."
Asked why he did not do so, Collins admitted his mistake: "I didn't think about it -- that's why, plain and simple. [The replay coordinator] said he's out, so I said OK."
It was a stinging end to a game that held all the usual frustrations for the Mets. Starting pitcher Logan Verrett gave up six runs in 3 2/3 innings, a performance ineffective enough that Collins offered only tepid support of Verrett making his next start.
But the Mets battled back, receiving solo homers from Bruce and Curtis Granderson, before parlaying a pair of Tigers errors into a two-run rally in the seventh. Entering the ninth inning, the Mets had five runs, despite a 1-for-11 mark with runners in scoring position. Overall this season, the Mets are batting .204 in those situations -- three-thousandths of a point better than the 1969 Padres, who hold the record for the lowest average with runners in scoring position in MLB's expansion era (since 1961).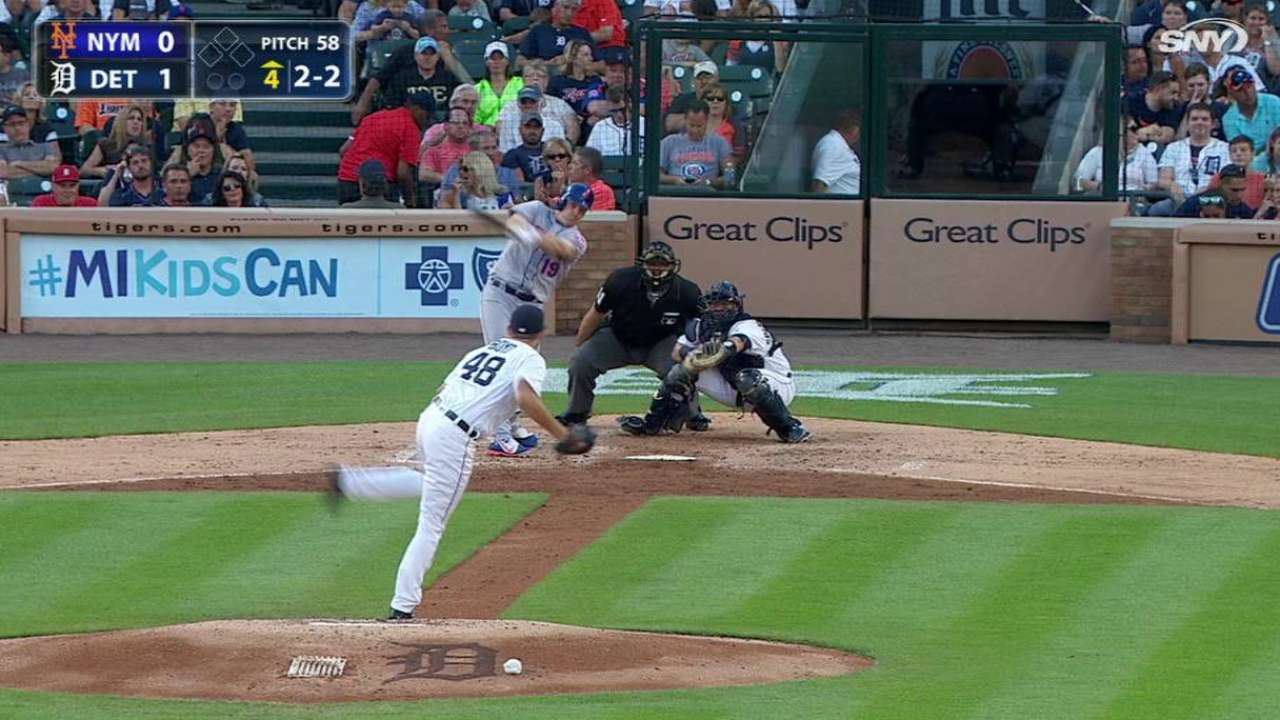 And still they did not die. The Mets' next and final opportunity unfolded when d'Arnaud came to the plate with Bruce on second base. Another one-run game. Another runner in scoring position. This time, a hit.
But defeat nonetheless.
"That's why this one was really frustrating," Collins said. "We got a big hit. Those guys did a tremendous job. ... That's why this one is hard. We got a big hit when we needed it, yet we didn't score."
Anthony DiComo has covered the Mets for MLB.com since 2008. Follow him on Twitter @AnthonyDiComo and Facebook, and listen to his podcast. This story was not subject to the approval of Major League Baseball or its clubs.