Nova impresses in debut win against Reds
Acquired from Yanks before Monday's Deadline, righty singles, scores amid strong 7 IP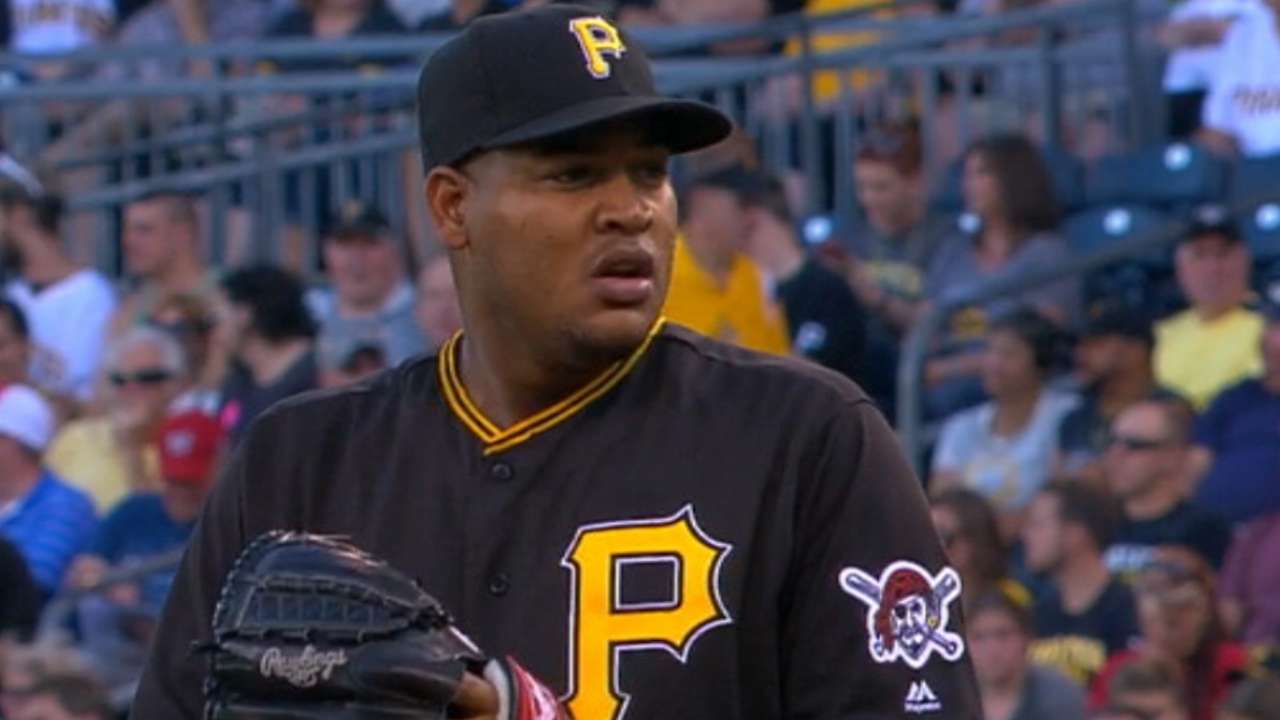 PITTSBURGH -- If Ivan Nova was uncomfortable making his first start in a Pirates uniform, in a new league and in a new home ballpark, it only showed on the bases.
Making his Pittsburgh debut, Nova delivered exactly the kind of start the Pirates were hoping for when they acquired him prior to Monday's non-waiver Trade Deadline. The right-hander pounded the strike zone over seven efficient innings, allowing three runs on six hits while striking out five without a walk, as the Pirates took down the Reds, 5-3.
"They're an aggressive team," Nova said. "If you make quality strikes, that's going to allow you to work the way I worked today."
He threw only 76 pitches, averaging fewer than 11 per inning. He struck out the side in the fifth, needing only 10 pitches to do so. Eleven of his 21 outs came on ground balls.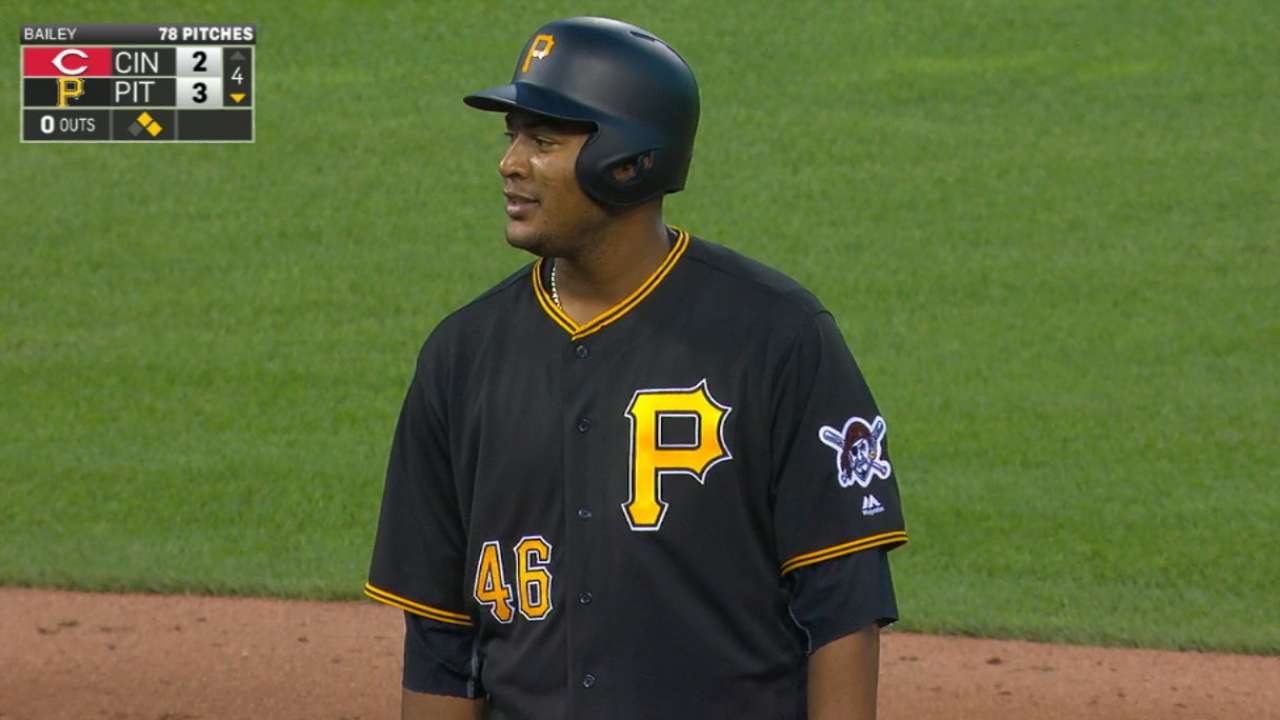 Nova even picked up a base hit, the second in a seven-year career spent in the American League. Nova singled and scored to begin the Pirates' fourth-inning rally. But about that baserunning ...
After Nova singled to center, Josh Harrison swatted a line drive off the right-field wall. Nova stopped at second, so Harrison had to stop at first on what otherwise would have been a double.
"That's what you've got. You've got a pitcher out there," manager Clint Hurdle said. "He doesn't know the park. He hasn't been here. I don't think you can expect a whole lot of awareness."
"That's a little bit strange for me," Nova admitted. "Hopefully I can get it going."
Regardless, Nova advanced to third on a wild pitch and scored on Starling Marte's single. Then he made his way back to the mound, where he was in control all night, aside from a pair of Brandon Phillips homers.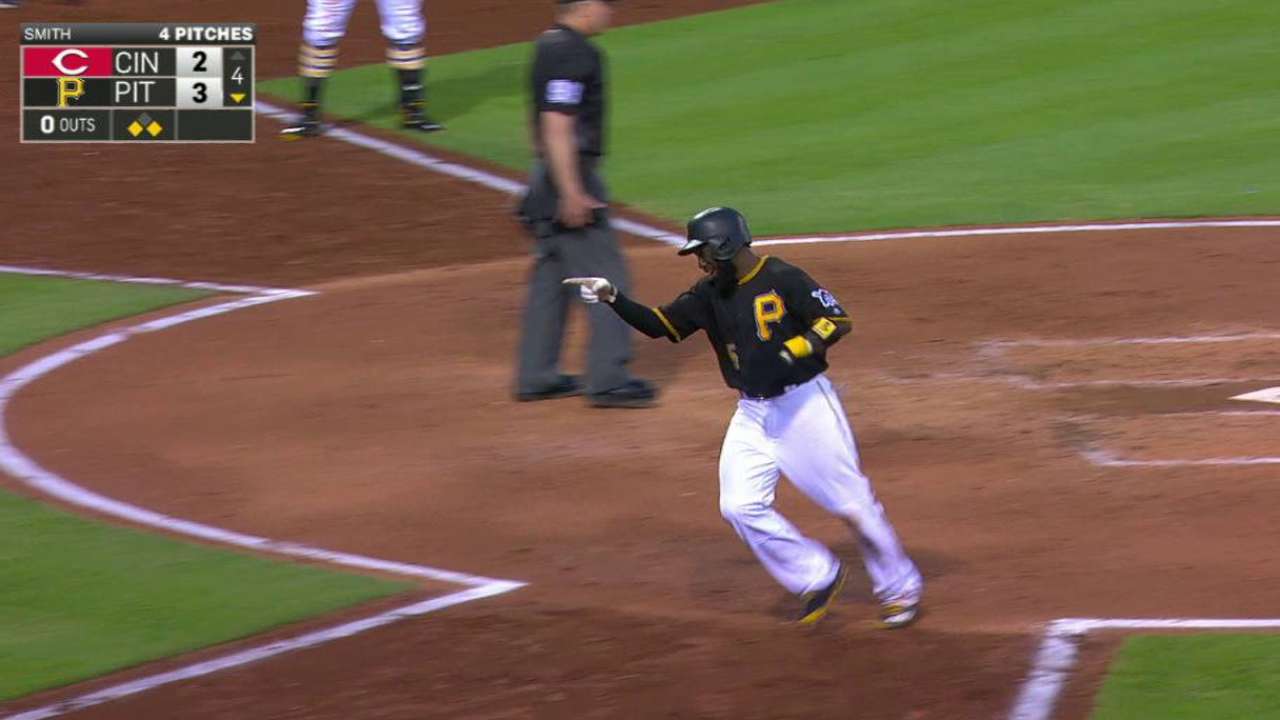 A familiar face helped guide Nova through the quick transition: Pirates catcher Francisco Cervelli, a former Yankees teammate.
"We have great teammates here, a great coaching staff," Nova said. "And I have a guy behind the plate that I know really well."
Pittsburgh's rotation is coming into focus, with Gerrit Cole and Jameson Taillon leading the charge, Ryan Vogelsong providing a veteran presence on the back end and a cast of rookies ready to seize the final spot. Replacing Francisco Liriano, Nova could be a valuable deadline addition along the lines of lefty J.A. Happ, who thrived down the stretch after joining the Pirates at last year's Deadline.
Nova, 7-6 with a 4.90 ERA with the Yankees, looked the part Saturday night. His two-seam fastball played well, sinking down in the zone to induce whiffs and ground balls.
"He's just trying to find more consistency," Hurdle said. "He's got a new opportunity, and he wants to get after it and pitch with an edge, and he was able to show that."
In doing so, Nova left a strong first impression on his new teammates as well -- and not just on the mound.
"Great stuff. He was filling it up, good curveball, two-seamer looked nasty from our angle," closer Tony Watson said. "He looked pretty good on the bases, too."
Adam Berry has covered the Pirates for MLB.com since 2015. Follow him on Twitter at @adamdberry. This story was not subject to the approval of Major League Baseball or its clubs.