Thompson ready for next challenge after debut
Phillies prospect was 'amped up' in first inning of rough outing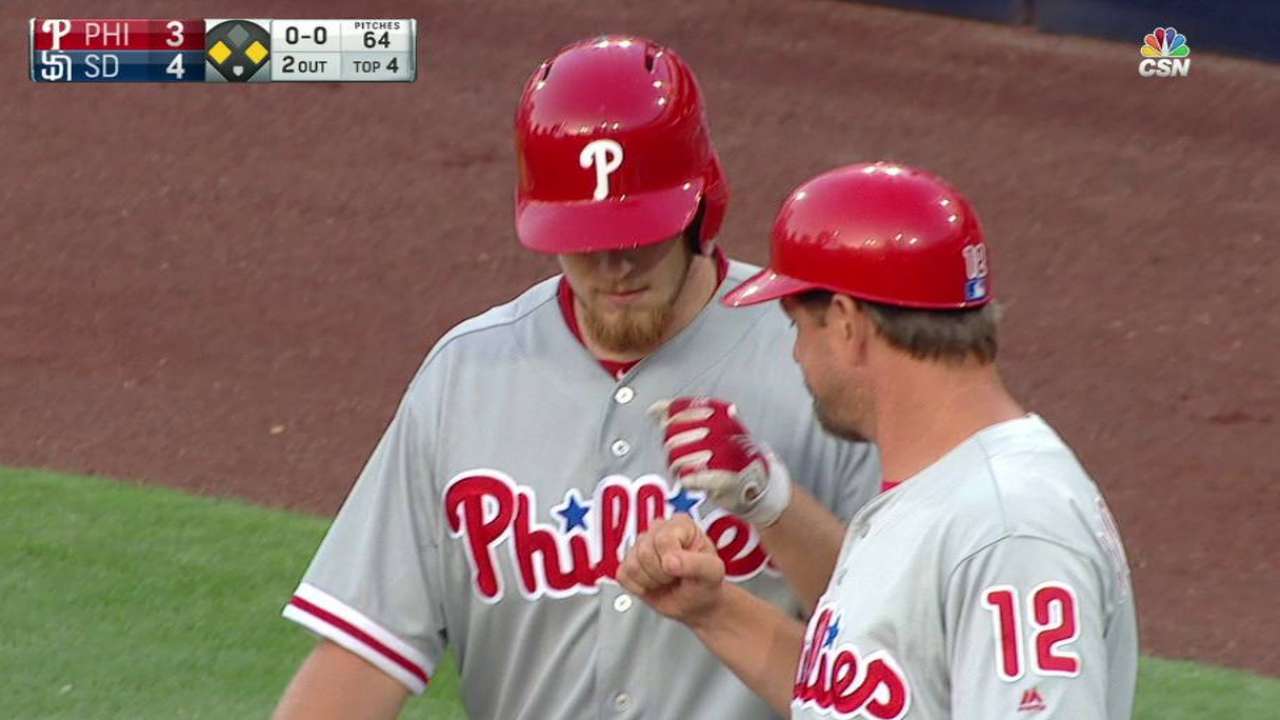 SAN DIEGO -- Jake Thompson expected better than this.
But if there is any good news following his big league debut Saturday night in a 9-7 loss to the Padres at Petco Park it is that he will get more opportunities to prove why the Phillies coveted him last summer in the Cole Hamels trade and why MLBPipeline considers him the No. 69 prospect in baseball.
He allowed seven hits, six runs, two walks and struck out one in just 4 1/3 innings. He became one of six Phillies pitchers since 1913 to allow six or more earned runs in fewer than five innings in his big league debut, according to Baseball Reference. Turk Farrell (1956), Rafael Quirico (1996), Ethan Martin (2013), Severino Gonzalez (2015) and Zach Eflin (2016) are the others.
"I wasn't nervous," Thompson said. "I was kind of amped up, instead of being nervous. Especially in that first inning, I just wasn't able to spin the ball for strikes or be able to get fastballs down in the zone."
Thompson allowed four runs in the first to hand the Padres a 4-0 lead.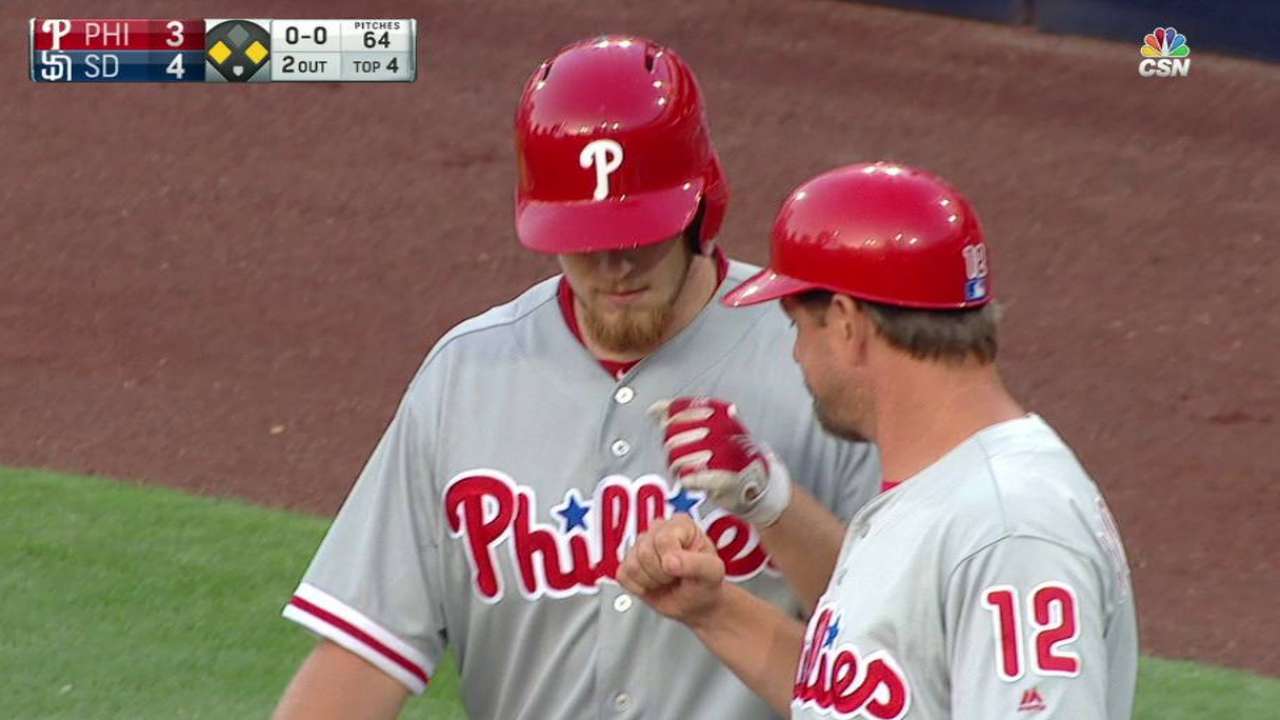 "He was overthrowing obviously," Phillies manager Pete Mackanin said. "He was pumped up. He's got good stuff. He just lacked command, the ball was up in the zone. Kind of typical for a guy making his debut."
"I'm sure he had some nerves, a lot of adrenaline," Phillies catcher Cameron Rupp said. "It makes it a little bit tougher to get the ball down, I think. You're probably feeling really fresh. It happens."
Thompson settled down a bit after the first, retiring nine of 11 at one point, before he found himself in trouble again in the fifth.
Thompson's debut garnered a little more interest than normal because he took a somewhat unusual route to the big leagues. The Tigers selected him in the second round of the 2012 Draft before trading him to Texas in July 2014 in the Joakim Soria trade. The Rangers then traded him to Philadelphia in July 2015 in the Hamels deal.
Thompson also had been pitching incredibly well in Triple-A Lehigh Valley before his promotion. He went 11-5 with a 2.50 ERA in 21 starts, including an 8-0 record with a 1.21 ERA in his last 11 starts.
"For me, I need to get back into the bullpen and work on spinning the ball," Thompson said. "I wasn't able to spin the ball very well tonight, curveball or slider. Just make sure I can spin those down in the zone consistently."
He gets his next opportunity Friday night against the Rockies at Citizens Bank Park.
"He's 22 years old," Mackanin said. "You can't judge him on this outing."
Todd Zolecki has covered the Phillies since 2003, and for MLB.com since 2009. Read his Phillies blog The Zo Zone, follow him on Twitter and listen to his podcast. This story was not subject to the approval of Major League Baseball or its clubs.