Kang steps up after Freese exits due to HBP
Korean infielder turns crucial double play in eighth inning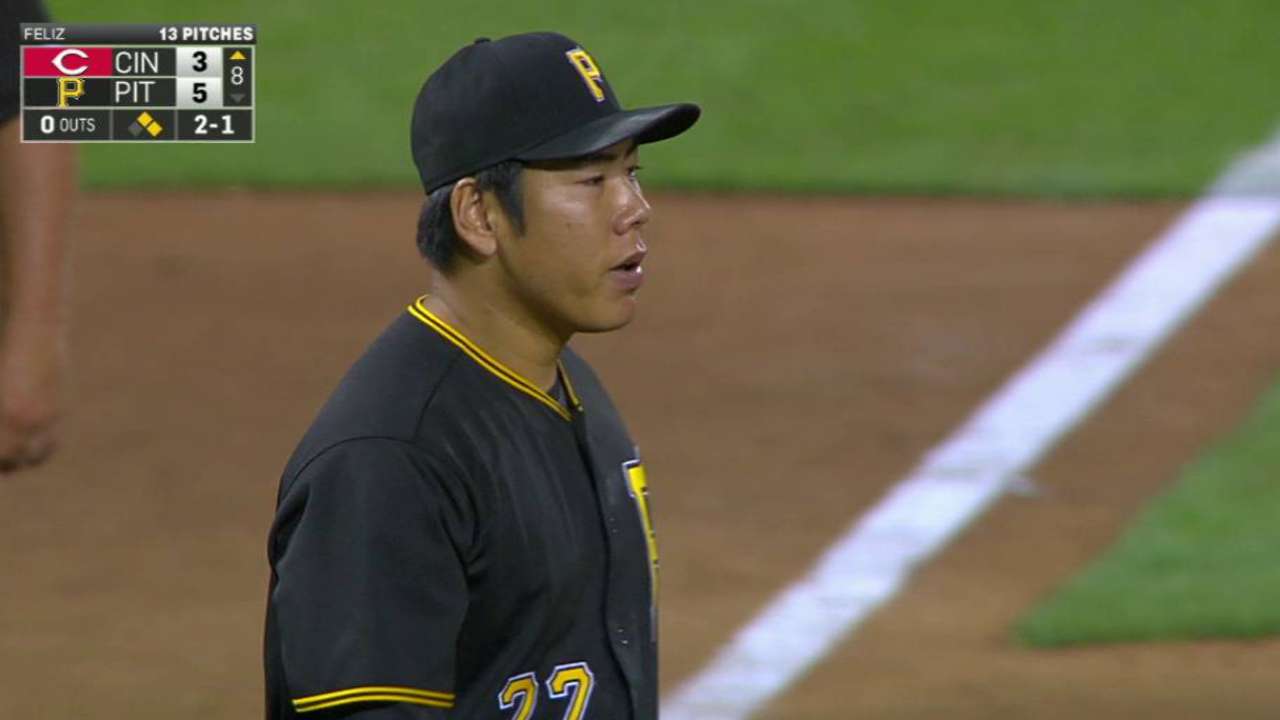 PITTSBURGH -- Third baseman David Freese left the Pirates' 5-3 win over the Reds in the seventh inning Saturday night due to left elbow discomfort.
The ball immediately found his replacement in the eighth inning, and Jung Ho Kang delivered a game-saving defensive gem at third base.
"That play, in and of itself," Pirates manager Clint Hurdle said, "really gave us an opportunity to finish that game off as a win."
Hit by a Homer Bailey pitch in the third inning, Freese tried to play through the pain but ultimately couldn't, exiting before his at-bat in the seventh inning. Kang entered as a pinch-hitter and struck out on three pitches.
Freese is day to day and isn't expected to miss much time due to the injury.
But Kang made up for a few defensive miscues over the last week in a big way. With two runners on and nobody out, Billy Hamilton hit a hard grounder toward Kang.
"It was too fast to think," Kang said through interpreter H.K. Kim.
The third baseman dove to his right, stole a hit from Hamilton with a backhanded stop, got to his feet and scrambled toward third base for the force out. Kang immediately fired the ball to Josh Harrison at second base for the second out, and Harrison showed his respect by pointing his hand toward Kang at third.
"I was thinking to throw to second base because the ball was hit toward third base," Kang said. "My thought was field it, out at third then throw to second."
In each dugout, both managers had more extensive thoughts on the play.
"He shows up ready. He works very hard," Hurdle said. "He just came off a series where he had some errors. He's a good defensive player. Sometimes things happen. He's shown that ability. ... He's quick with his feet. He can leave his feet."
Added Reds manager Bryan Price: "Kang had to make a great play, and I don't know if it's a game-saver, but it's certainly a game-changer."
Adam Berry has covered the Pirates for MLB.com since 2015. Follow him on Twitter at @adamdberry. This story was not subject to the approval of Major League Baseball or its clubs.