Molina, Carpenter day to day after exiting early
Catcher sustains hand contusion; second baseman removed as precaution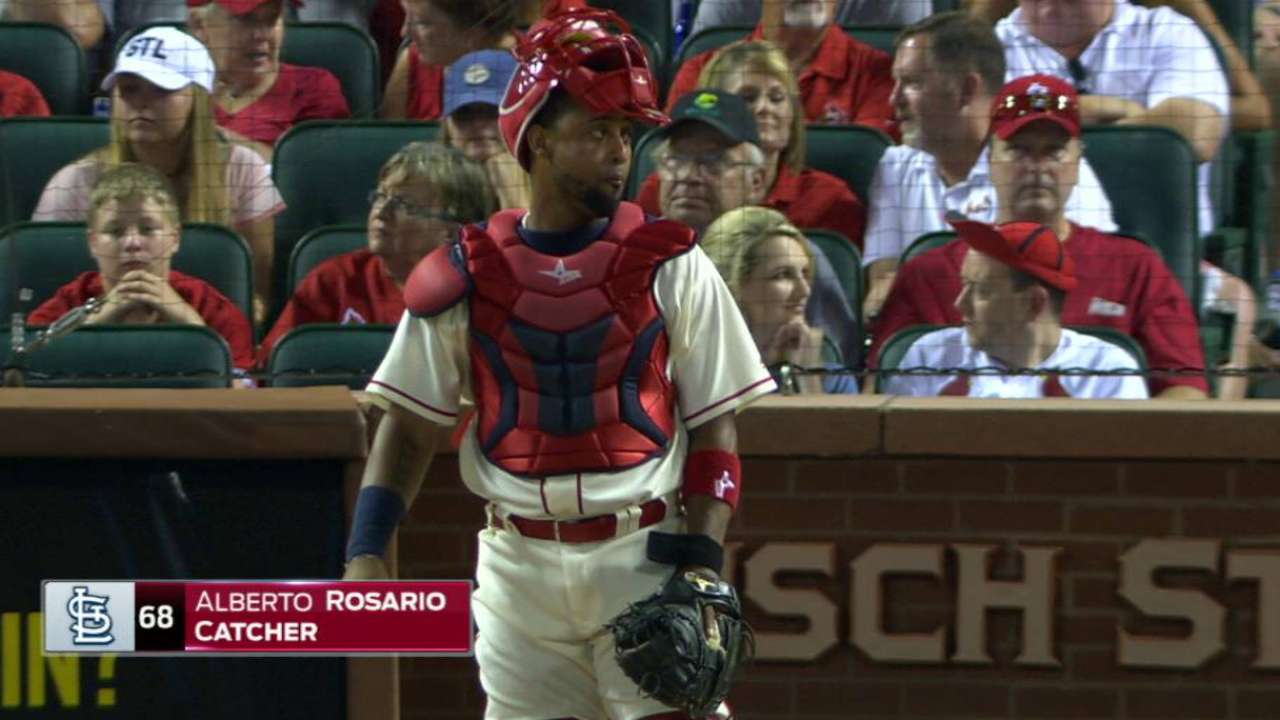 ST. LOUIS -- Perennial All-Stars Yadier Molina and Matt Carpenter left the Cardinals' 13-5 loss to the Braves on Saturday with injuries.
Molina took a foul ball off his right middle finger.
"Just more of a bruise on his throwing hand," manager Mike Matheny said. "Just one of those things that tightened up to where he couldn't grip the bat or the ball how he needed to, but [we] had him looked at and everything came back negative."
Carpenter's status wasn't as clear. He was slow getting off the field after his at-bat in the bottom of the fifth and was replaced by Kolten Wong. Carpenter just came off the disabled list Friday after missing 24 games with a right lat strain.
"Carp just didn't look right so we made a decision to get him out of there, but he's checking out fine with the medical team," Matheny said.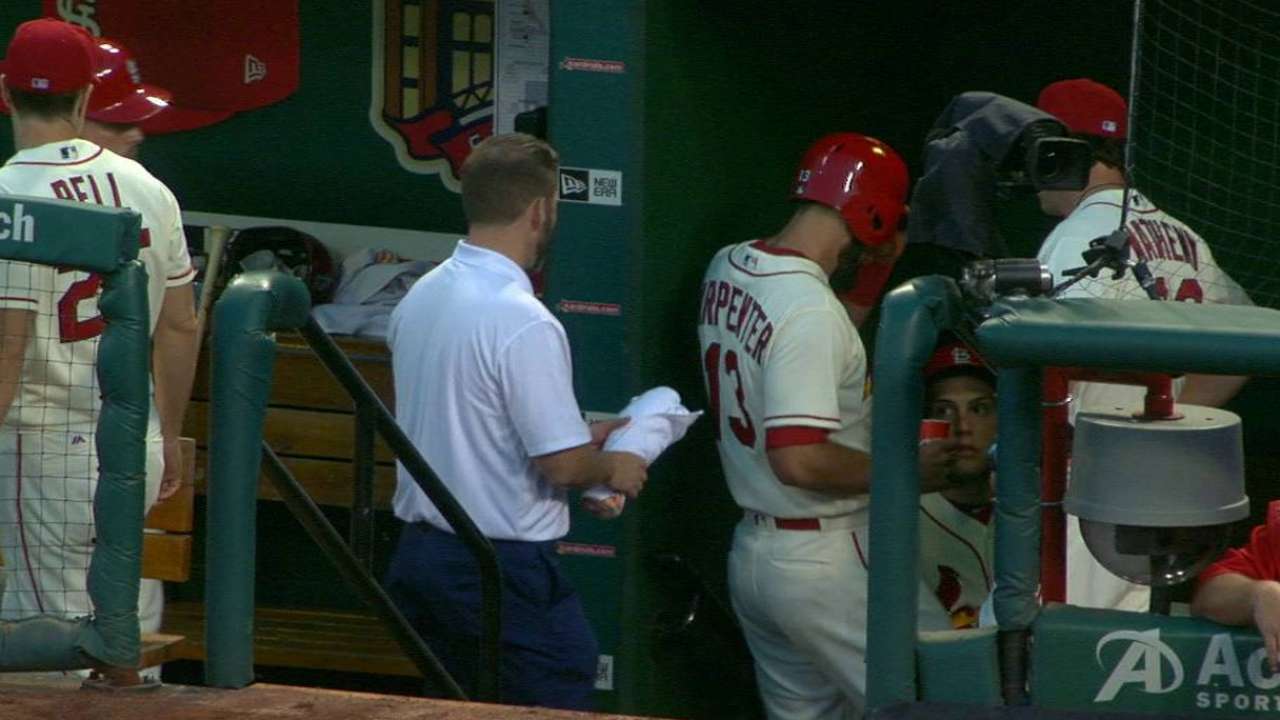 Carpenter was slow coming off the field after his fifth inning at-bat. Matheny said it looked like he wasn't finishing his swing and he also looked tentative in the field.
"That particular injury is tough to get past the trust factor," Matheny said. "It seemed when he did his rehab everything was fine. We're always on a little ultra on alert just to make sure he doesn't go backwards and if we see something doesn't look quite right, to try and make a move to get ahead of it."
Molina and Carpenter are both considered day to day.
The injuries capped a tough night for the Cardinals, who were victimized by a season-high four homers by the Braves.
Wong grounded out to leave the bases loaded in the sixth and another rally in the eighth was thwarted on a close play at first on a Tommy Pham grounder. Pham was called out on a bang-bang play, which Matheny challenged. After a three-minute, four-second review, the call was upheld.
"I knew it was going to come down to how they interpret whether it was hitting the glove or not," Matheny said. "That's kind of that fine line."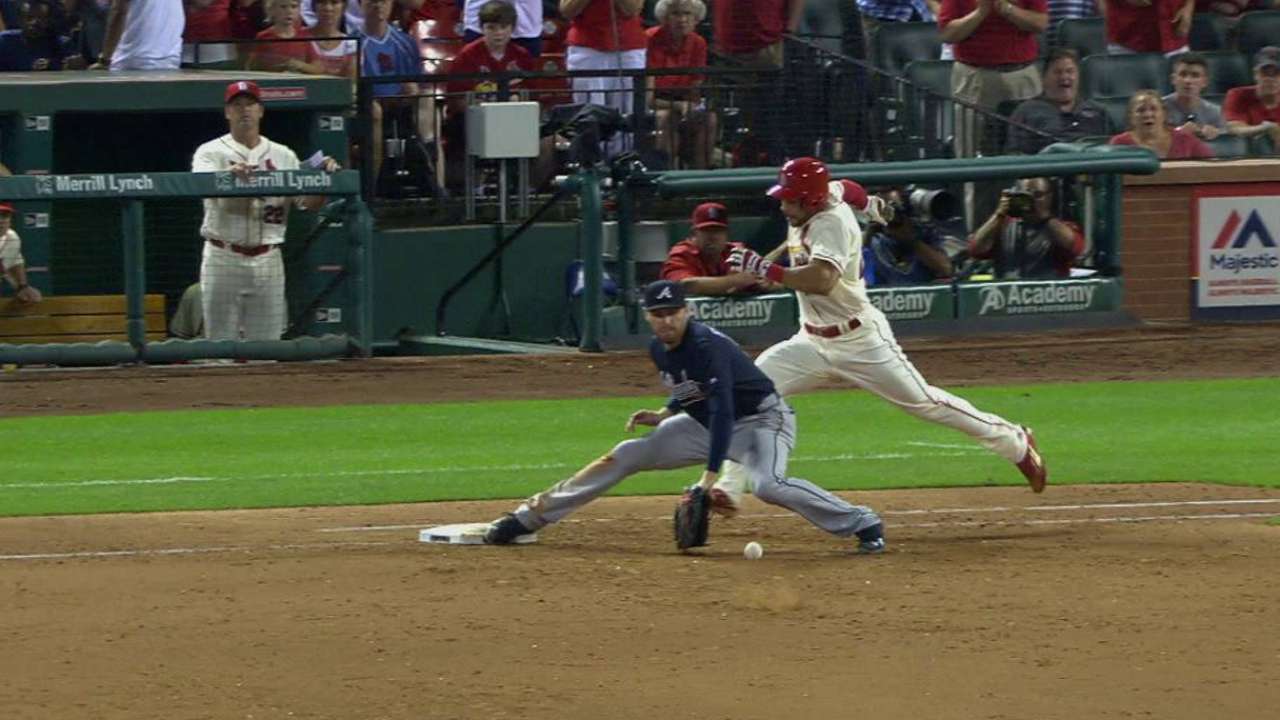 Instead of first and third with one out, there was a runner on third with two out and the Cardinals couldn't cut further into what was at the time a 7-5 Braves lead.
Carlos Martinez (10-7) struggled through five, giving up a pair of three-run homers to Freddie Freeman and Adonis Garcia. The seven runs allowed were the most for Martinez this season.
"From the first inning that I started pitching, I didn't feel right," Martinez said through an interpreter. "I felt a little bit of a negative mentality."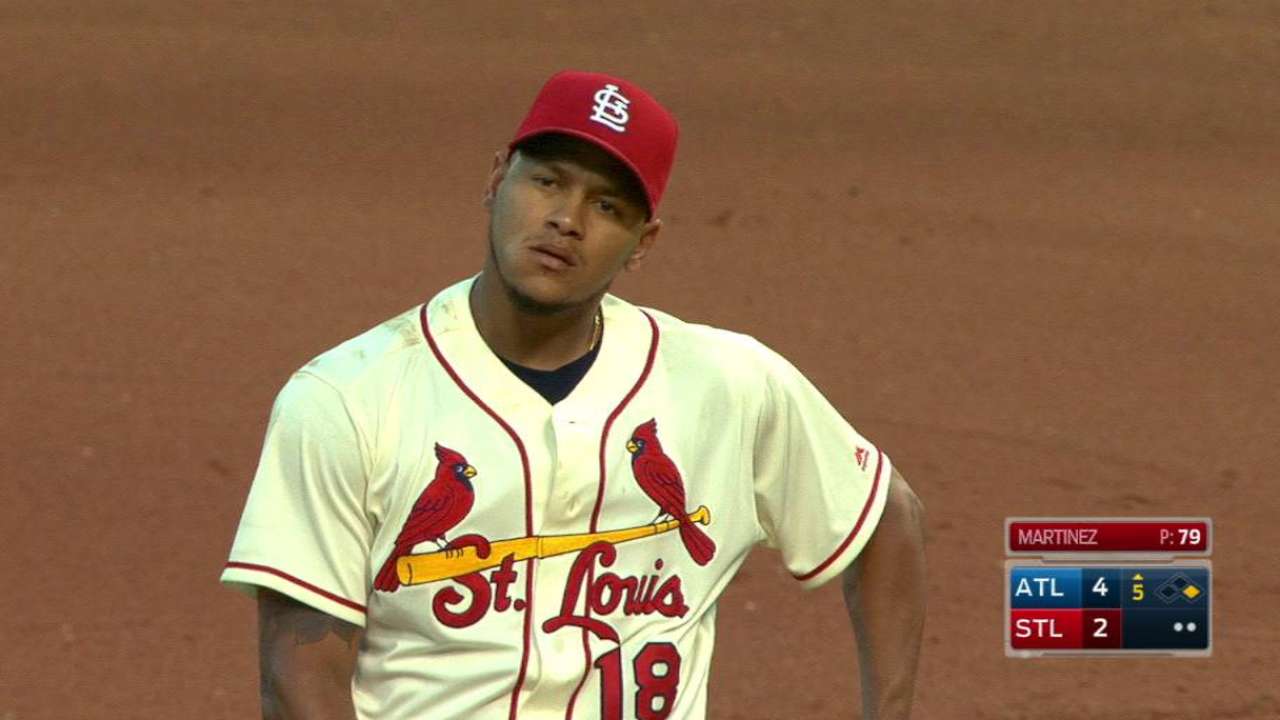 Matheny said Martinez was in-between on when to rely on his movement or use his power pitches.
"Got into some bad counts; got some balls elevated … but he had an opportunity to get out," Matheny said. "But those two three-run homers will cost you really big."
Joe Harris is a contributor to MLB.com based in St. Louis. This story was not subject to the approval of Major League Baseball or its clubs.