Adrian meets up with old team, gets 3 hits vs. lefty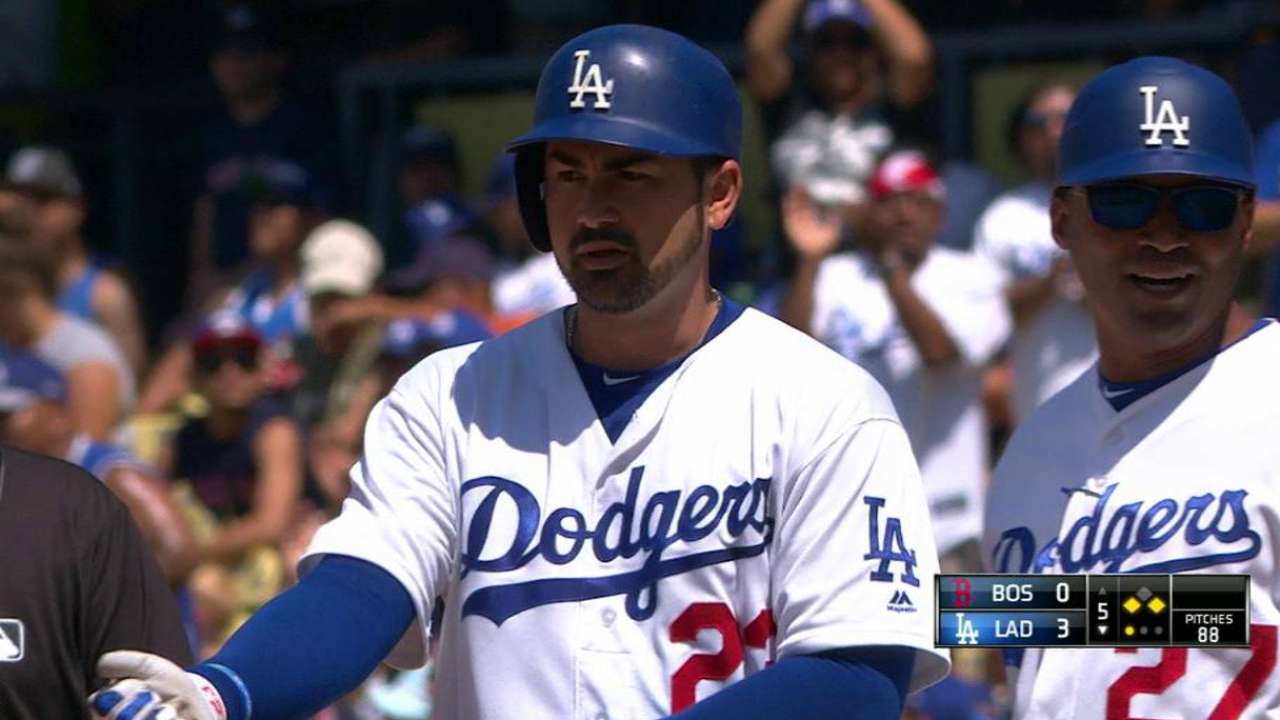 LOS ANGELES -- The blockbuster nine-player trade between the Dodgers and Red Sox went down more than four years ago, but the one player left from the trade on either team still made his presence felt in L.A.'s 3-0 win over Boston on Saturday.
Adrian Gonzalez put together a three-hit day, with all three singles coming against Red Sox starter Eduardo Rodriguez. The hits didn't come hard, with Statcast™ exit velocities of 78, 91, and 61 mph, but they ended up in a good enough spot to play a part in two of the Dodgers' three runs.
"We went into the game knowing he was going to attack with his fastball," Gonzalez said of Rodriguez. "Secondary pitches aren't his go-to stuff. He definitely wants to put you away with the fastball, so we were ready for fastballs. Not get big because his fastball plays harder than the number says. Stay short, stay up the middle, and try to be ready for fastballs."
Big win today, let's win the series tomorrow. #DodgersWin #WeLoveLA pic.twitter.com/x83y2OvS9i

— Adrián González (@Adrian_ElTitan) August 6, 2016
Gonzalez is the only player involved in the 2012 trade that is still with either organization. On the Dodgers' side, Carl Crawford was designated for assignment earlier this season, while Josh Beckett retired following the '14 campaign. The other piece acquired, Nick Punto, left for Oakland in free agency after '13.
Gonzalez is 5-for-14 with a double and a homer in five games against Boston since the trade. While his time with the Red Sox ended abruptly, Gonzalez still had good things to say about the organization.
"I still got some really good friends, Papi [David Ortiz] and [Dustin] Pedroia," Gonzalez said. "Stay in touch with them a lot, and I know [president of baseball operations Dave] Dombrowski's there now, so he's been a big part of my career. It's definitely great to see them continue to have success. I always root for them when I'm watching from this side of baseball."
Dombrowski was general manager of the Marlins when they selected Gonzalez with the No. 1 overall pick in the 2000 Draft.
While Gonzalez's numbers have held steady over the past month, he is hitting just .245/.308/.327 in 107 plate appearances against left-handed pitchers this season. The first baseman might be as close to an everyday player that the matchup-happy Dodgers have, but manager Dave Roberts still faced questions about starting him against Rodriguez before Saturday's game. The subsequent performance vindicated the manager.
"I think that he's got that skill, sometimes maybe a little too much trying to beat the shift, but I think Adrian's still fine," Roberts said. "He's a veteran player who's performed consistently. So, left on left, three hits. He's very intelligent."
Jack Baer is a reporter for MLB.com based in Los Angeles. This story was not subject to the approval of Major League Baseball or its clubs.