Blackmon-led Rox upstage Stanton and Ichiro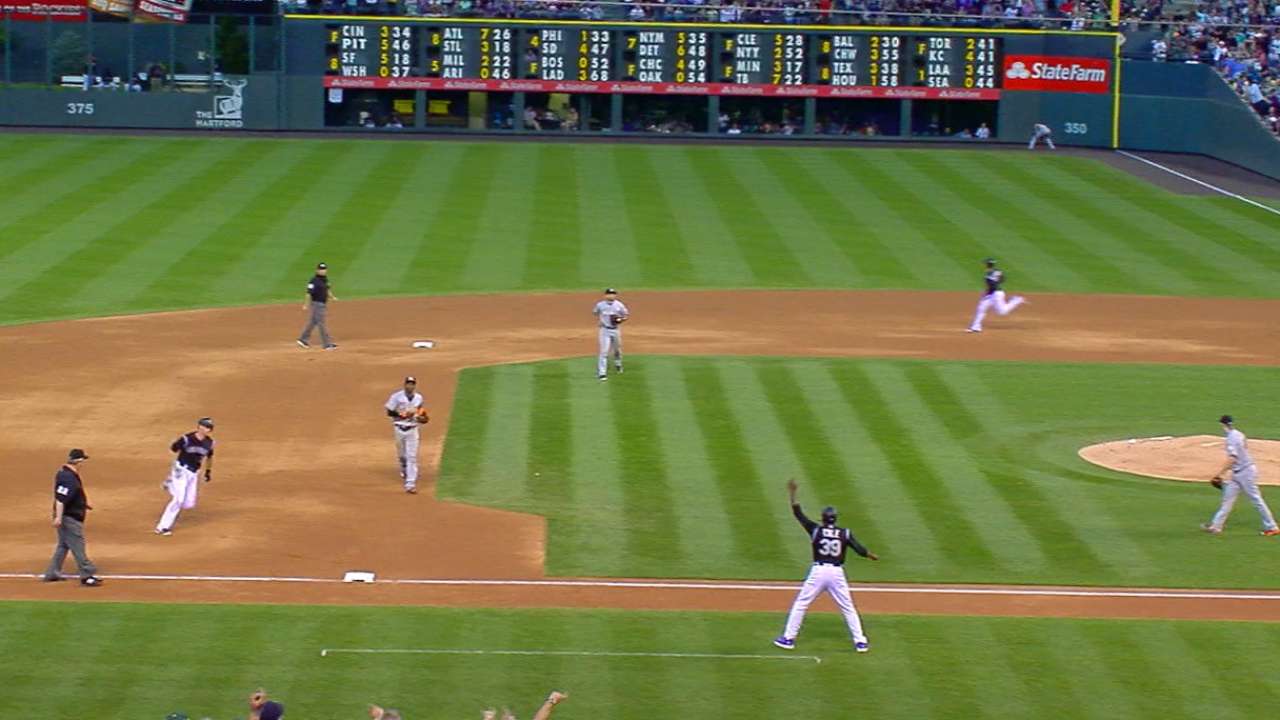 DENVER -- The Marlins' Giancarlo Stanton hit the longest home run ever projected by Statcast™ at 504 feet, but Charlie Blackmon negated that with 810 feet of production on a season-high-tying four hits to lead the Rockies to a 12-6 victory on Saturday night at Coors Field.
Stanton's 23rd homer this season -- a tape-measure shot in the old days but one calculated by sensors in this era -- off winning pitcher Chad Bettis gave the Marlins a 3-2 lead in the fifth. But in the Rockies' seven-run sixth, Blackmon, who had homered to lead off the first inning (a 360-foot trot), tripled (a 270-foot sprint) in a run and singled (90 feet) in two more runs. Blackmon added another 90 feet on a single in the seventh and finished a double shy of hitting for the cycle.
"I'd rather consistently put pressure on their pitchers and defense and have a chance to score runs frequently rather than sit around and hope for a homer, or one big hit or two big hits a game," said Blackmon, who entered on an 0-for-10 skien -- something that hasn't happened often during a season in which he's hitting .306 with an .846 OPS.
When all the mathematics were done, the Rockies (55-55) finished the night three games behind the Marlins and the Cardinals, who are tied for the second and final National League Wild Card position.
"It hasn't been perfect every night, but I feel like we've made the opposing pitchers work for every out that they get," said Rockies manager Walt Weiss, whose team is 15-7 since the All-Star break.
Colorado and Miami will finish the three-game set Sunday afternoon, with more than standings on the line. The next hit for Marlins star Ichiro Suzuki, who reached on an eighth-inning infield single on Saturday, will make him the 30th MLB player to reach 3,000.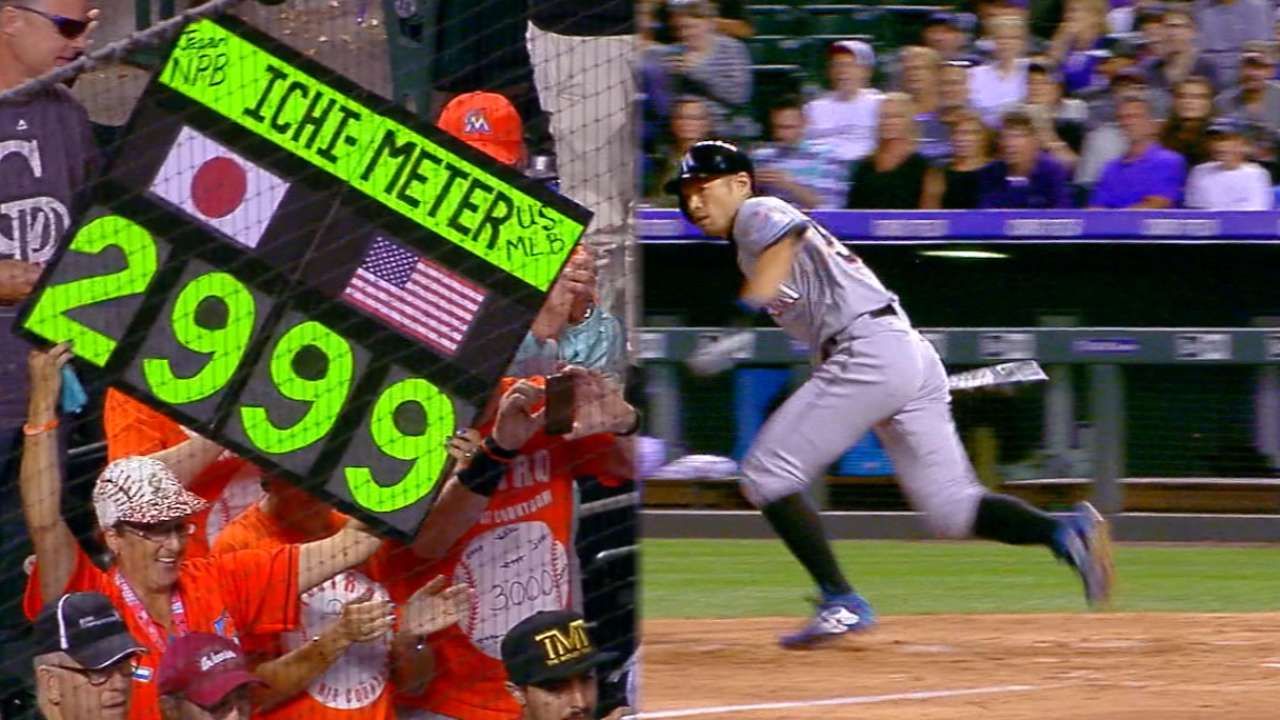 The Rockies took 13 turns at bat in the sixth, which opened with the first five hitters reaching against Marlins starter Andrew Cashner -- four hits (Cristhian Adames' single, Blackmon's triple, DJ LeMahieu's RBI single and Carlos Gonzalez's RBI double) and a walk to Nolan Arenado. Cashner was charged with seven runs on eight hits. The Marlins went to lefty Mike Dunn to face rookie David Dahl, who singled in another run. Nick Hundley singled in another run, and Blackmon singled in two off Dunn.
"The two key hits, I thought, were for Hundley and then Blackmon after that to polish the inning off," Marlins manager Don Mattingly said. "If we could have held it to three or four, in this ballpark we could have done some things."
Gonzalez extended his hit streak to 17 games -- his longest in a single season, surpassed only by a 21-gamer at the end of last year and the beginning of this year. Dahl, who had three hits, extended his streak to 12 games, the longest for any MLB player at the beginning of his career since the Twins' Glenn Williams had a 13-game streak in 2005.
MOMENTS THAT MATTERED
Blackmon sets the tone: Blackmon's 13th homer this season, off Cashner to open the bottom of the first, was the 18th time he had homered to lead off the first inning. It was a powerful way to end a slump.
"It's just that I wasn't very good the past couple of games, and I know that doesn't last long, good or bad," Blackmon said. More >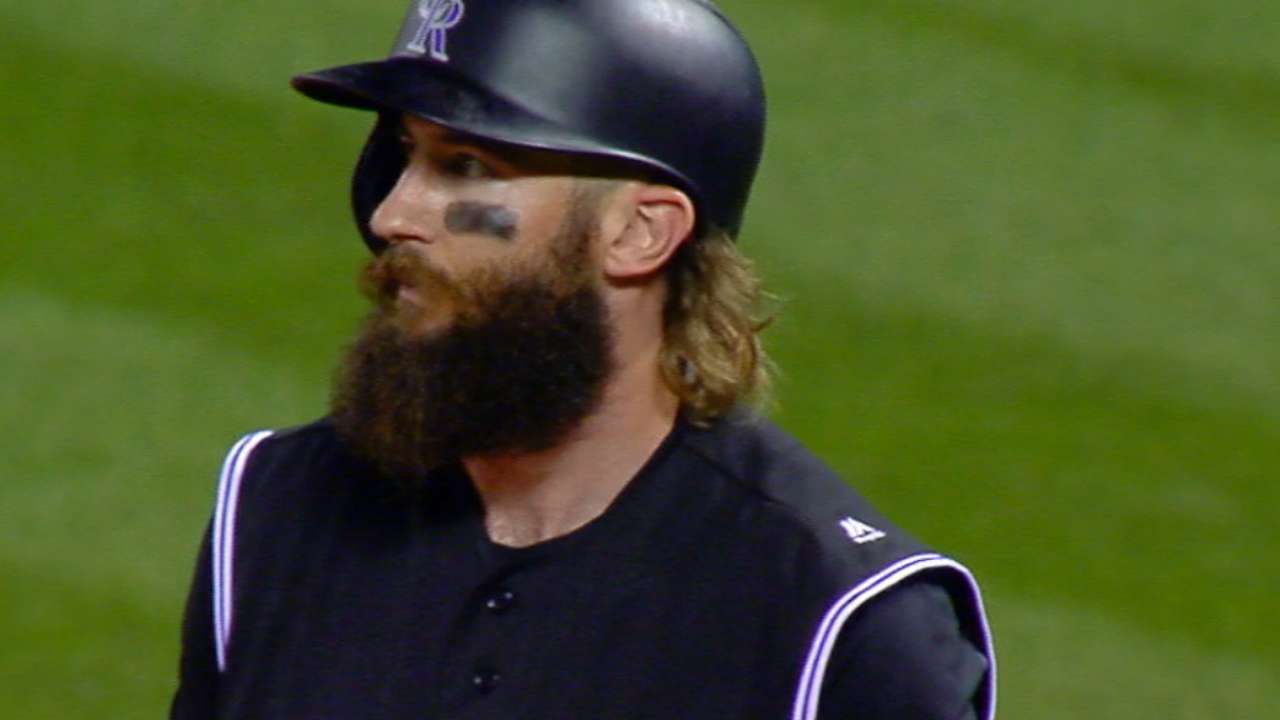 Stanton's long, long liner: Stanton's 504-foot homer was even more impressive considering its 18.3-degree launch angle. Gonzalez held the previous Statcast-era record for longest home run with a launch angle less than 20 degrees, at 468 feet. Stanton's home run had an exit velocity of 115.8 mph to propel it to the record distance.
"We've seen different ones," Mattingly said. "Obviously you guys watched the Home Run Derby. You see him hit different ones. There's balls with that trajectory, for a lot of guys it doesn't go out. He hits balls that just keep carrying. He hits them a long way." More >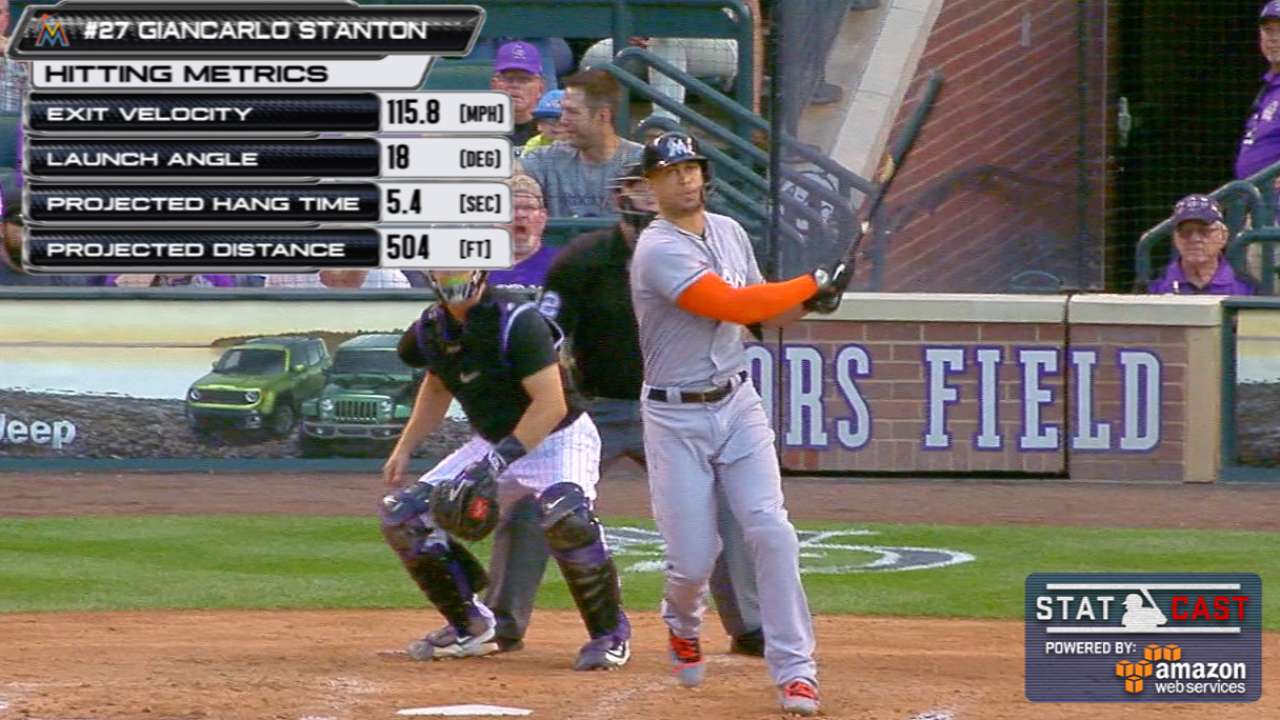 Ichiro almost gets 3K: Ichiro got hit No. 2,999 of Jordan Lyles in the eighth and Miami's two-run rally extended the inning long enough to make sure he had a chance to reach the milestone in the ninth. Ichiro came to the plate with a runner on first and no outs and hit a hard comebacker up the middle, but Rockies reliever Scott Oberg got a glove on it to knock the ball down and recovered to get Ichiro at first, barely. More >
"When you put him in the game there when we did, there's a little thought in there that he might get two ABs," Mattingly said. "Also to get 'G' off his feet a little bit. And once he gets that first one and that inning gets extended, you know he's going to get another AB. I think the guys are excited to have a chance to see it." More >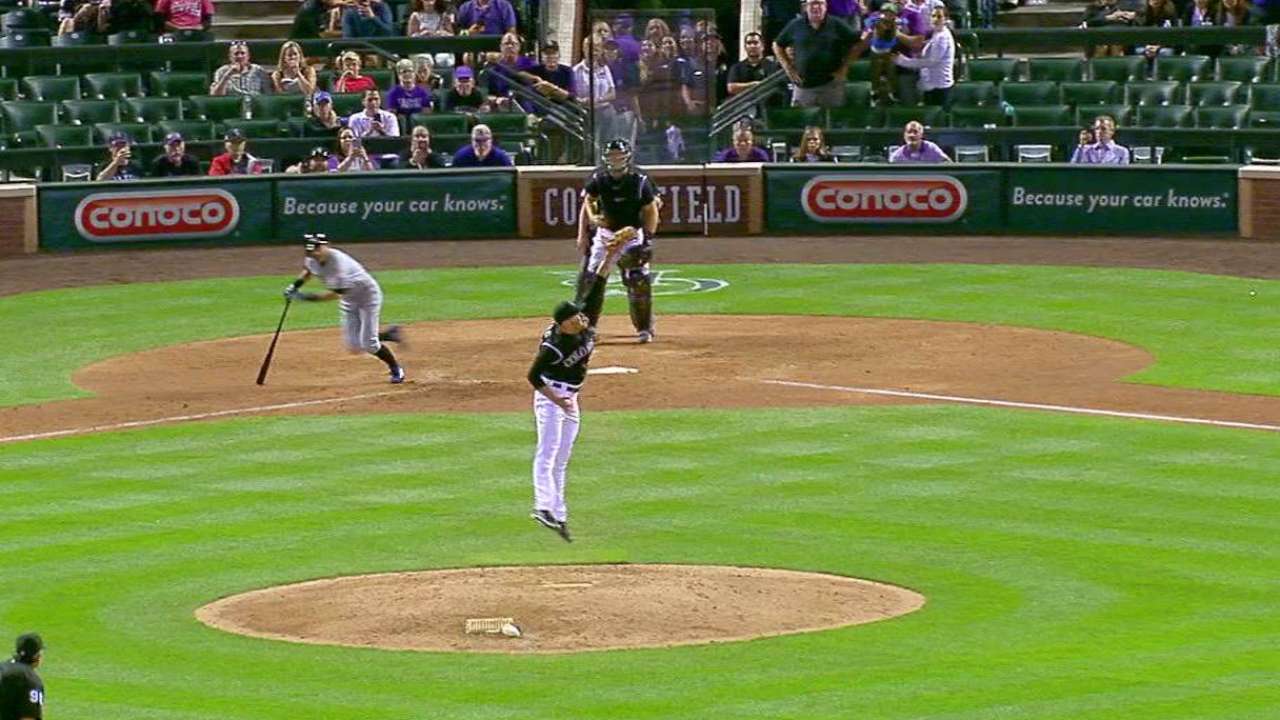 Escape hatch: Bettis got in trouble early. After giving up two runs in the first, Chris Johnson led off the second with a single and Bettis hit Cashner with one out. Bettis forced a Dee Gordon grounder for a second out -- doubling him up was impossible -- then coaxed a Martin Prado fly to center to keep the Marlins' lead at 2-1. Bettis finished having given up three runs on seven hits over six innings -- and the length of Stanton's homer, which gave the Marlins a 3-2 lead, didn't faze him a bit.
"Solo shots never kill you, and that was a great example tonight," Bettis said. "It was a really poor pitch to a guy that's really strong and hits home runs really far. At that point, I was a little upset because we had worked so hard to get back 2-2.
"But the bigger picture is that we ended up winning the game, and that's all that really matters."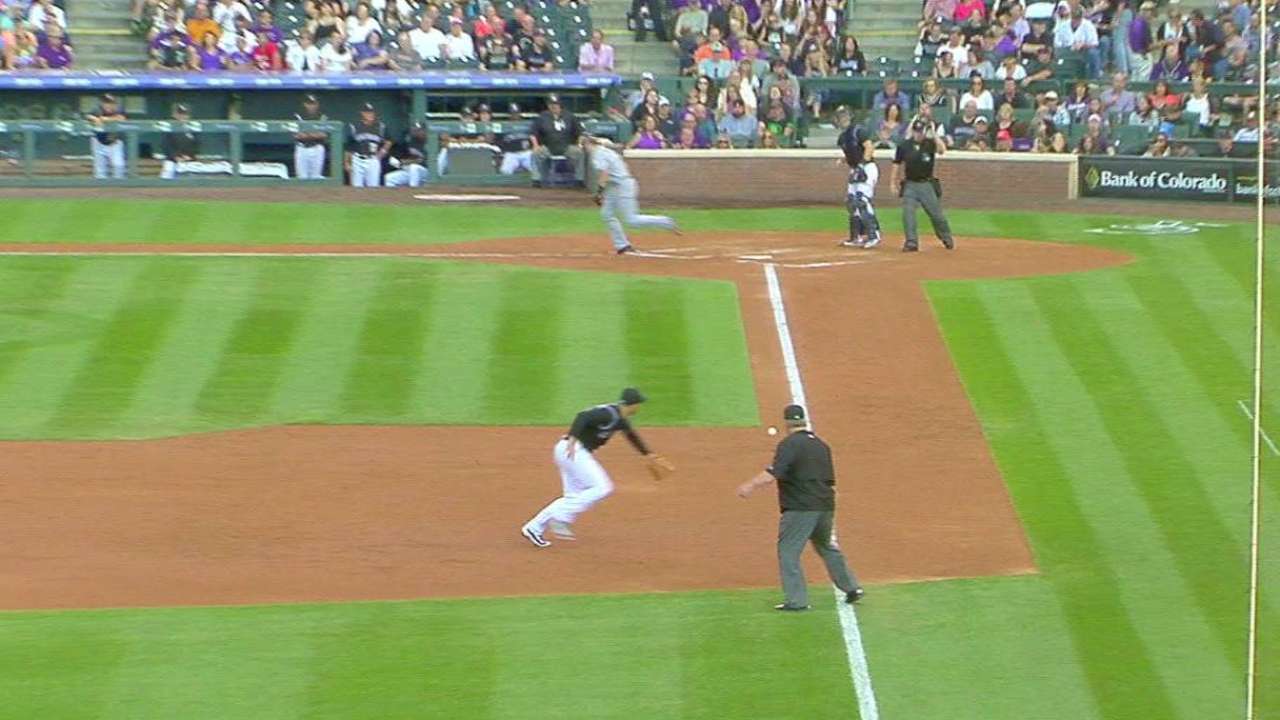 QUOTABLE
"I wasn't happy with my 3-0 swing. It was a good swing, but not the type of attack you should have with that. I said if he throws me that again, do what I should have on the 3-0. So he did." -- Stanton, on his record home run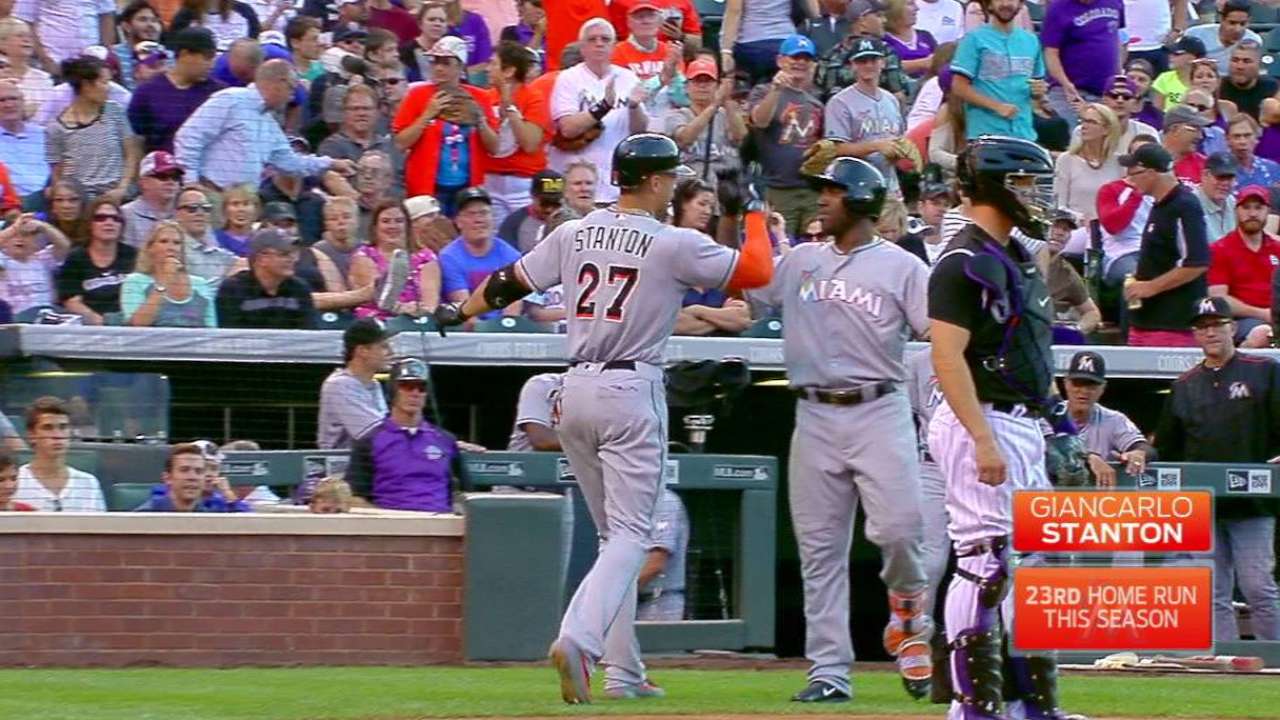 AFTER REVIEW
The Marlins challenged a first-inning call that LeMahieu was safe at first on a ground ball to shortstop Adeiny Hechavarria. After a brief review, the call was overturned, as it was determined that Johnson did not pull off the bag until after he completed the catch.
The game ended on a review that overturned a safe call on Johnson's infield grounder. Replay showed that LeMahieu, who made a sliding grab in short center, beat Johnson with his throw.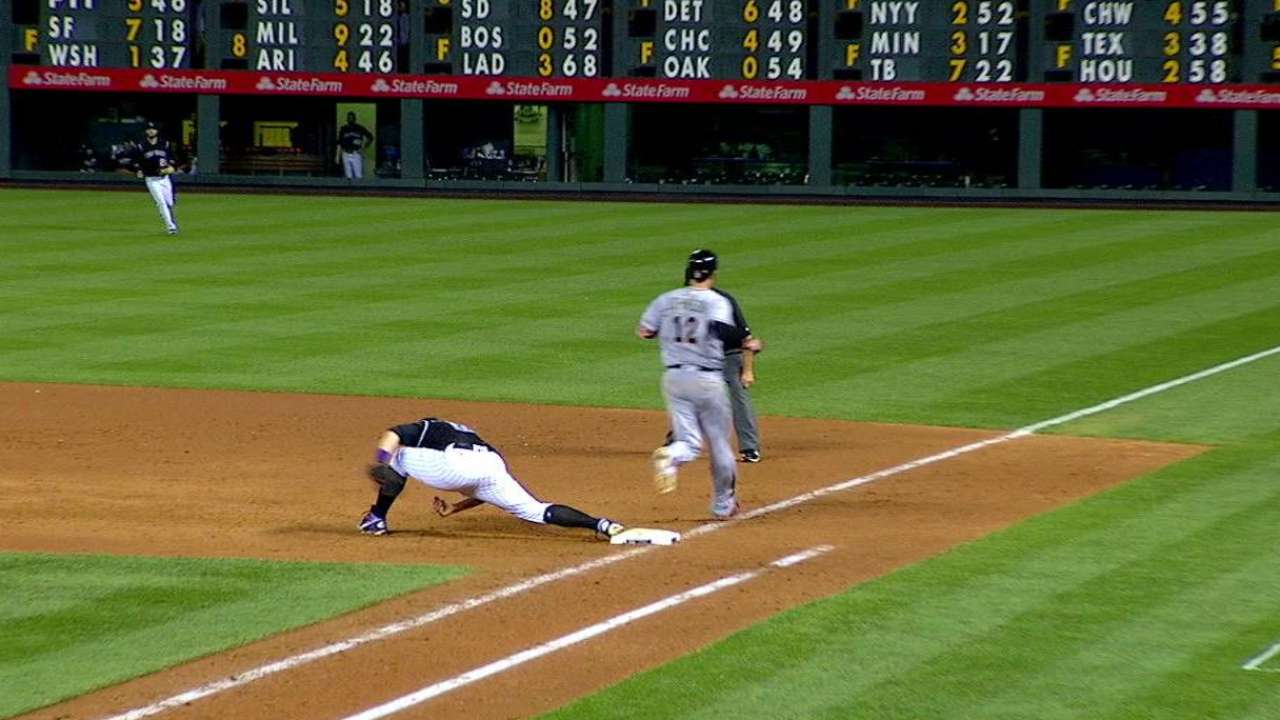 WHAT'S NEXT
Marlins: Left-hander Adam Conley (7-6. 3.41 ERA) will take the mound for the Marlins at 4:10 p.m. ET on Sunday in the final game of a three-game set against the Rockies. He has limited opponents to two earned runs or fewer in his last six starts, although he's averaging fewer than 5 2/3 innings per start during that stretch.
Rockies: Righty Jon Gray (8-4, 3.77 ERA), who is 3-0 with a 0.69 ERA in his four starts since the All-Star break, will lead the Rockies against the Marlins in Sunday's series finale at 2:10 p.m. MT at Coors Field.
Watch every out-of-market regular-season game live on MLB.TV.
Ben Weinrib is a reporter for MLB.com based in Denver who covered the Marlins on Saturday.

Thomas Harding has covered the Rockies since 2000, and for MLB.com since 2002. Follow him on Twitter @harding_at_mlb, listen to podcasts and like his Facebook page. This story was not subject to the approval of Major League Baseball or its clubs.