Tigers noticing fan buzz around Comerica Park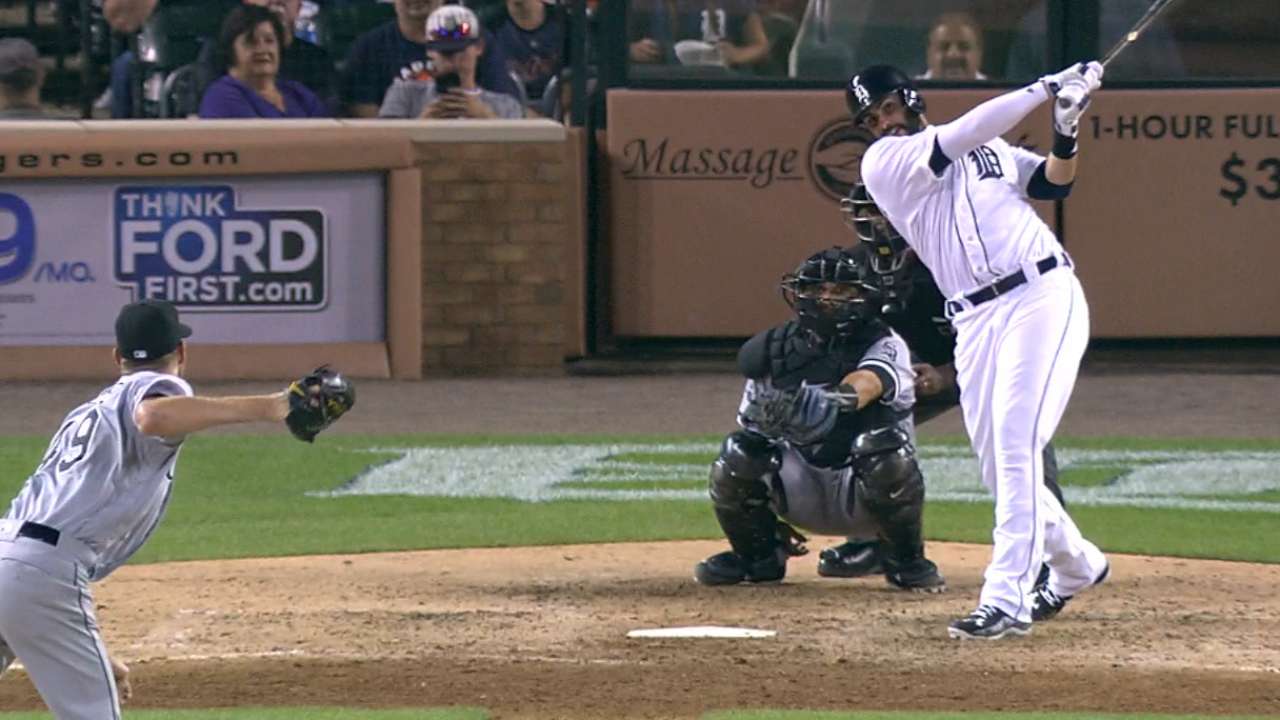 DETROIT -- The first sign of a buzz in the crowd at Comerica Park came early in the homestand. The carryover of a fast start out of the All-Star break had reached the fans, as did the shrinking deficit in the standings.
Once J.D. Martinez returned from the disabled list to pinch-hit in a tie game Wednesday night, that buzz became a roar.
"I wasn't expecting to get that kind of ovation that they gave me when I was walking in," Martinez said after his pinch-hit home run. "That was awesome. I couldn't ask for anything more. If I could thank the fans individually, I would thank them. That was just really cool."
Tigers players, some of whom had been seeking vocal support early in the season, noticed the difference. They've been looking for that home-field advantage this season. As the Tigers near the end of a nine-game homestand, it's reflecting in the standings.
"I hope people are excited about this team," Ian Kinsler said after Friday's win, Detroit's ninth win in its last 10 games. "We're playing really good baseball, and having a lot of fun. We want everyone to join us. There's plenty of room on the bandwagon."
The Tigers' winning ways began on the last road trip with a three-game sweep of the Red Sox at Fenway Park. That began the buzz when they returned home July 29. From there, it has only built. The Tigers won the first five games of the homestand before dropping Thursday's series finale against the White Sox. Thursday's loss did nothing to dampen the excitement for Friday's clash between Justin Verlander and Noah Syndergaard.
"I think the fans have been really great, getting into games," Verlander said after the win. "It's nice to see, because sometimes when we're not playing well, it's a little flat here. We play well at home, traditionally. So to get the fans back excited again, having them cheer us on, and know when to cheer, and how to cheer, and what to cheer for -- without prompting them -- that really gets the players going, and we feed off of that."
Detroit entered Saturday's matchup with the Mets owning an American League-best 27-11 record at home since May 16. At the same time, the Tigers have topped 30,000 fans each game this homestand, including the Thursday matinee. Just as important as getting here, they've been getting loud.
"Whenever you can get the crowd into it, it just makes it that much more special," Martinez said. "That's what you play for. When the crowd gets like that, that's why you always hear guys in here stressing, 'It's about the fans here.'
"They're always stressing, 'We want the fans in it,' because when they're in it, it makes you kind of live up to it. You just kind of feed off that energy."
Jason Beck has covered the Tigers for MLB.com since 2002. Read Beck's Blog, follow him on Twitter @beckjason and listen to his podcast. This story was not subject to the approval of Major League Baseball or its clubs.